3 Beer Stocks That Provide Shareholders With Recession-Proof Dividends
We believe that investors should strive to own the best names in a particular sector as these companies often have competitive advantageous that will allow it to outperform the competition.
One industry we find appealing is the beer industry, …
We believe that investors should strive to own the best names in a particular sector as these companies often have competitive advantageous that will allow it to outperform the competition.
One industry we find appealing is the beer industry, which tends to hold up well even during recessionary environments. Not all beer companies are created equal, so investors should identify the top names in the industry before making an investment decision.
This article will examine three of our favorite beer stocks.
Ticker
Company
Price
STZ
Constellation Brands
$243.70
DEO
Diageo
$187.37
TAP
Molson Coors
$53.59
Beer Stocks for Dividends: Constellation Brands (STZ)
Source: IgorGolovniov / Shutterstock
Our first pick among beer stocks is Constellation Brands, a leading international alcoholic beverage company. The company is valued at nearly $46 billion and has produced revenue of almost $9 billion over the last year.
Over time, Constellation Brands has become a dominant force in the beer industry. The company's product portfolio includes Corona, Modelo Especial, Modelo Negra and Pacifico. These products, along with a craft beer lineup, have enabled Constellation Brands to become the third largest beer company in the U.S. and the largest seller of import beers in the country.
7 Stocks to Buy and Hold Forever in This Bear Market
In addition, Constellation Brands often attempts to expand its reach through product innovation, which includes products like Corona Refresca. Modelo Especial is the top grossing imported beer, so the company will launch several new additions to the Modelo lineup as it tries to capitalize on the strength of this brand. New beers to the lineup include Modelo Oro, a premium light beer, and Modelo Ranch Water, a spiked sparkling water.
Constellation Brands has a heavy presence in more than just beer. The company holds many leading wine and spirits brands as well. After selling off non-premium brands, Constellation Brands holds just premium brands names in its portfolio. This includes Robert Mondavi and Kim Crawford in wine and SVEDKA Vodka, Casa Noble Tequila, and High West Whiskey in spirits. The reconfiguration of the portfolio has the company well positioned to lead the premium industry in both wine and spirts.
The company is also looking beyond traditional alcoholic beverages to fuel growth. For example, Constellation Brands has a controlling stake in Canopy Growth Corporation (NASDAQ:CGC). While the future of cannabis infused beverages in the domestic market is murky, Constellation Brands' stake in one of the top companies in the industry does provide yet another potential avenue for growth.
Business strength has led to excellent results in the business as revenue has nearly tripled over the last decade. Earnings-per-share have increased with a compound annual growth rate of nearly 19% for the last decade.
Despite this long-term success, we project that Constellation Brands can produce earnings growth of 5.5% per year for the next half-decade. This growth rate takes into account the quality of the firm's product portfolio with the fact that earnings are starting from a high base.
Exceptional business performance has enabled Constellation Brands to increase its capital returns to its shareholders. A dividend was initiated in fiscal year 2016 and it has a CAGR of 9.7% over the last five years. Shares currently yield about 1.3%.
Diageo (DEO)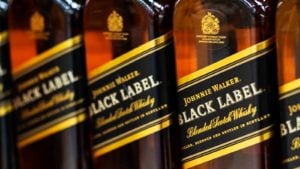 Source: IgorGolovniov / Shutterstock.com
Our next pick for beer stocks is Diageo, a company that can trace its roots back to 17th century and the oldest family of Scotch whisky distillers. The $107 billion company has generated $16 billion of revenue over the last year.
Diageo's beer lineup includes Guinness, the top selling stout beer in the world and one of the most iconic brands in the alcohol space. The company has used the popularity of Guinness to bring additional products to market, including Guinness blonde.
Like Constellation Brands, Diageo has an envious portfolio of products aside from just beer. The company has some of the best-selling spirits brands in the world, including Baileys, Captain Morgan, Crown Royal, Johnnie Walker, Ketel One and Tanqueray.
The global alcoholic beverage market is highly fragmented, which could provide the company with ample opportunity to grow its business. Presently, Diageo has a 4% market share, but aims to increase its positioning to 6% by the end of the decade. The company is on track to meet this goal due to its brands.
Helping to achieve this market share target is Diageo's business in emerging markets. Key markets for the company include China, India and Latin America. The company's presence in emerging markets should provide tailwinds over time. For example, Diageo experienced organic sales growth of 45%, 23% and 13% in Latin America, Africa and Asia Pacific/China in the first half of 2022. This was ahead of its more developed markets.
Results for the U.K. based company will always be subject to currency exchange rates, but U.S. investors have still seen solid results. Though top-line results are minimal for Diageo over the last decade, revenue has compounded at a rate of 3% annually since 2017. Bottom-line growth has been slightly more robust over this period of time as earnings-per-share have a five- and 10-year CAGR of 7.2% and 4.2%, respectively.
We estimate that the company can grow earnings-per-share at a rate of 8% per year for the next five years given the popularity of its product lineup.
Diageo distributes dividends twice per year to shareholders. The company has raised its dividend for the past eight years in local currency. U.S. shareholders have seen an average increase of 4.2% annually since 2012. Diageo yields 2.2%.
Beer Stocks for Dividends: Molson Coors (TAP)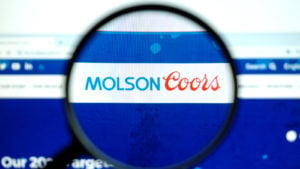 Source: OleksandrShnuryk / Shutterstock.com
Our final pick for beer stocks is Molson Coors, which has a market capitalization of $11.7 billion and generated revenue of $10.6 billion over the last 12 months.
Formerly known as Molson Coors Brewing Company, Molson Coors has a rich history that dates back almost 150 years. The company is one of the largest brewers in the country and includes leading brands such as Coors Light, Molson Canadian, Miller Lite, and Coors Banquet. These are some of the most popular beer names in the country, giving Molson Coors a significant competitive edge over peers.
7 Undervalued Large-Cap Stocks to Buy for June
Recently, however, the traditional beer industry has faced headwinds as younger consumers have trended toward craft beer. The industry giants were slow to react to these changing habits, but Molson Coors is taking steps to improve its standing in the craft beer business. For example, the company's Blue Moon lineup has become very popular in North America, with the brand owning a high single-digit market share for the region.
Molson Coors also made several acquisitions over the past few years that have brought additional craft beers and ciders into the fold.  The company added Aspall Brewing, a leading maker of premium ciders, in 2018. The company followed this acquisition up by buying Atwater Brewery, the largest craft brewery in Detroit, in 2020.
Molson Coors sales more than doubled over the last decade, though this is skewed by the addition of MillerCoors in 2016. The last five years saw revenue fall nearly 2% per year. Bottom-line performance was nearly as poor as earnings-per-share are up marginally since 2017.
However, the company has stopped making certain low-premium names, including High Life Light and Keystone Ice, that weren't resonating with customers in an effort to focus on its core brands. This, combined with a heavier emphasis away from legacy beer names, should provide some lift to results going forward. We project that Molson Coors can grow earnings-per-share by 4% annually through 2027.
Molson Coors suspended its dividend in mid-2020 as the company faced the fallout from the Covid-19 pandemic. The company did reinstate in late-2021, albeit at a lower amount than its previous payment. Given its recent actions with regards to the dividend, investors might be wary of owning Molson Coors. The good news is that shareholders did receive a 10.5% increase in the payment earlier this year. Shares yield 1.9% at the moment.
Final Thoughts
The beer industry has undergone changes over the past few years, with new companies becoming leaders in the category. The business is fairly recession-resistant and has proven successful over the long-term.
Constellation Brands, Diageo and Molson Coors are three of our favorite names in the industry. The first two have captured significant market share and also offer products beyond just beer that are leaders in their own categories. Molson Coors continues to focus primarily on beer and has faced some challenges due to changing consumer tastes. That said, the company has made strides to catch up and its legacy beer business continues to hold a top spot.
All three names offer a dividend yield near or above the average yield of the S&P 500.
For investors looking for growth and income from the beer industry, any of these names could be a solid addition to their portfolio.
On the date of publication, Bob Ciura did not have (either directly or indirectly) positions in any of the securities mentioned in this article. The opinions expressed in this article are those of the writer, subject to the InvestorPlace.com Publishing Guidelines.
More From InvestorPlace
Stock Prodigy Who Found NIO at $2… Says Buy THIS
It doesn't matter if you have $500 in savings or $5 million. Do this now.
Get in Now on Tiny $3 'Forever Battery' Stock
The post 3 Beer Stocks That Provide Shareholders With Recession-Proof Dividends appeared first on InvestorPlace.
InvestorPlace| InvestorPlace