3 Best Dow Stocks to Buy for June 2022
The world's great companies are on sale. Buy these Dow stocks before the discount is gone.
Walmart (WMT) – Last week's crash was an overreaction.
Disney (DIS) – If you wished you bought the Mouse House during the pandem…
The world's great companies are on sale. Buy these Dow stocks before the discount is gone.
Walmart (WMT) – Last week's crash was an overreaction.
Disney (DIS) – If you wished you bought the Mouse House during the pandemic, here's your second chance.
Verizon (VZ) – Offers a predictable business model and a beefy 5-plus% dividend yield
Source: ymgerman / Shutterstock.com
Despite their behemoth balance sheets, the titans comprising the Dow Jones Industrial Average haven't escaped sellers' wrath. So far, the drawdown has shaved 17% off the prestigious index, bringing it within a stone's throw of bear market territory. To their credit, Dow stocks have held up far better than the rest of the market. Given the bloodbath out there, it's a wonder the average is only down 17%.
But as with all crashes, there's much opportunity amid the rubble. If you're a long-term investor looking for bargains in the land's largest and most well-financed corporations, then Dow stocks should top your list. I've scoured all 30 companies and narrowed it down to three tempting targets. While their charts have been battered, their time-tested business models ensure recovery is on the horizon.
If you're patient, significant gains are in store.
Ticker
Company
Price
WMT
Walmart
$124.14
DIS
Disney
$102.84
VZ
Verizon
$50.79
Dow Stocks: Walmart (WMT)
Discount from the high: -23%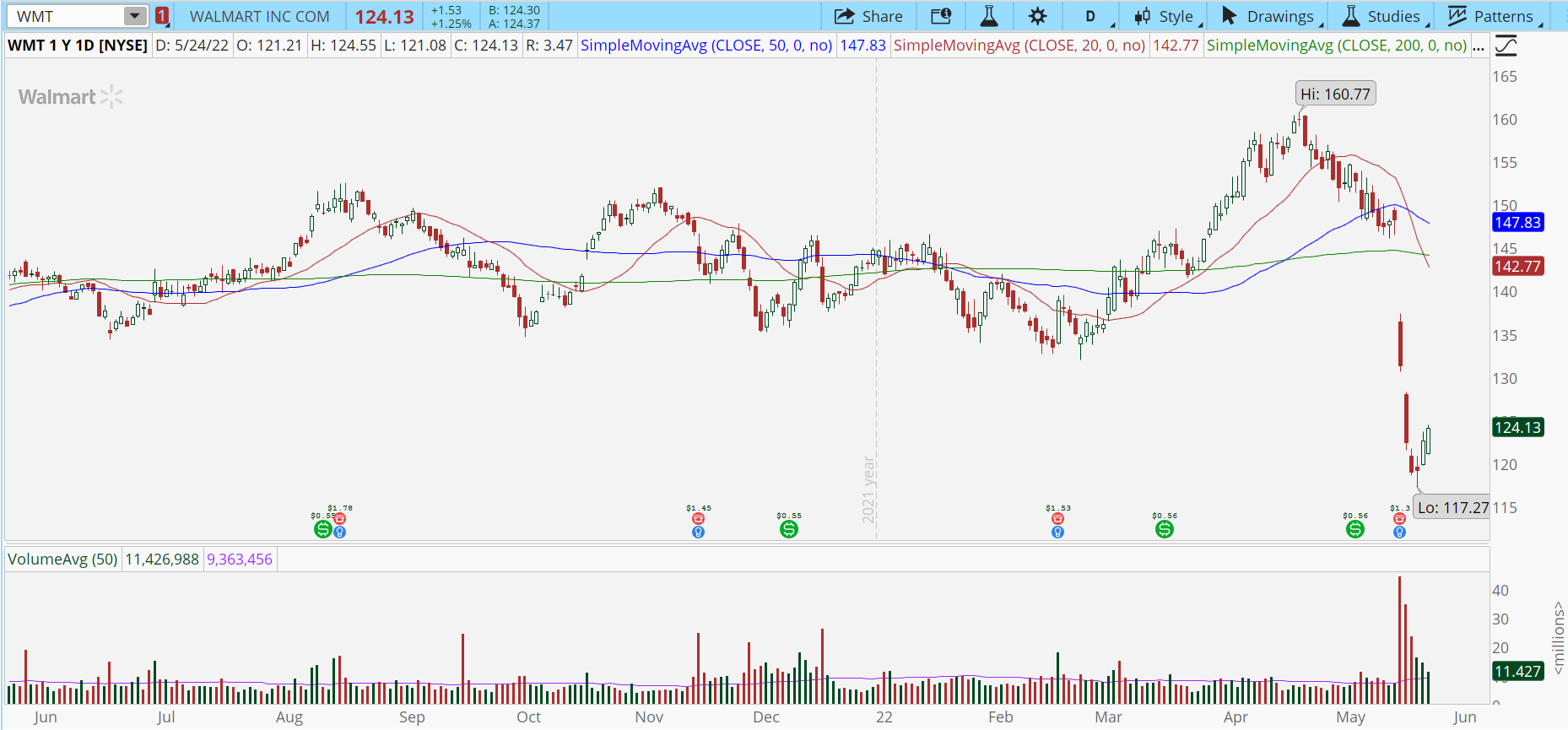 Source: The thinkorswim® platform from TD Ameritrade
On May 17, Walmart (NYSE:WMT) suffered its largest one-day loss since 1987, tumbling 11.38%. But that wasn't enough! Sellers continued the beatdown for three more days before all was said and done. The culprit was a disappointing earnings report that saw rising costs, higher inventory levels, and overstaffing take a big bite out of its profits. And in case you hadn't noticed, this is not a market you want to disappoint in. Investors are looking for any reason to smash the sell button.
The 7 Highest-Yielding Dividend Stocks to Buy Now for Income
In the long run, the retail juggernaut will figure things out, and earnings will recover. History has rewarded those willing to ignore the fear peddlers and buy WMT stock during times of turmoil. This time will prove no different. It currently trades 23% off the highs and offers a 1.81% dividend yield. Even if it takes three years to reclaim the peak, you're still looking at an annualized total return of approximately 12%.
Disney (DIS)
Discount from the high: -50%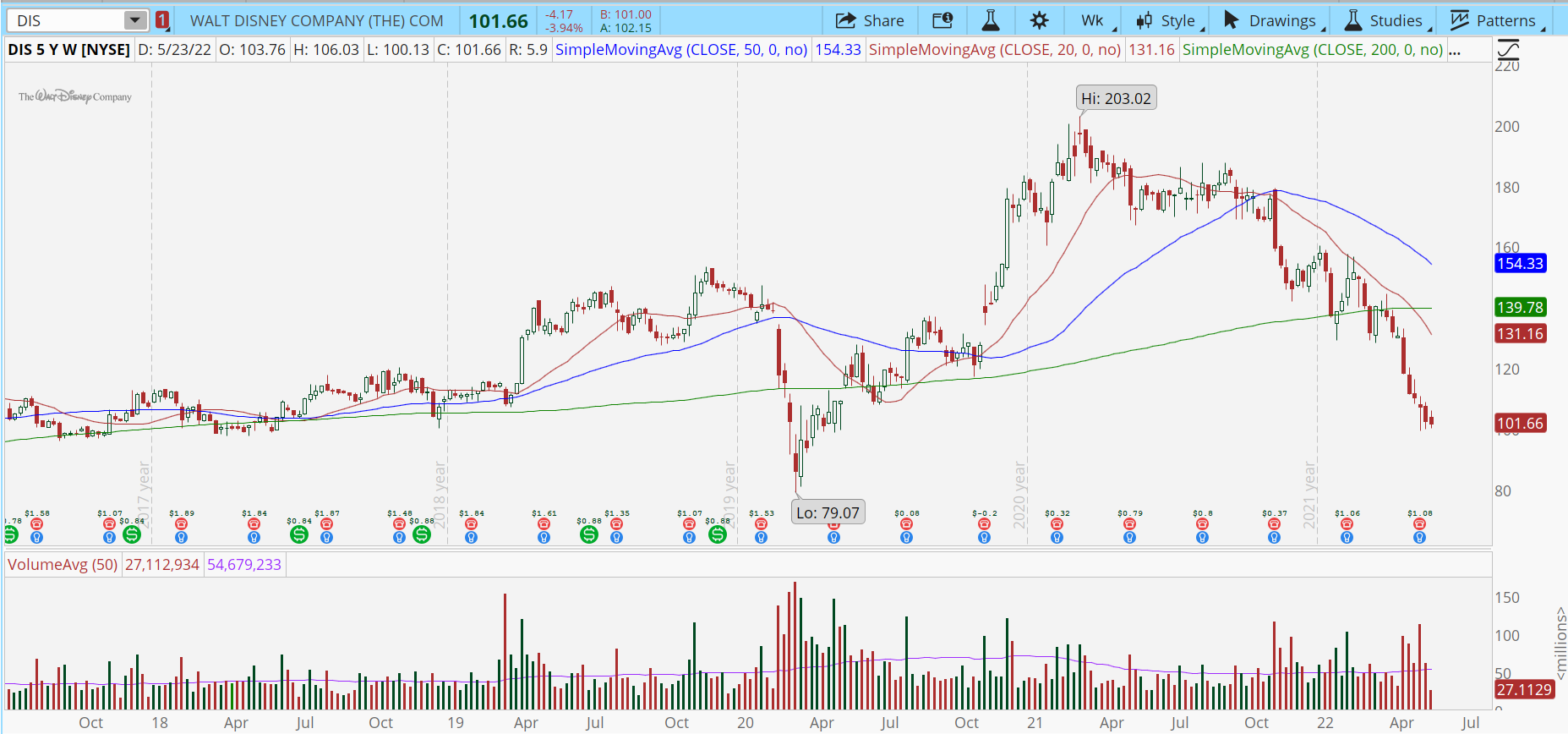 Source: The thinkorswim® platform from TD Ameritrade
The demise of Walt Disney (NYSE:DIS) shares has been shocking. DIS stock is 50% off its highs and trading at the same level it was when Covid-19 shut the world down. Even worse, it's effectively erased seven years' worth of gains. The stock is flirting with breaking $100 and could certainly see increased selling in the short run if the century mark gives way.
But getting too pessimistic about the Mouse House after it's already fallen into the abyss seems unwise. Disney has a long history of growing its business and recovering from setbacks. And, investors haven't had very many chances to accumulate shares at such a steep discount. You can certainly wait for more evidence that the downtrend is ending and a new bull is beginning, but regardless of the mechanics used to time the entry, this is a bargain you don't want to pass up.
Dow Stocks: Verizon (VZ)
Discount from the high: -19%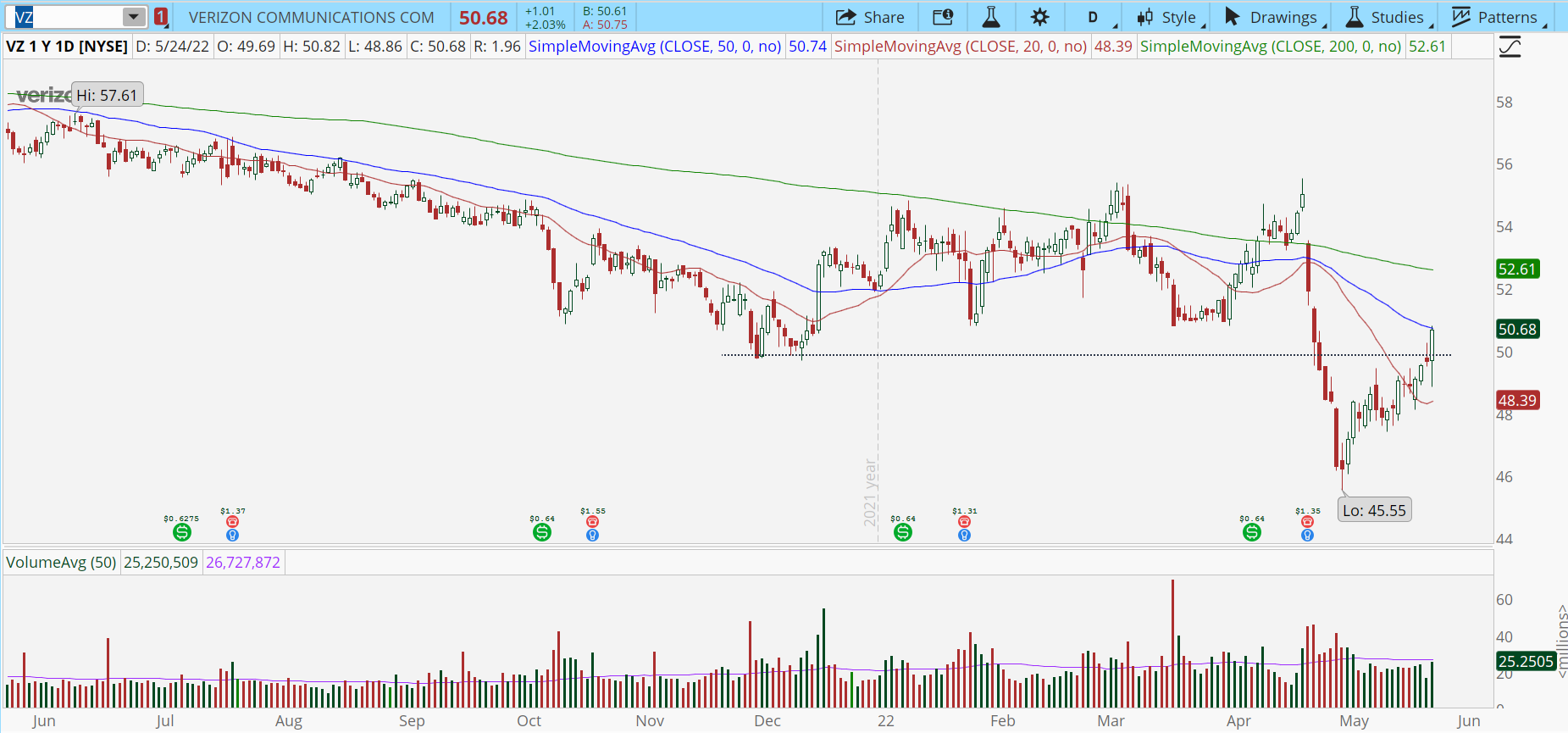 Source: The thinkorswim® platform from TD Ameritrade
Verizon (NYSE:VZ) has taken investors on quite the volatile ride over the past year. Even after rebounding over the past month, VZ stock is still 19% off the highs. Its price just completed a wicked shakeout below long-term support at $50. Reclaiming the high side of the zone makes a compelling technical case that the low is in for now.
7 Large-Cap Stocks to Buy Right Now
But even if it's not, Verizon's stable and predictable cash flow makes the 5% dividend yield worth betting on. Prices don't have to quickly return to the 2019 highs to make this a smart investment. You're getting paid a pretty penny to wait for the eventual recovery.
On the date of publication, Tyler Craig was long DIS and VZ. The opinions expressed in this article are those of the writer, subject to the InvestorPlace.com Publishing Guidelines.
More From InvestorPlace
Stock Prodigy Who Found NIO at $2… Says Buy THIS
It doesn't matter if you have $500 in savings or $5 million. Do this now.
Get in Now on Tiny $3 'Forever Battery' Stock
The post 3 Best Dow Stocks to Buy for June 2022 appeared first on InvestorPlace.
InvestorPlace| InvestorPlace