3 Cryptos on Coinbase With the Most Potential
Last week ended badly for U.S. equities, and it wasn't a picnic for cryptocurrencies either. But the bearish perception is not entirely accurate. Both sectors capped off a big rally off the May lows. While the S&P 500 rallied almost …
Last week ended badly for U.S. equities, and it wasn't a picnic for cryptocurrencies either. But the bearish perception is not entirely accurate. Both sectors capped off a big rally off the May lows. While the S&P 500 rallied almost 10% coming into last week, the crypto sector did almost three times better. Therein lies the opportunity from today's note. Among the cryptos on Coinbase (NASDAQ:COIN) there are many potential winners. My list today includes two leaders and a practical jokester.
First we address the overall mainstream bearishness on crypto. There still are too many skeptics, but don't let that scare you away. The more unbelievers now means that there will be late-comers. This is the equivalent of the ancient Wall Street concept of "money on the sidelines." When the doubters are ready, their late contribution will likely benefit the early adopters.
Everything on earth is going, or wants to go digital. Money will not likely be the exception. The current cryptos on Coinbase will have contributed to forming the rules. When "normal" money decides to go digital, they will come to the crypto blockchain for help. Therefore, regardless of what we think of cryptos, they are important.
However, not all will be winners. In fact, I bet there there will be hundreds of failures. But if investors focus only on the best of the best, they can avoid the easy financial disasters. With cryptos on Coinbase or otherwise, investors still have room to make new mistakes. Case in point, look at what happened last week to Solana (SOL-USD).
The 7 Best Electric Vehicle Stocks to Buy in June
Luckily, the commitments when starting out can be extremely small. Therefore, curious investors can start out with fractional amounts and track the percentages for practice. The biggest hurdle I see is the mental block stemming from the "is it real" question. The answer is that it doesn't matter, because it is the best performing investment probably in history.
Ticker
Currency
Current Price
BTC-USD
Bitcoin
$31,437.10
ETH-USD
Ethereum
$1,889.54
DOGE-USD
Dogecoin
$0.083
Bitcoin (BTC-USD)
Source: Charts by TrendSpider
I would never have a list of cryptos to buy and exclude Bitcoin (BTC-USD). As it goes, so will the rest of the posse. There are exceptions, but in general it is the crypto coin that the rest follow. Its market cap is twice larger than its nearest competitors. The upside opportunity from that perspective is massive if the assumption that it is chasing gold.
Critics could point out that BTC-USD is currently down 55% from its highs. But it would only be fair to point out that it's also up 200% from the pandemic breakout. That's five times better than the major U.S. indices. They can try to poke holes through the theories, but crypto comes out on top of most statistics.
In the long run its volatility provides so many more opportunities to profit. My goal is to have a core position from a fair starting point. But I also am actively trading the charts. The wins there are too great to pass up. Last November, I charted this potential correction and it is approaching its target. By the time BTC nears 20,000 it will try to base for another super spike. I am currently long and I plan on adding more below near my target.
Ethereum (ETH-USD)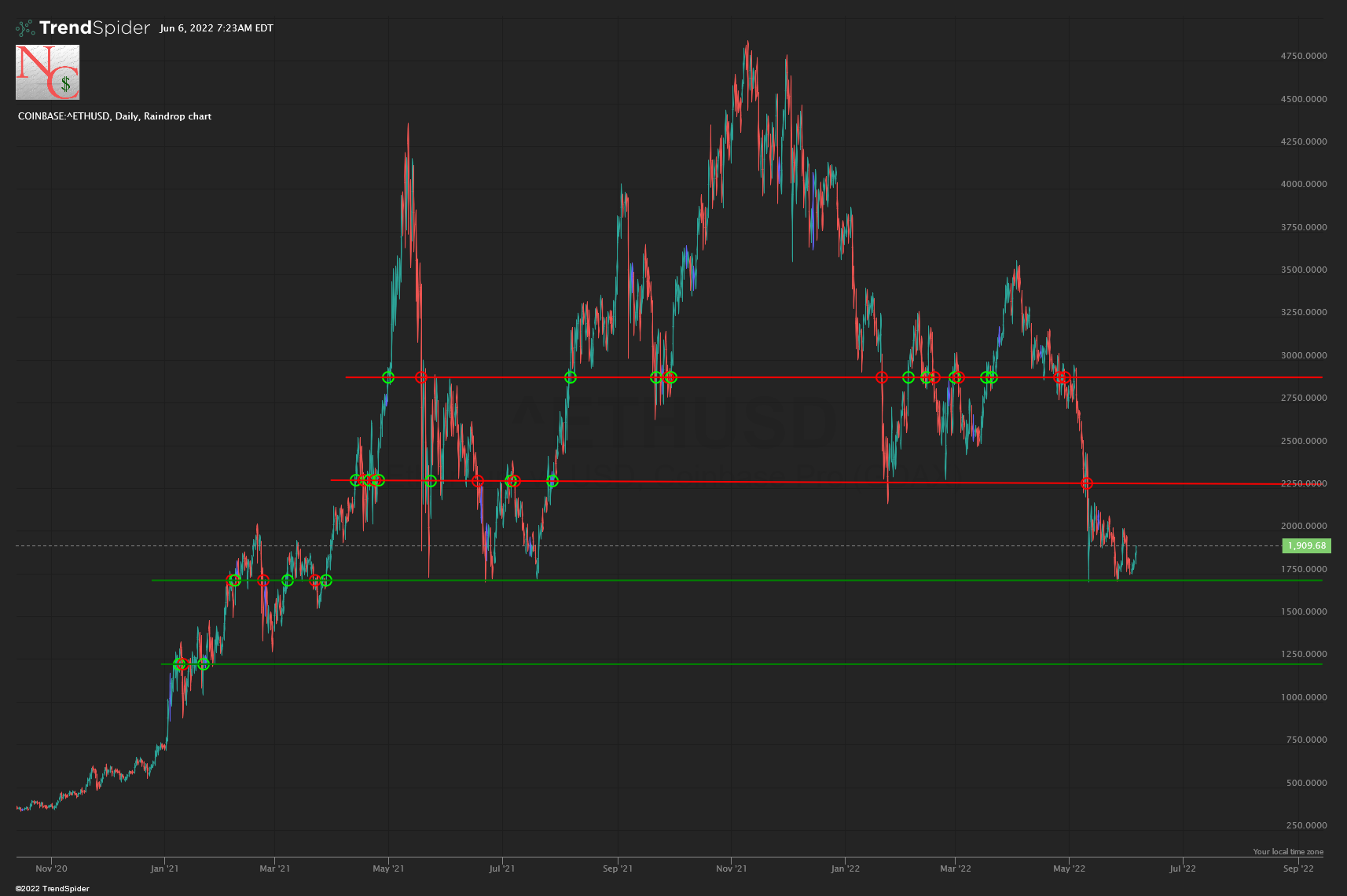 Source: Charts by TrendSpider
All digital financial transactions, including mainstream tech like wires happen across networks. It is the same for cryptos, and the boss there is Ethereum (ETH-USD). Therefore, the ETH coin should have a long ramp ahead of it. I have had success trading it actively in the past. But currently I have already started building my core position.
I am confident that I didn't nail "the bottom," but that's the point of averaging in. Investors should never assume they can be surgically accurate in finding optimal entries. So the next best thing is to break up the entries into several tranches. If Ethereum rallies without looking back, then I am already long. Otherwise, I won't fret every red tick after my initial entry.
By buying lower, I can better situation my cost basis for the core position. On Wall Street they call this leaving dry powder, or having money on the sideline. The important nuance here is that I am not adding to my risk. I am merely filling my normal size order but over time. Otherwise, I would be averaging "down," which really means making my problem bigger.
7 Popular Penny Stocks to Avoid at All Costs
The upside potential for ETH-USD is its race to catch up to Bitcoin's market cap. The threat for it long term will come from challengers like Solana and Cardano (ADA-USD).
Dogecoin (DOGE-USD)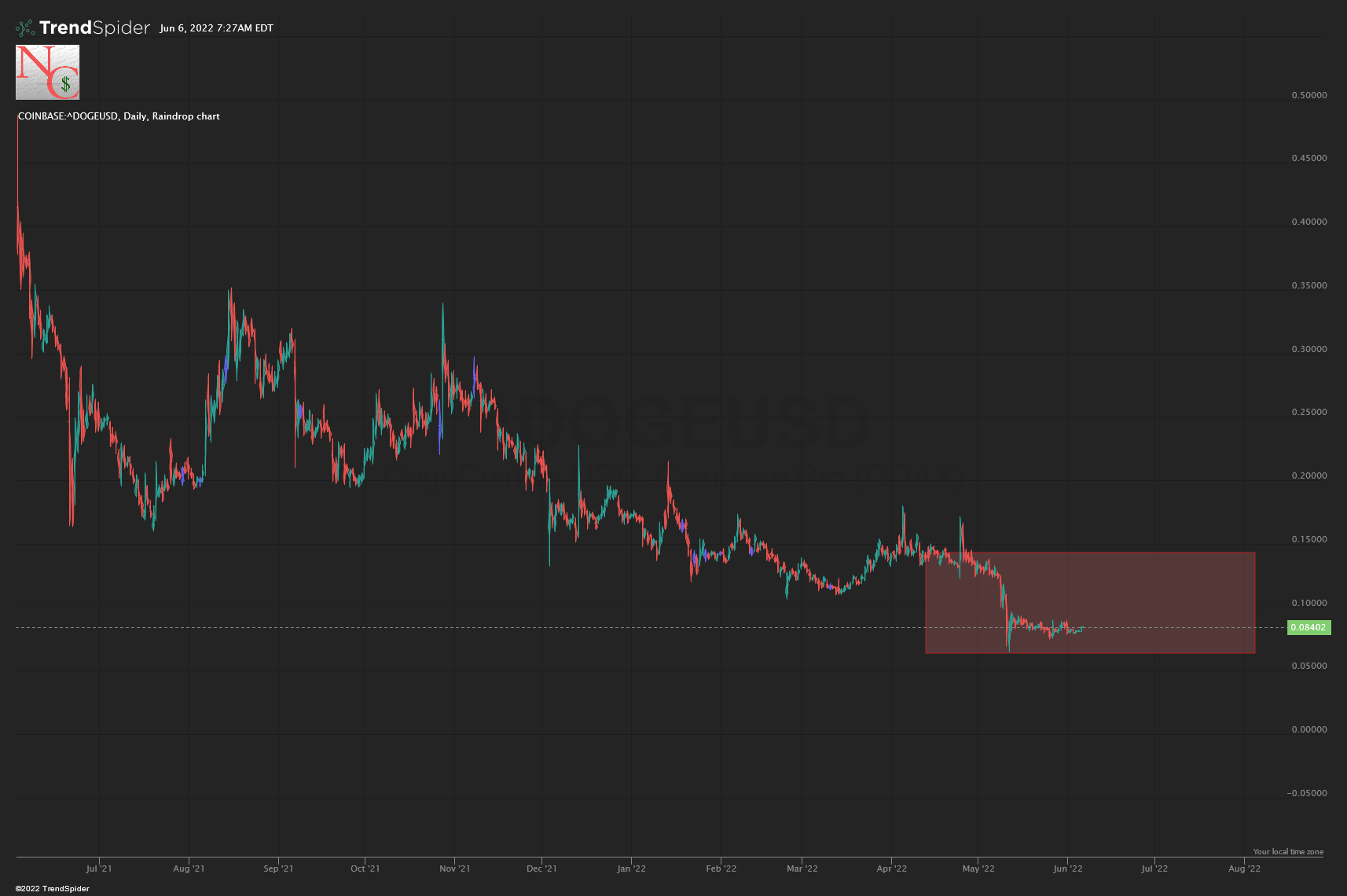 Source: Charts by TrendSpider
Dogecoin (DOGE-USD) is a serious contender, even if it is because of tweets. It earned its spot on the top cryptos on Coinbase, so investors should take it more seriously. If I was answering internet searches for how to make money with Dogecoin, I would answer with a simple solution: Trade it like a speculative stock.
Currently I estimate it has 20% of downside risk to 50% of upside potential. To avoid heavy draw-downs, I would only take half a position first then add to it later. Soon we should get more clues whether cryptos are looking to retest the December 2020 breakout levels. Earlier, I used the term "speculative," so that investors keep the value relatively appropriate.
Throughout the article I've argued for the bullish opportunities in crypto assets. But I am never about to claim a foolproof strategy regardless of the quality of the assets. Remember, that there was a time when General Motors (NYSE:GM) went bankrupt. Investing in cryptos on Coinbase has substantial upside potential, but we should acknowledge the risks.
On the date of publication, Nicolas Chahine held USDC, ETH, DOGE and SOL. The opinions expressed in this article are those of the writer, subject to the InvestorPlace.com Publishing Guidelines.
More From InvestorPlace
Stock Prodigy Who Found NIO at $2… Says Buy THIS
It doesn't matter if you have $500 in savings or $5 million. Do this now.
Get in Now on Tiny $3 'Forever Battery' Stock
The post 3 Cryptos on Coinbase With the Most Potential appeared first on InvestorPlace.
InvestorPlace| InvestorPlace