3 Growth Stocks to Ditch After Poor Earnings
Growth stocks have become poison for portfolios. The magnitude of your loss is correlated to how much exposure you have to the once-loved space.
If you want a culprit for their continued fallout, look no further than inflation and the inevitab…
Growth stocks have become poison for portfolios. The magnitude of your loss is correlated to how much exposure you have to the once-loved space.
If you want a culprit for their continued fallout, look no further than inflation and the inevitability of higher interest rates. The CPI readings in recent months are sky-high, and the market is now pricing in as many as six rate hikes this year.
But that's not all.
Earnings reports are also conspiring against many growth stocks. This is not the environment you want to be missing estimates in. And yet, many have. Punishment has been swift and hard-hitting.
7 Housing Stocks to Sell if You Think the Boom Is Going to Bust
What's impressive is that the monster drops came after these stocks were cut in half from their peaks. There's no shortage of carnage in the area, but here are three of the most vulnerable to more selling.
Roblox (NASDAQ:RBLX)
Shopify (NASDAQ:SHOP)
Spotify (NASDAQ:SPOT)
I consider them all top picks for traders looking for bearish ideas. So let's analyze each chart and map out an intelligent options trade.
Growth Stocks to Ditch: Roblox (RBLX)
Source: The thinkorswim® platform from TD Ameritrade
Roblox fell to an all-time low Wednesday after its share price crashed 26%. The single-session slashing came after the gaming company reported disappointing earnings numbers. Fourth-quarter revenue grew to $770 million, missing forecasts of $772 million. That translated into a loss of 25 cents per share, far exceeding the expected loss of 13 cents.
RBLX stock breached its previous low by pennies, registering a new record low. With that, every person who purchased shares after the IPO is now sitting in a losing position. That makes for legions of bagholders and massive overhead supply. Worse yet, other growth stocks that whiffed on earnings this season have continued lower after the initial gap. So the appetite for buying the blood is absent in the current market.
If you're willing to bet on more pain ahead, buying put spreads makes sense.
The Trade: Buy the April $50/$40 put spread for $3.40.
You're risking $3.40 to make $6.60 if prices fall below $40 by expiration.
Shopify (SHOP)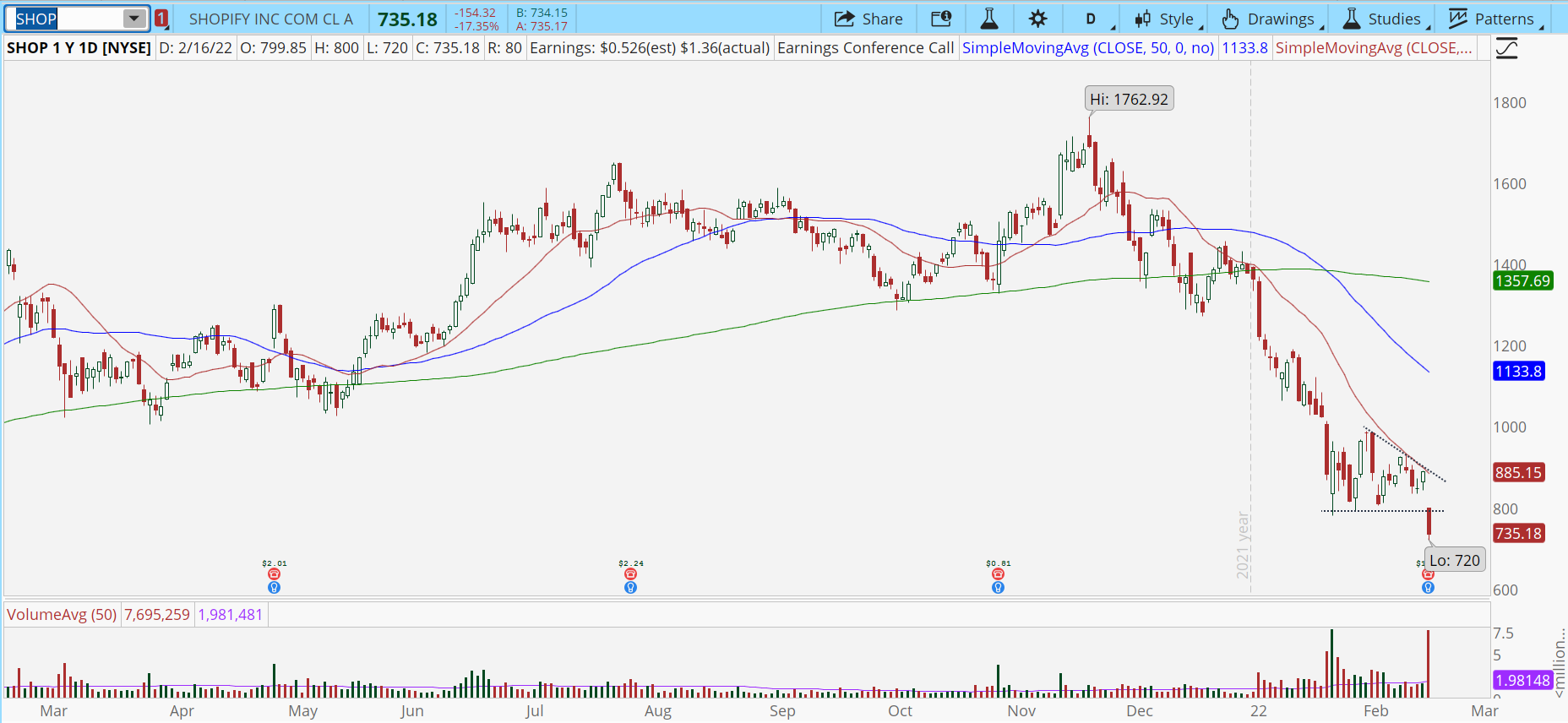 Source: The thinkorswim® platform from TD Ameritrade
The only consoling remark Shopify shareholders told each other on Wednesday is, "at least we aren't Roblox." SHOP stock followed RBLX into the abyss after disappointing earnings, falling 16% by day's end. The Canadian-based e-commerce giant topped forecasts but offered a cautious outlook for 2022.
SHOP broke critical support at $800 and now sits at a 52-week low. Though prices are nearly 60% off their highs, they're still well above the pre-pandemic peak near $600, suggesting there's plenty of room to continue the unwind.
7 Housing Stocks to Sell if You Think the Boom Is Going to Bust
The higher volatility makes both calls and puts mighty expensive. To combat the high price tag, I like entering spreads. Once again, put verticals are my play of choice because of the higher profit potential.
The Trade: Buy the April $700/$650 put spread for $17.50.
You're risking $17.50 to make $32.50 if SHOP sinks to $650.
Growth Stocks to Ditch: Spotify (SPOT)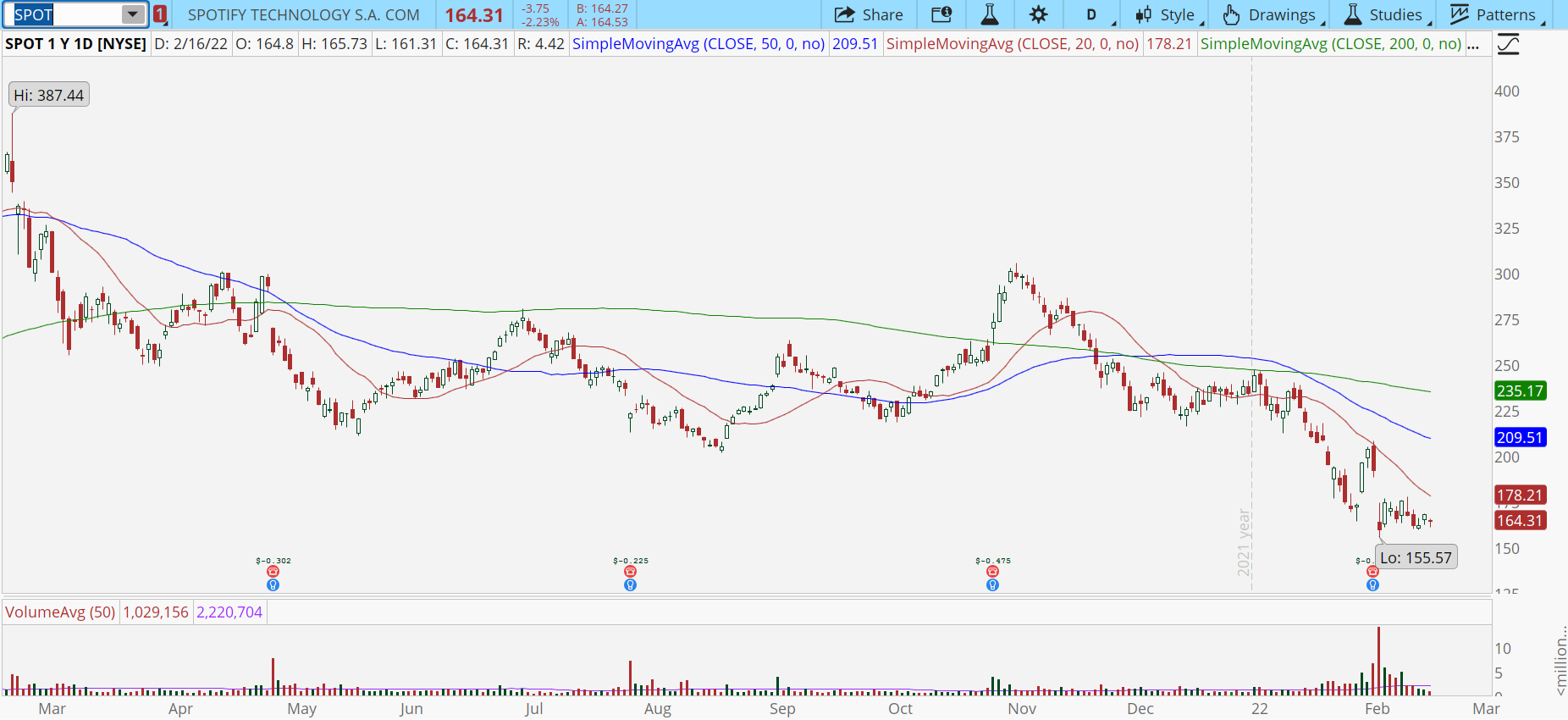 Source: The thinkorswim® platform from TD Ameritrade
Spotify completes today's trifecta of bearish ideas. The music-streaming company has seen its shares sink nearly 50%, just since last November. Sellers have slammed every rally attempt, and all major moving averages are pointing lower. The latest setback came in early-February when shares slumped on underwhelming earnings numbers.
Since then, prices have based sideways for multiple weeks to form a low base pattern. So far, support is holding firm near $160, but I think it's just a matter of time before the floor gives way. That's the trigger I suggest for today's play.
The Trade: Buy the April $160/$140 put spread for around $6.65.
You're risking $6.65 to make $13.35 if SPOT drops below $140.
On the date of publication, Tyler Craig did not have (either directly or indirectly) any positions in the securities mentioned in this article. The opinions expressed in this article are those of the writer, subject to the InvestorPlace.com Publishing Guidelines.
For a free trial to the best trading community on the planet and Tyler's current home, click here!
More From InvestorPlace
Stock Prodigy Who Found NIO at $2… Says Buy THIS Now
Man Who Called Black Monday: "Prepare Now."
Get in Now on Tiny $3 'Forever Battery' Stock
The post 3 Growth Stocks to Ditch After Poor Earnings appeared first on InvestorPlace.
InvestorPlace | Stock Market News, Stock Advice & Trading Tips