3 High-Risk High-Reward Growth Stocks to Buy Now
2022 has been the year growth stocks received their comeuppance. It was a long-time coming, and even the most starry-eyed bulls would agree that some giveback was warranted. But this has been a massacre of a different order, echoing the horror…
2022 has been the year growth stocks received their comeuppance. It was a long-time coming, and even the most starry-eyed bulls would agree that some giveback was warranted. But this has been a massacre of a different order, echoing the horrors of the dot-com crash. Many high fliers are down 60% to 80%, far exceeding the depths plumbed during the March 2020 plunge.
But while risks remain, a few tickers are separating themselves from the pack. Relative strength accompanied their recent movements, and if they ever recapture the magic that previously propelled them to such lofty heights, well, large rewards are in store.
To increase the chances that one of these goes the distance, I selected a diversified list of growth stocks to buy now. One is a once-red-hot semiconductor on the verge of completing a bottoming pattern. Another is a communications platform that became a household name during the pandemic. The final one is a recent IPO that just celebrated its first birthday and provides exposure to gaming and the metaverse.
Ticker
Company
Price
ZM
Zoom Video
$110.11
AMD
Advanced Micro Devices
$103.76
RBLX
Roblox
$30.37
Growth Stocks: Zoom Video Communications (ZM)
Source: The thinkorswim® platform from TD Ameritrade
Zoom Video Communications (NASDAQ:ZM) has fallen 87% from its high in one of the most epic reversals of fortune in history. Based on that stat alone, you would think the company's earnings and sales have fallen off a cliff – but they haven't!
The hypergrowth seen during the pandemic (five consecutive quarters of 100%+ revenue growth) is undoubtedly a thing of the past but Zoom is still growing – just at a slower pace. Buying now is based in part on the argument that the growth deceleration doesn't justify the beating the stock has suffered.
7 Stocks to Buy and Hold Forever in This Bear Market
The recent quarterly report gave bulls hope after the company released better-than-expected earnings and an optimistic full-year forecast. The Street cheered the numbers, sending shares up 16% in after-hours trading. Up gaps after earnings have been a rarity this season, so it's a differentiator for ZM stock.
We've seen strong follow-through in the days since the report, and Zoom shares are now back above the 50-day moving average for the first time this year. The improving technicals make ZM one of the better growth stocks to buy now.
Advanced Micro Devices (AMD)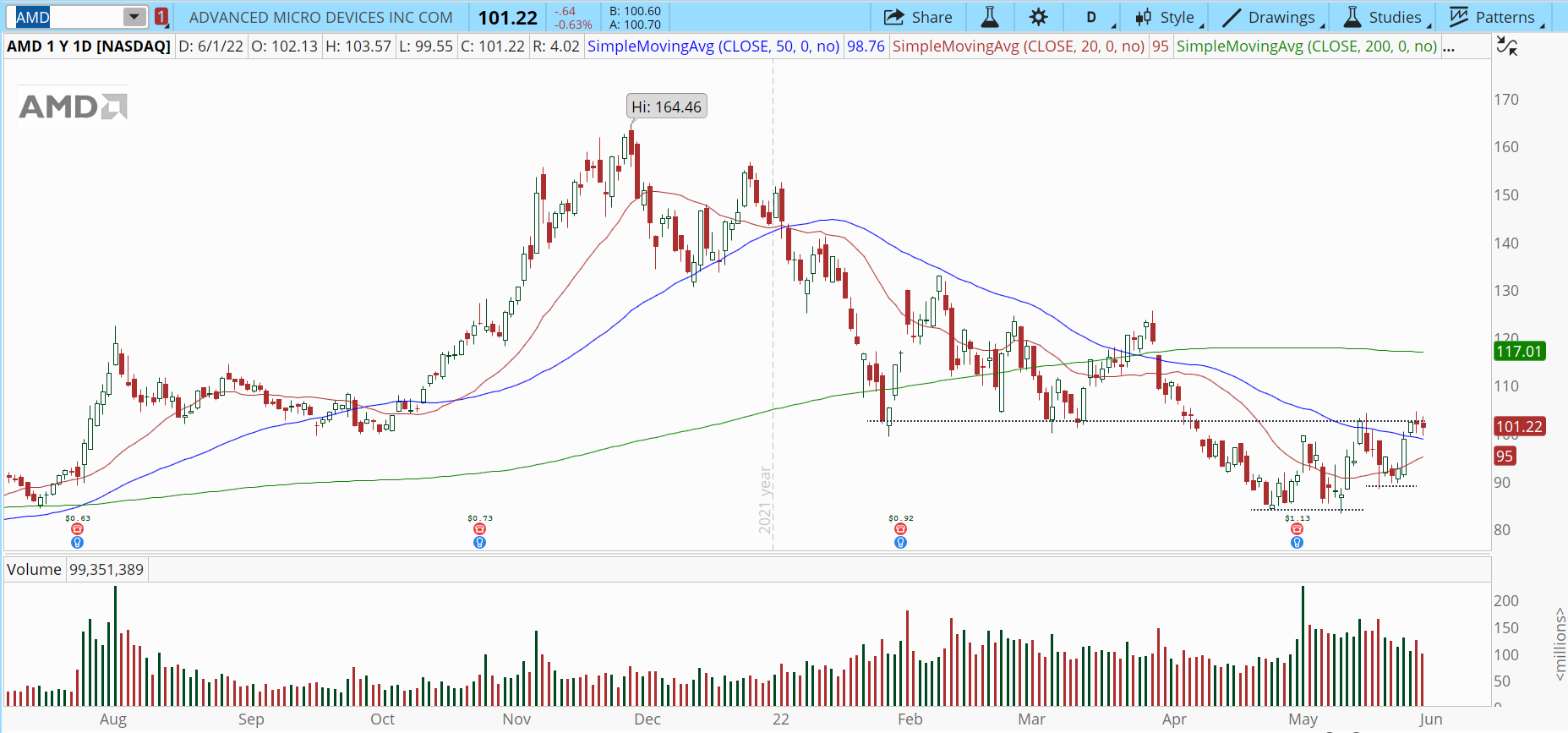 Source: The thinkorswim® platform from TD Ameritrade
If you want to see what consistent growth looks like, feast your eyes on the past eight quarters of EPS for Advanced Micro Devices (NASDAQ:AMD): 18 cents, 41 cents, 52 cents, 52 cents, 63 cents, 73 cents, 92 cents, $1.13. The fundamental backing makes trends like AMD stock so sustainable and worth betting on. Despite the recent growth, the semiconductor company hasn't been spared from the bear market ravaging growth stocks.
Since peaking last November, AMD has been cut in half, shrinking its P/E ratio considerably along the way. The past month of price action gives hope that bulls are finally circling the wagons. Prices jumped following May's earnings report, and we've since seen a double bottom and higher pivot low develop. The 50-day moving average gave way last Friday, and all eyes are on a breakout over $104.
I fully expect the outperformance to continue, and I believe AMD will exceed last year's peak.
Growth Stocks: Roblox (RBLX)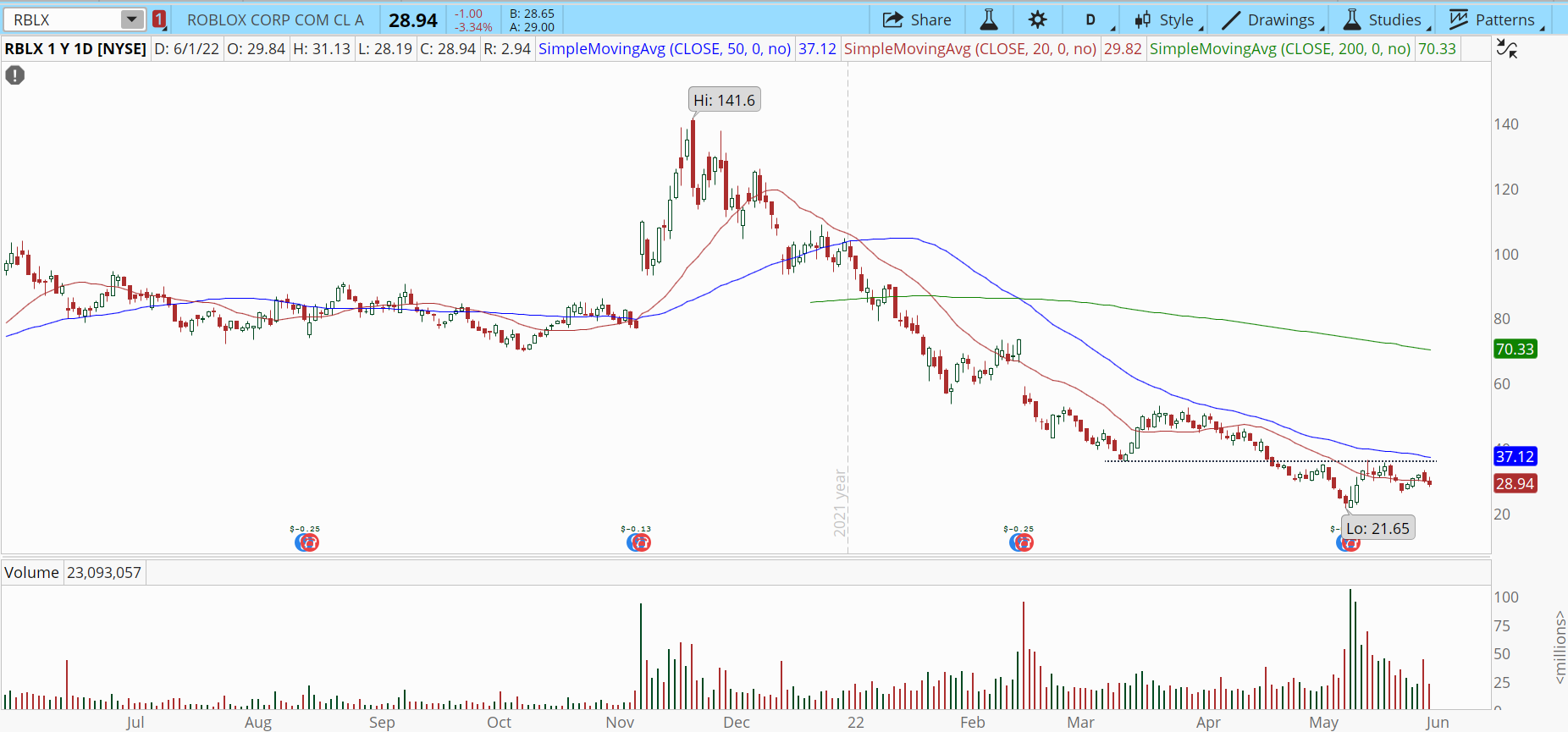 Source: The thinkorswim® platform from TD Ameritrade
The final high-risk, high-reward growth stock is Roblox (NYSE:RBLX). Shares of the booming video-game platform have taken shareholders on a wild ride since the last March's direct listing provided public access to the company's equity. On the risk side of the equation, you have multiple factors to worry about.
7 Undervalued Large-Cap Stocks to Buy for June
First, the company is unprofitable during an inflationary environment where cash flow is king. Second, the stock fell 85% from its highs in just over six months, suggesting just how poisonous it has been to portfolios. The long-term trend and technicals remain heavily in favor of sellers.
But there comes a point at which all of this is priced in. I think we could be close, but of all the picks, this is the one that needs confirmation before pulling the trigger. Consider using a break above $36 as the tell that bulls are returning. If this stock recaptures even a tiny amount of its former magic, a lot of upside is in store.
On the date of publication, Tyler Craig did was long AMD. The opinions expressed in this article are those of the writer, subject to the InvestorPlace.com Publishing Guidelines.
More From InvestorPlace
Stock Prodigy Who Found NIO at $2… Says Buy THIS
It doesn't matter if you have $500 in savings or $5 million. Do this now.
Get in Now on Tiny $3 'Forever Battery' Stock
The post 3 High-Risk High-Reward Growth Stocks to Buy Now appeared first on InvestorPlace.
InvestorPlace| InvestorPlace