3 Hot Cryptos That Are Killing It This Year
Cryptocurrencies have taken the financial world by storm over the past decade, with their popularity and value skyrocketing in recent years. Despite the ups and downs of the market, many investors and traders remain optimistic about the future…
Cryptocurrencies have taken the financial world by storm over the past decade, with their popularity and value skyrocketing in recent years. Despite the ups and downs of the market, many investors and traders remain optimistic about the future of cryptocurrencies. And they are always on the lookout for promising new hot cryptos to buy.
Of course, each cryptocurrency project carries its unique risks to be considered. As a sector, this asset class is among the highest-risk out there. Thus, finding hot cryptos that can sustainably rally is much more difficult.
I've highlighted three projects I think have the potential to provide consistent gains for growth investors. As mentioned, these projects are all higher risk, and investors should do their research and due diligence. That said, these are three projects on my watch list that I continue to take a deeper look into from time to time.
Let's jump in.
Symbol
Cryptocurrency
Price
FIL-USD
Filecoin
$6.74
FTM-USD
Fantom
$0.44
OP-USD
Optimism
$2.66
Hot Cryptos: Filecoin (FIL-USD)
Source: knipsdesign/shutterstock.com
Filecoin (FIL-USD) was created by Protocol Labs as a solution to address issues in the crypto world. It operates as a peer-to-peer network where users compensate storage miners to ensure their files' proper and secure storage over time. The Filecoin blockchain documents these transactions to authenticate the storage of the files.
In late 2017, Filecoin emerged in the open market, initially valued at approximately $11. However, soon after, the cryptocurrency market went through a boom, and the value of FIL surged past $25 by January 2018. Unfortunately, this bubble soon burst, and by the summer of the same year, FIL's weight had dropped below $5. Throughout the next couple of years, as the market experienced a period of inactivity often called "crypto winter," Filecoin's value remained relatively stable, hovering around the $5 mark.
Conversely, DigitalCoinPrice projected that Filecoin could be worth $16.36 in 2023, potentially increasing to $27.20 by 2025 and reaching $57.33 by the decade's end. The website predicted that by 2030, Filecoin's value could skyrocket to $83.32 and even surpass the $100 barrier the following year, trading at approximately $113.01.
It's crucial to consider cryptocurrency markets' high volatility when contemplating a prediction of Filecoin's value. This makes it challenging to accurately forecast a coin or token's price, even in the short term, and even more challenging to provide long-term predictions. As a result, analysts and forecasters that rely on algorithms can sometimes make incorrect predictions.
Fantom (FTM-USD)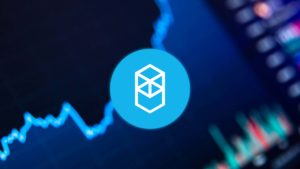 Source: Shutterstock
Fantom (FTM-USD) is the native digital currency of the Fantom blockchain. It operates as an ERC-20 and a BEP-20 token, indicating compatibility with the Ethereum (ETH-USD) and Binance Smart Chain (BSC) blockchains.
Fantom is a blockchain that supports smart contracts and is compatible with layer-1 EVM. It was introduced in 2019 and used a unique proof-of-stake (PoS) consensus protocol named Lachesis. Lachesis employs an asynchronous Byzantine Fault Tolerant (aBFT) PoS protocol based on a directed acyclic graph (DAG) algorithm.
Fantom's cryptocurrency, FTM, plays a crucial role in the functioning of the entire blockchain network and is utilized for activities such as staking, governance, payments, and fees. Users can stake their FTM tokens with a validator node to earn an annual percentage yield (APY) of 4% and benefit from Fantom's unique Fluid Rewards system. This system enables users to lock up their tokens for a specific duration to earn higher reward rates, up to 12% APY.
At present, Fantom is ranked #45 by market capitalization on CoinGecko. DigitalCoinPrice predicts FTM will have an average price of $1.07 and a maximum price of $1.12 in 2024.
Hot Cryptos: Optimism (OP-USD)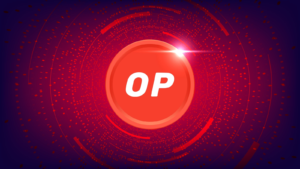 Source: WindAwake / Shutterstock.com
Optimism (OP-USD) is a leading solution for improving the scalability of Ethereum through the implementation of Layer 2 technology. The network recently carried out a surprise airdrop of OP tokens, with the primary target being active participants of the Ethereum network. Individuals who regularly engage with decentralized autonomous organizations (DAOs) or Ethereum applications but face challenges due to high transaction fees can claim a specific number of OP tokens.
Based on recent data, Optimism's current market price is at $2.66, and it is currently ranked as the 59th largest cryptocurrency by market cap. The circulating supply of Optimism is 314,844,141 OP, which gives it a total market capitalization of roughly $837 million at the time of writing.
DigitalCoinPrice's Optimism price projection for 2023 puts OP at a low of $2.36 and an average of $5.33. The 2024 prediction puts the lower limit of the price range at $5.72, whereas the upper limit could go as high as $6.90. The anticipated average trading price should fall around $6.76 for 2024.
Those looking to short Optimism may delay until the blue MACD line falls below the red signal, indicating a sell signal. Additionally, they should consider the possibility of a bounce at the $2.00 support level, which could imply a potential surge to new peaks near $3.00.
In addition to an overall positive trend in the market, specific layer two solutions such as Polygon (MATIC-USD) and Optimism have shown exceptional performance in 2023. Despite being a recently launched network, it has quickly gained the interest of developers and investors.
On the date of publication, Chris MacDonald did not have (either directly or indirectly) any positions in the securities mentioned in this article. The opinions expressed in this article are those of the writer, subject to the InvestorPlace.com Publishing Guidelines.
Chris MacDonald's love for investing led him to pursue an MBA in Finance and take on a number of management roles in corporate finance and venture capital over the past 15 years. His experience as a financial analyst in the past, coupled with his fervor for finding undervalued growth opportunities, contribute to his conservative, long-term investing perspective.
More From InvestorPlace
Buy This $5 Stock BEFORE This Apple Project Goes Live
The Best $1 Investment You Can Make Today
It doesn't matter if you have $500 or $5 million. Do this now.
The post 3 Hot Cryptos That Are Killing It This Year appeared first on InvestorPlace.
InvestorPlace| InvestorPlace