3 Hot Stocks for Tomorrow: Thursday Predictions for AAPL, ULTA, AMZN
After two days of testimony from Federal Reserve Chairman Jerome Powell, the stock market is in a state of limbo. Investors are hyper focused on the hot stocks for tomorrow.
Basically, investors want to know if the S&P 500 is about to enjo…
After two days of testimony from Federal Reserve Chairman Jerome Powell, the stock market is in a state of limbo. Investors are hyper focused on the hot stocks for tomorrow.
Basically, investors want to know if the S&P 500 is about to enjoy another leg to the upside and take out the recent highs or if the market is on the precipice of rolling over.
There is a shred of hope that the Fed won't raise rates too aggressively from current levels. However, another month of hot economic and inflation reports will force investors to the realization that higher interest rates are likely on the way.
We'll get a peak at that with Friday morning's non-farm payrolls report. Let's look at a few other hot stocks for tomorrow — Friday — as we wrap up the week.
Hot Stocks for Tomorrow: Apple (AAPL)

Click to EnlargeSource: Chart courtesy of TrendSpider
Considering it's the largest U.S. stock by market capitalization with a valuation of roughly $2.5 trillion, Apple (NASDAQ:AAPL) is almost always at the top of investors' focus list.
On Friday morning at 12:00 p.m. Eastern, the tech giant will hold its annual shareholder meeting.
Oftentimes, shareholder meetings go by without so much as a whisper, and the stock does absolutely nothing. Other times it can create a giant move in the stock price, like what we're seeing with General Electric (NYSE:GE) on Thursday.
As for Apple, the stock has been trading pretty well in all honesty. Despite a not-so-stellar quarter in January, investors have shrugged off worries of lower iPhone demand and driven shares higher. Will the annual meeting fuel the fire or derail the rally?
The Chart: Apple stock has been struggling with the 61.8% retracement and the mid-$150s. If it can break out to the upside and clear this zone, then the 78.6% retracement near $165 is in play.
On the downside, many would consider last week's low near $144 as a must-hold level. While a break of $150 would surely suggest "caution" in the short term, a break of $144 and the 50-day would put AAPL stock below all of its key daily moving averages and make it vulnerable to more selling pressure.
Hot Stocks for Tomorrow: Ulta Beauty (ULTA)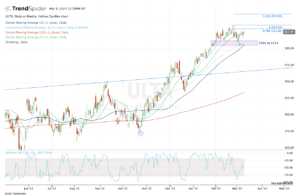 Click to EnlargeSource: Chart courtesy of TrendSpider
Has there been a better retailer than Ulta Beauty (NASDAQ:ULTA)? Possibly, but this name has been on fire. In an equities market engulfed in frustrating choppiness and a bear market that has dragged out for more than a year, Ulta Beauty has been a shining example of what investors should be looking for.
The stock continues to display robust relative strength as it pushes higher. It continues to notch new all-time high after new all-time high, while the dips are being bought.
Last time the retailer reported earnings back in November, the stock had already enjoyed a strong rally. While it didn't pull back after the results, the reaction was rather muted.
Now, the company is scheduled to report on Thursday after the close. Analysts expect about 11% revenue growth and 4.5% earnings growth. However, it will be guidance that drives the stock from here.
The Chart: Will we get another mild earnings reaction despite the recent pullback? If shares dip, look for support from the 10-week and 50-day moving averages in the $505 to $515 region. A break and close below $500 would be a sign that a larger pullback is in the works. On the upside, a move over $532 puts the $537.50 highs back in play, followed by a potential move to the $550 to $555 zone.
The SXSW Festival: Amazon (AMZN)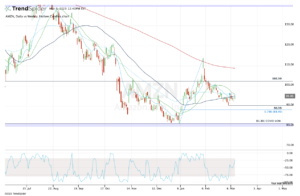 Click to EnlargeSource: Chart courtesy of TrendSpider
Last but certainly not least, we have the SXSW Festival that kicks off in Austin, Texas, on Friday. The event lasts for more than a week and draws an enormous crowd. According to the festival, it "celebrates the convergence of tech, film, music, education, and culture."
That really is the best way to describe it, too.
It's an enormous blend of different companies and people that put on everything from films to speeches. We'll also hear about the metaverse, autonomous driving, clean energy and much more.
Of the public companies that will be there, we know about Amazon (NASDAQ:AMZN), Roku (NASDAQ:ROKU), SunPower (NASDAQ:SPWR) and more. I'm not sure if this will move the needle on any of the stocks, but it seems worthwhile to mention their presence.
The Chart: Looking at Amazon from this group, this stock has been struggling so far this year. Bulls want the stock to regain the $96.50 area. That's roughly Monday's high and Thursday's high, but more importantly it would put the stock back over the 10-day, 10-week, 21-day and 50-day moving averages.
If it can do that, it opens the door back up to $100, then $102.50. On the downside, a break of $88.50 to $90 is a bit concerning, as it could open the door back down to the low-$80s.
On the date of publication, Bret Kenwell did not have (either directly or indirectly) any positions in the securities mentioned in this article. The opinions expressed in this article are those of the writer, subject to the InvestorPlace.com Publishing Guidelines.
Bret Kenwell is the manager and author of Future Blue Chips and is on Twitter @BretKenwell.
More From InvestorPlace
Buy This $5 Stock BEFORE This Apple Project Goes Live
The Best $1 Investment You Can Make Today
It doesn't matter if you have $500 or $5 million. Do this now.
The post 3 Hot Stocks for Tomorrow: Thursday Predictions for AAPL, ULTA, AMZN appeared first on InvestorPlace.
InvestorPlace| InvestorPlace