3 Stocks to Buy in This Bear Market
For many investors a Roaring '20s redux is now making some unwanted and concerning noise. It's a bear!! And the overreaching bullish consideration for many stocks to buy over the past two years has lost that sense of urgency.
But t…
For many investors a Roaring '20s redux is now making some unwanted and concerning noise. It's a bear!! And the overreaching bullish consideration for many stocks to buy over the past two years has lost that sense of urgency.
But the possibility of deeper losses in Wall Street's recent and most dearly-held risk assets may also be less of a threat in select pot, crypto and EV plays. You can't squeeze juice from a turnip. Right?
And based on the chart evidence, the following three names may just deserve consideration as stocks to buy.
7 Sin Stocks to Buy if the Economy Slows Down
Roar!! It's been a month since investors lost their #[email protected]! and today it's happening again. For one, the VIX has climbed back above the historically overly fearful 30% level.
And choice spots for bulls to graze over the past couple years like Microsoft (NASDAQ:MSFT), Home Depot (NYSE:HD), Tesla (NASDAQ:TSLA) or the S&P 500, which houses those mega-cap influencers, are being severely challenged.
Blame it on what you will. Or like most investors, go ahead and point those fingers toward overseas escalations between Russia and Ukraine or the specter of rising interest rates aimed to combat inflation.
Tilray (NASDAQ:TLRY)
Decentraland's MANA (MANA-USD)
Lucid Motors (NASDAQ:LCID)
Does it really matter though? Or how much so? As the following price charts of these pot, crypto and EV stocks to buy attest, maybe a great deal less than we're being led to believe.
Stocks to Buy: Tilray

Source: Charts by TradingView
The first of our stocks to buy is pot giant Tilray.
Bottom line, you can't squeeze juice from something that's gotten smoked. And North America's largest cannabis producer certainly fits the bill.
Technically, the monthly chart in this stock to buy reveals a brutal 91% decline in shares since putting in a relative top last February.
But in appreciating that other bottom line, what's been ailing TLRY investors on the price chart may soon be a thing of the past.
In January, this stock to buy reported its 11th consecutive quarter of positive EBITDA, sequential sales growth of 20% and net income of $6 million which reversed last year's $89 million loss.
And to be sure, that's a whiff of fresh air for this stock to buy.
Technically, with TLRY on the cusp of an oversold bullish stochastics crossover in oversold territory, it's time to appreciate there's always a bull market somewhere. And sometimes it's best to start by looking low.
Decentraland's MANA (MANA-USD)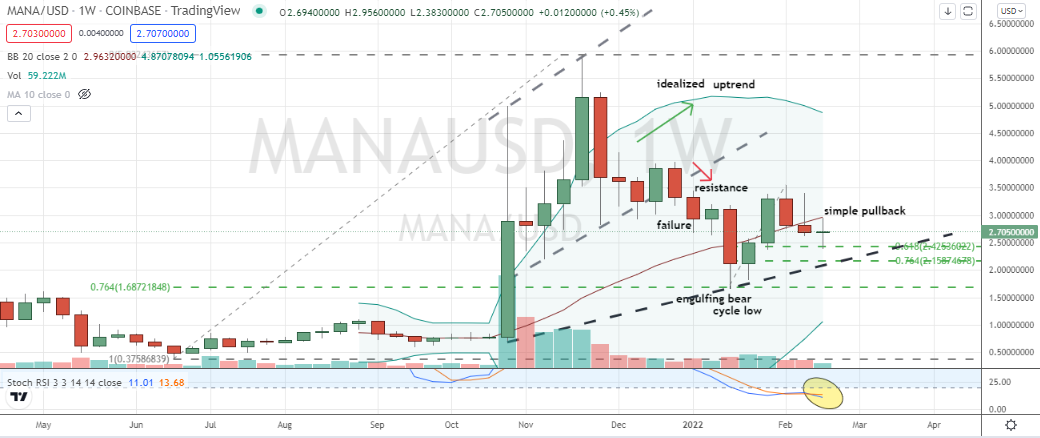 Source: Charts by TradingView
The next of our stocks to buy is actually crypto token MANA.
The crypto market's bearish price action began to manifest itself long before today's broader correction in the S&P 500 and other benchmark averages.
And MANA-USD wasn't immune. The token has collapsed upward of 70% since its late November high.
That type of decline might be enough for some bulls to pull the trigger, but that's not the only thing MANA has up its sleeve.  MANA's buyers are also receiving two growth narratives for the price of one.
The thing is, this stock to buy or rather crypto, is also a metaverse play.
In a nutshell, MANA backs Decentraland's virtual reality platform powered by the Ethereum blockchain.
Users can buy, sell and develop digital real estate in the metaverse. And its quickly becoming big business with some plot sales now in the seven figures.
7 Sin Stocks to Buy if the Economy Slows Down
Technically, and following a vicious 70% plus bear market, MANA is setting up in a simple pullback formation after a reaction rally tied to its January low.
With the coin testing a band of Fibonacci and price support from roughly $2.16 to $2.43 this week, monitor this "stock" to buy for a candlestick confirmation and bullish stochastics crossover.
Stocks to Buy: Lucid Motors (LCID)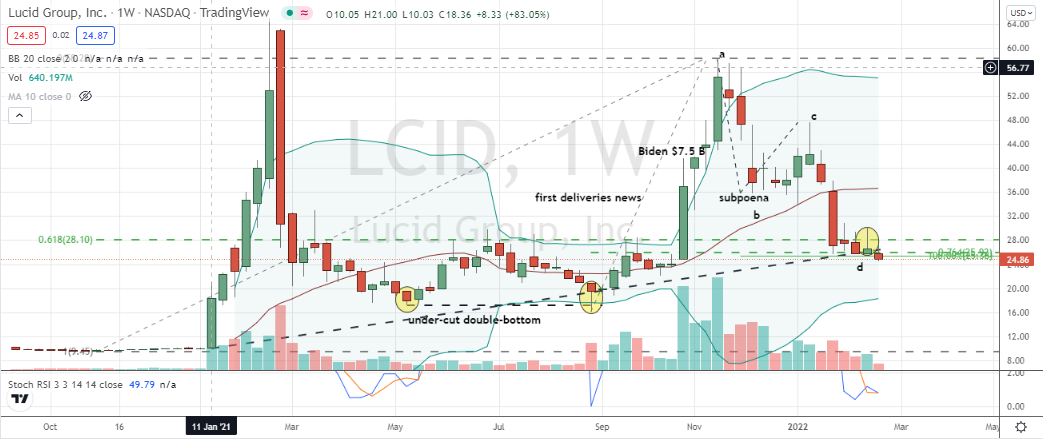 Source: Charts by TradingView
The last of our stocks to buy is Lucid Motors.
Since the second half of November shares of the $40 billion luxury EV play have been chopped down by more than 55%.
LCID's bearish cycle is less severe than our other stocks to buy. Still, it certainly qualifies as a mauling for a large-cap stock of Lucid's caliber.
And this bear market has now gone too far, figuratively and literally.
I actually discussed LCID stock a week ago after the shares completed a Fibonacci-based two-step pattern backed by angular price support, the 76% retracement level and a bullish oversold stochastics crossover signal.
It was an all-systems go situation in our observation. But this week's broader market anxieties has turned the technical purchase into a classic lesson on using stop-loss orders.
Appreciatively though, given the marginal pattern breakage and extremely fearful behavior causing the failure, a forceful and bullish second attempt opportunity could be at hand.
My advice is for investors to be smart and wait for a modest recharge in shares.
Bottom line, if LCID can reverse back through $27 with a favorable stochastics alignment, skip the test drive in this stock to buy and use an actively-managed LCID collar to power superior risk-adjusted profits.
On the date of publication, Chris Tyler did not have (either directly or indirectly) any positions in the securities mentioned in this article. The opinions expressed in this article are those of the writer, subject to the InvestorPlace.com Publishing Guidelines.
Chris Tyler is a former floor-based, derivatives market maker on the American and Pacific exchanges. For additional market insights and related musings, follow Chris on Twitter @Options_CAT and StockTwits.
More From InvestorPlace
Stock Prodigy Who Found NIO at $2… Says Buy THIS Now
Man Who Called Black Monday: "Prepare Now."
Get in Now on Tiny $3 'Forever Battery' Stock
The post 3 Stocks to Buy in This Bear Market appeared first on InvestorPlace.
InvestorPlace | Stock Market News, Stock Advice & Trading Tips