3 Stocks to Buy That Are Immune to Inflation Fears
Inflation is running hot. Real hot. U.S. consumer prices rose 7.5% in January, the largest gain since 1982, according to the Labor Department.
Central banks around the world have stopped using the word "transitory" when describing…
Inflation is running hot. Real hot. U.S. consumer prices rose 7.5% in January, the largest gain since 1982, according to the Labor Department.
Central banks around the world have stopped using the word "transitory" when describing higher inflation and stock markets have been volatile as investors prepare their portfolios for the interest rate increases that are coming this year.
The consensus view right now is that the U.S. Federal Reserve will raise rates four times this year to cool off inflation, although some analysts are penciling in up to seven rate hikes in 2022.
More expensive borrowing costs, understandably, have many investors concerned and rushing to get out of rate sensitive stocks such as technology names and into stocks of companies that are better able to flourish in an environment of higher rates.
7 Oil Stocks to Buy as Multiple Catalysts Converge
Here are three stocks to buy that are largely immune to inflation and the fear it causes.
Chevron (NYSE:CVX)
Bank of America (NYSE:BAC)
Procter & Gamble (NYSE:PG)
Stocks to Buy That Are Immune to Inflation Fears: Chevron (CVX)
Source: LesPalenik / Shutterstock.com
With the price of oil at its highest level since 2014, energy stocks like Chevron are red hot right now.
While higher prices at the gas pumps are bad for consumers, they are great for producers who are riding the current $90 per barrel price of crude oil to higher profits. Consequently, the energy sector of the S&P 500 index is up 23% so far this year, following a 48% gain in 2021.
The only other sector of the S&P 500 that is in positive territory this year is financials, which is up a modest 4%. With many analysts forecasting that the price of oil will surpass $100 a barrel this year, investors are loading up on energy stocks.
And among oil producers, San Ramon, California-based Chevron is a top pick. The company's stock is up 15% year-to-date, and has risen 51% over the past 12-months. CVX stock has been one of the best performing in the Dow Jones Industrial Average over the last year.
The oil major also offers a high dividend yield of 4.13%, which is good for a quarterly payout of $1.42 per share.
Active in 180 countries and involved in every aspect of the oil and natural gas industries, from producing and refining to transportation and marketing, Chevron has plenty of room to grow and capitalize on the spiking cost of crude oil.
Bank of America (BAC)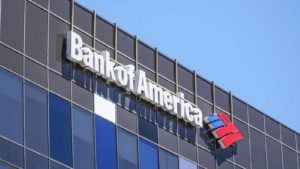 Source: 4kclips / Shutterstock.com
Banks benefit the most from higher interest rates. This is because banks make most of their revenue from the interest they charge on loans. The higher the interest rate they can charge, the better for the bank. This helps to explain why bank stocks like Bank of America have been rising this year while technology stocks that borrow heavily to fund their rapid growth have gotten crushed.
As mentioned, the financials sector of the S&P 500 index is one of only two that are in positive territory year-to-date as investors brace for the Federal Reserve to begin raising interest rates in March. As many as four rate hikes are expected by year's end, which is good news for Bank of America and its shareholders.
Bank of America is in a good position to perform well in an environment of higher interest rates. When rates were at rock-bottom levels during the pandemic, BofA relied on its investment banking and corporate business units to underpin its growth. However, with interest rates on the verge of rising, the second-biggest lender in the U.S. is ramping up its consumer lending division.
The 7 Highest Dividend Stocks for Income Investors
Bank of America has said that it expects its loan growth to exceed pre-pandemic levels this year, and that a 1% move higher in interest rates will add $6.5 billion to its coffers.
BAC stock is up 7% year-to-date at $49.28, and has risen 49% in the past 12 months.
Stocks to Buy That Are Immune to Inflation Fears: Procter & Gamble (PG)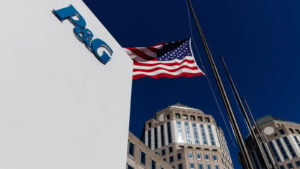 Source: Jonathan Weiss / Shutterstock.com
As prices rise with inflation, consumers have to increasingly make choices between necessary and discretionary items. A fat-free latte with extra foam, for example, might not be as necessary as say, toothpaste. And in a high inflation environment when prices are rising at a fast clip, companies such as Procter & Gamble that make a lot of necessary consumer products tend to outperform.
Almost all of Cincinnati-based P&G's products can be viewed as necessary, from its Head & Shoulders shampoo to its Gillette razor blades, Pampers diapers and Tide laundry detergent. In good economic times and bad, consumers rely on Procter & Gamble products.
This reliance helps explain why PG stock is essentially flat this year (down a slight 2%) at just under $160 a share, but up 25% over the past year.
In addition to its reliable stable of essential products, analysts also like that Procter & Gamble has pricing power. This means the company is able to raise prices without losing a lot of customers.
As inflation continues to run hot, Procter & Gamble is able to sail safely through the storm and continue rewarding shareholders. The company recently reported better-than-anticipated earnings and cited its ability to raise prices to offset higher costs as a key reason for its outperformance.
On the date of publication, Joel Baglole did not have (either directly or indirectly) any positions in the securities mentioned in this article. The opinions expressed in this article are those of the writer, subject to the InvestorPlace.com Publishing Guidelines.
Joel Baglole has been a business journalist for 20 years. He spent five years as a staff reporter at The Wall Street Journal, and has also written for The Washington Post and Toronto Star newspapers, as well as financial websites such as The Motley Fool and Investopedia. 
More From InvestorPlace
Stock Prodigy Who Found NIO at $2… Says Buy THIS Now
Man Who Called Black Monday: "Prepare Now."
#1 EV Stock Still Flying Under the Radar
The post 3 Stocks to Buy That Are Immune to Inflation Fears appeared first on InvestorPlace.
InvestorPlace | Stock Market News, Stock Advice & Trading Tips