3 Tech Stocks to Buy After Nvidia's Earnings Report
Last week's Q1 earnings report for Nvidia (NASDAQ:NVDA) was a critical market tell, and it's making tech stocks a tempting target for buyers.
The semiconductor kingpin sailed past earnings and sales expectations for the first …
Last week's Q1 earnings report for Nvidia (NASDAQ:NVDA) was a critical market tell, and it's making tech stocks a tempting target for buyers.
The semiconductor kingpin sailed past earnings and sales expectations for the first quarter, but its forward guidance fell short due to headwinds from the war in Ukraine and China's lockdown. The initial response saw Nvidia stock swoon in after-hours trading, following in the footsteps of so many other companies that got torpedoed after their quarterly reports.
But then, something interesting happened. Selling pressure dried up, and an abrupt reversal higher occurred. NVDA stock closed up 5% on Thursday, marking a stunning 17% turnaround from the initial post-earnings selloff after hours on Wednesday. The sentiment shift had a significant domino effect on the rest of the market. Tech stocks rallied hard, and the Nasdaq gained 7% for the week.
With bulls finally gaining a foothold in the technology sector, these three stocks are worth buying.
Ticker
Company
Price
NVDA
Nvidia
$189.63
AAPL
Apple
$150.01
MSFT
Microsoft
$273.05
Tech Stocks: Nvidia (NVDA)
Since Nvidia was the catalyst for the desperately needed market reversal, it deserves the first mention. I made a case for its sudden change in character above, but let's elaborate on how the trend structure has changed. NVDA stock entered earnings at a crucial level on the chart. Its price tested old support near $156 and needed a rally to stave off yet another support breach.
The 7 Best Stocks to Buy for June 2022
This is one thing that made the initial response to earnings so unnerving. The after-hours swoon could have snowballed into a significant breakdown. But it didn't. From its November peak of $346.47 to the recent low of $155.67, prices had already been cut in half. Many investors have wondered when higher interest rates and an expected economic slowdown might finally be priced into tech stocks. Nvidia's positive response to negative news suggests we are there for semiconductors.
With Friday's follow-through, NVDA stock topped off a bottoming pattern and could make a run for $210.
The Trade: Buy the July $200/$210 bull call spread for $3.35.
The risk is $3.35, and the reward is $6.65.
Apple (AAPL)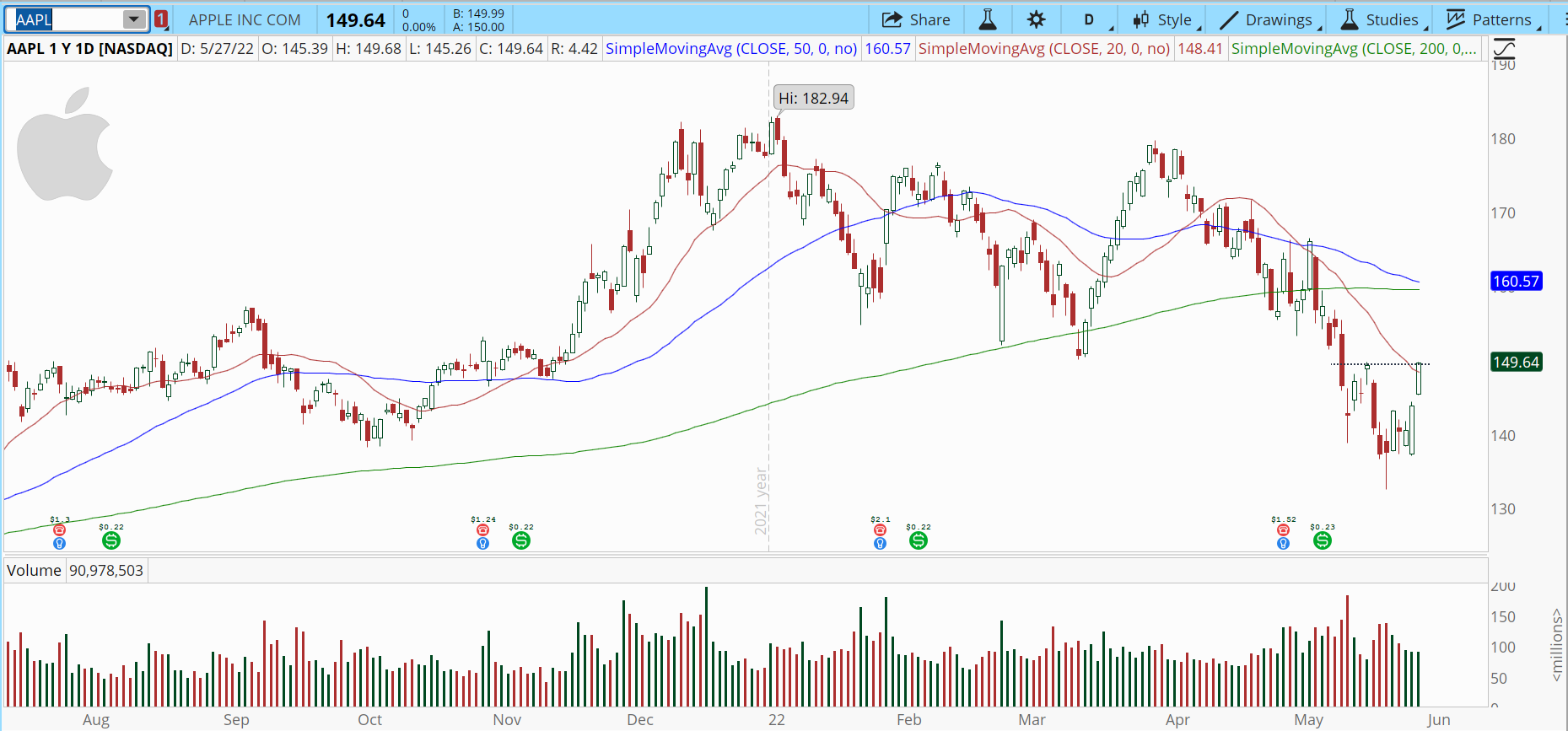 Source: The thinkorswim® platform from TD Ameritrade
While it still has work to do, the price action in Apple (NASDAQ:AAPL) to end the week holds promise. Thursday scored a bullish engulfing candle on Nvidia earnings, and Friday saw prices leap another 4% to end with a marubozu candle revealing buyers jammed prices higher throughout the session.
By closing above the 20-day moving average and at the old resistance pivot near $150, AAPL stock finished the week within spitting distance of a bullish breakout. If it succeeds here, it will mark only the second time this year that prices broke above a daily resistance zone. I think it could set the stage for a return to the 50-day and 200-day moving average near $160.
The Trade: Buy the July $150/$160 bull call spread for $4.20.
The risk is $4.20, and the reward is $5.80.
Tech Stocks: Microsoft (MSFT)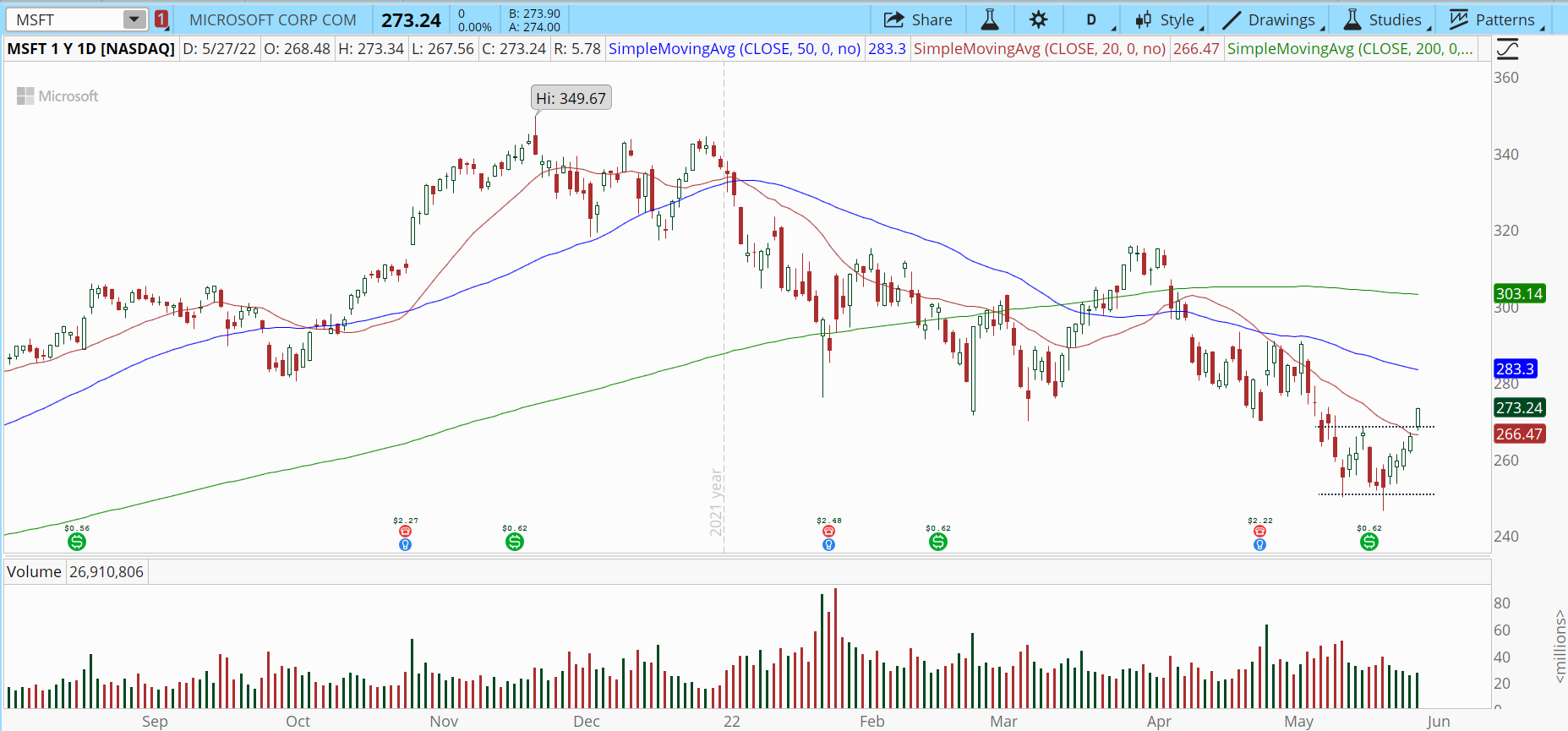 Source: The thinkorswim® platform from TD Ameritrade
Microsoft (NASDAQ:MSFT) rounds out our trio of tech stocks with a clean double bottom pattern that could spell the end of its downtrend. Friday's 2% gain completed and confirmed the reversal formation with buyers aggressively defending the $250 zone. But, as traders like to say, holding support is good, but breaking resistance is better.
7 Beaten-Down Growth Stocks That Look Like Big Bargains Right Now
And that's precisely what happened ahead of the weekend. The rally also cleared the 20-day moving average. Now, in fairness to bears and their string of victories this year, MSFT stock faces a ton of overhead resistance that could make its turnaround attempt messy. Rather than build an aggressive directional play that will fail if Microsoft stumbles, I like selling put spreads to create a broader profit range.
The Trade: Sell the July $250/$240 bull put spread for $1.60
Consider this a bet that Microsoft's price sits above $250 at expiration. The max gain is $1.60, and the max loss is $8.40.
On the date of publication, Tyler Craig did not have (either directly or indirectly) any positions in the securities mentioned in this article.
More From InvestorPlace
Stock Prodigy Who Found NIO at $2… Says Buy THIS
It doesn't matter if you have $500 in savings or $5 million. Do this now.
Get in Now on Tiny $3 'Forever Battery' Stock
The post 3 Tech Stocks to Buy After Nvidia's Earnings Report appeared first on InvestorPlace.
InvestorPlace| InvestorPlace