3 Top Cryptos That Could Outperform Despite Risk-Off Volatility
As a whole, digital currencies saw an excellent 2021. Collectively, this asset class began the year with just more than $800 billion in aggregate market capitalization (cap). This figure almost tripled by the time 2022 rolled around and had re…
As a whole, digital currencies saw an excellent 2021. Collectively, this asset class began the year with just more than $800 billion in aggregate market capitalization (cap). This figure almost tripled by the time 2022 rolled around and had reached $2.25 trillion by end of year. Much of these gains came from the sectors top cryptos, which led the way in terms of valuation increase.
However, the recent sector-wide decline we've seen has sent investors into a spiral. Most tokens are down, driven by a wide-scale portfolio de-risking being led by the highest-risk investments first. This sort of volatility has manifested itself in the crypto sector on a daily basis. Often, the crypto sector has seen much larger daily moves than that of the broader stock market.
Of course, should bullish sentiment return any time soon, perhaps there is a chance for a nice rebound for crypto investors. In this market, anything is possible.
The 7 Best Stocks to Buy for June 2022
However, with risk-off sentiment prevailing, investors may be interested in tokens that are worth a buy at these depressed levels as long-term bets. Here are three top cryptos I think fit this profile, particularly in this uncertain environment:
Ticker
Company
Price
SOL-USD
Solana USD
$45.60
ETH-USD
Ethereum USD
$1,941.90
BNB-USD
Binance Coin USD
$319.98
Top Cryptos to Buy: Solana (SOL-USD)
Source: Rcc_Btn / Shutterstock.com
Solana (SOL-USD) is a decentralized computing platform that aims to enhance blockchain scalability by using a combination of this network's unique proof-of-history and proof-of-stake consensus mechanisms. The technical aspects of Solana's blockchain are difficult to understand. However, the brass tacks is that this unique setup provides Solana with the ability to process up to 50,000 transactions per second. That is up there with the best credit card processors.
Arguably the fastest blockchain in terms of time to finality, Solana has reaped the benefits of its technological advantage. Developer interest on this network has soared, with a number of promising projects recently released set to propel future growth even higher. Among the projects I've got on my radar right now are Solana Pay and the network's non-fungible token (NFT) marketplace, Solanart.
Like other top cryptos, Solana is down big from its peak. However, I think this token has the ability to outperform should growth continue on the Solana network. Various outages have hurt the bull thesis on this token of late. However, should Solana work out the kinks, this is a project with immense long-term upside trading at a compelling valuation today.
Ethereum (ETH-USD)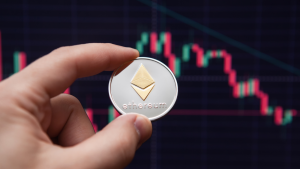 Source: viktoryabov / Shutterstock.com
Ethereum (ETH-USD) is a cryptocurrency that doesn't really need an introduction. Ethereum provides the building blocks upon which most of the decentralized finance world is built. For those bullish on the long-term growth of crypto in general, Ethereum remains integral to this thesis.
However, there's yet another catalyst investors are looking to for even greater growth in the long-term. Ethereum's much-anticipated upcoming "Merge" is just around the corner. This merge will combine the network's proof-of-stake Beacon Chain with its main network, providing a truly proof-of-stake option for investors.
This will greatly reduce the energy impact Ethereum mining has, as well as improve the network's speed. While costs may not necessarily come down (still a key headwind for Ethereum), this merge will likely improve the tokenomics of Ether, the network's currency.
7 Beaten-Down Growth Stocks That Look Like Big Bargains Right Now
Expectations are that this merge could take place in August, providing a near-term catalyst for investors to consider. If anything, ETH deserves to be on the watchlist for investors considering top cryptos right now.
Top Cryptos to Buy: Binance Coin (BNB-USD)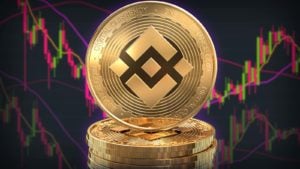 Source: Shutterstock
Binance Coin (BNB-USD) is currently the fifth-largest crypto in terms of market cap. With a market cap standing at around $52 billion, Binance Coin remains one of the top cryptos most investors may not have dove into to a great degree. At least, compared to Bitcoin (BTC-USD) and Etheruem, which are currently the top two in this regard.
BNB provides investors with an excellent way to bet on the world's largest crypto exchange, Binance. For those bullish on trading volume growth and the health of the overall exchange market, this is a key reason to own BNB.
However, perhaps one of the more intriguing use cases Binance Coin has seen of late is this token's use in the gambling sector. A number of high-profile crypto gambling sites and casinos feature Binance Coin. As this sector continues to grow, there's a really unique angle to consider when it comes to this token.
Gambling isn't for everyone and these three tokens each have their issues. However, over the long-term, these three cryptos could outperform in spite of near term volatility.
On the date of publication, Chris MacDonald has positions in Solana and Ethereum. The opinions expressed in this article are those of the writer, subject to the InvestorPlace.com Publishing Guidelines.
More From InvestorPlace
Stock Prodigy Who Found NIO at $2… Says Buy THIS
It doesn't matter if you have $500 in savings or $5 million. Do this now.
Get in Now on Tiny $3 'Forever Battery' Stock
The post 3 Top Cryptos That Could Outperform Despite Risk-Off Volatility appeared first on InvestorPlace.
InvestorPlace| InvestorPlace