3 Top Stock Trades for the Week of Feb. 14, 2022
On Friday, bears returned with a vengeance, sending the S&P 500 plunging through the 200-day moving average. They preyed on multiple investor fears, from inflation and interest rates to the Russia-Ukraine situation. With all the drama head…
On Friday, bears returned with a vengeance, sending the S&P 500 plunging through the 200-day moving average. They preyed on multiple investor fears, from inflation and interest rates to the Russia-Ukraine situation. With all the drama heading into the weekend, it's surprising we didn't have a more explosive move on Monday. As is, the open was quiet, giving us an interesting backdrop for this week's top stock trades.
7 Industrial Stocks to Buy as Tech Stocks Tumble
Still, fear remains elevated. The CBOE Volatility Index (CBOEINDEX:VIX) added to Friday's gains by climbing to 32 Monday morning. At that level, traders are baking in daily moves of 2% based on options prices. It seems overdone and likely is based on historical precedent.
So instead of betting with sellers, which has been a tricky gambit for the past year, we're buying strong setups in good-looking stocks.
I found a diversified list of three top-shelf ideas from entirely different industries.
Bank of America (NYSE:BAC)
Snap Inc (NYSE:SNAP)
Walt Disney Company (NYSE:DIS)
We'll offer a brief take on their charts, followed by an intelligent options trade.
Top Stock Trades for the Week: Bank of America (BAC)
Source: The thinkorswim® platform from TD Ameritrade
Wall Street has been getting in front of the Federal Reserve by pushing bond yields higher. The 10-year eclipsed 2% last week for the first time since 2019. While the rapid rise is scaring growth stocks, banks love it. The financial sector has outperformed so far in 2022 and has one of the cleaner patterns entering the week.
Bank of America is one of my favorite ideas. Last week, it notched out a new high before pulling back into the weekend. So far, a bottoming candle is forming on Monday at the 20-day moving average, suggesting buyers are wading in. If we can push above $48.20 (Monday's high), consider entering bull trades.
To increase the odds of success, try selling puts.
The Trade: Sell the March $43 naked put for around 47 cents.
Consider this a bet that BAC sits above $43 at expiration. If it does, you'll capture the 47 cent credit.
Snap (SNAP)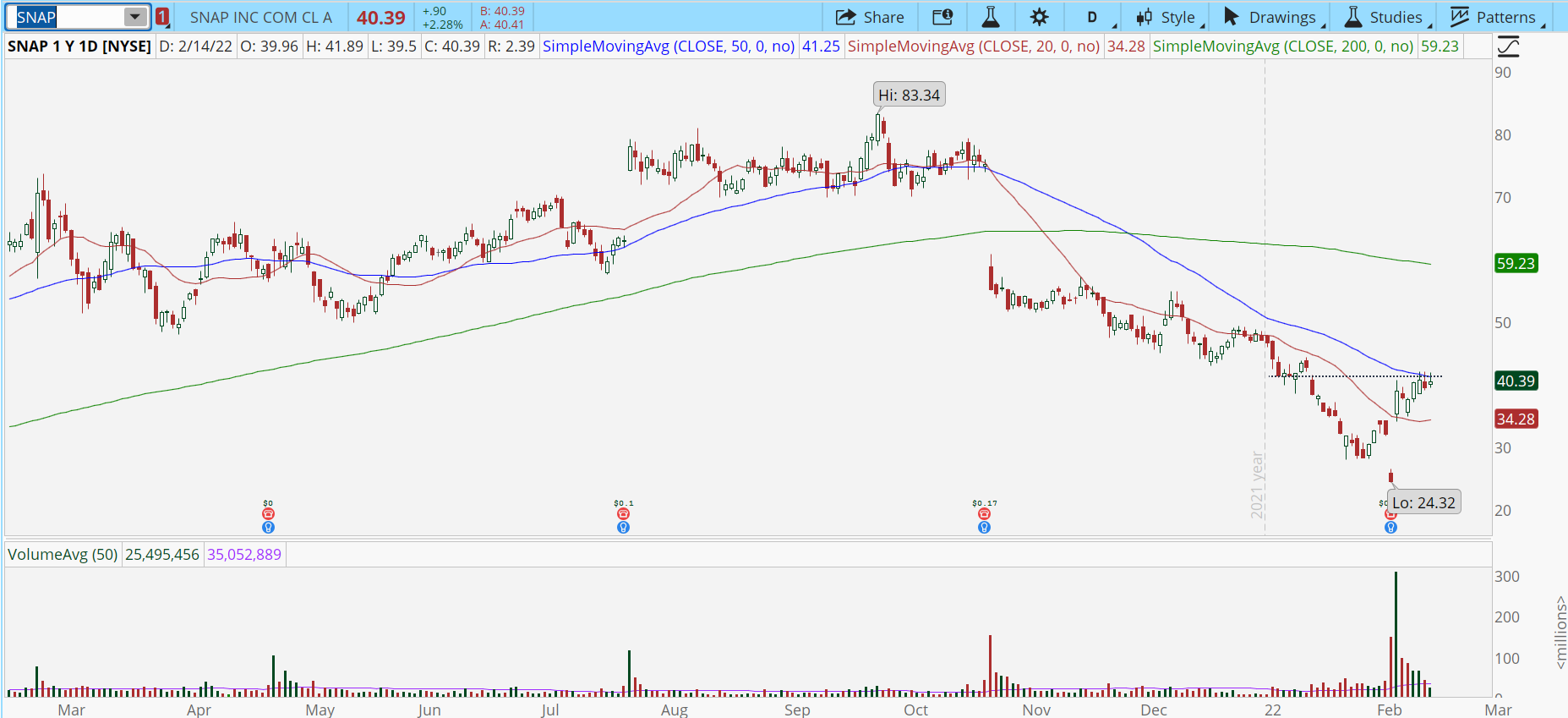 Source: The thinkorswim® platform from TD Ameritrade
Growth stocks have struggled of late, so I'm hesitant to spotlight a bullish idea in that area. And yet, I find the relative strength in SNAP stock attractive. It was unjustly punished following Meta Platforms (NASDAQ:FB) earnings debacle and promptly ricocheted back on its quarterly report. Since then, prices have been chipping away at the 50-day moving average, creating an obvious resistance zone for a breakout trade.
7 Industrial Stocks to Buy as Tech Stocks Tumble
If SNAP stock can pierce $42, bullish trades are a go. The next ceiling doesn't come into play until $50, leaving plenty of room for follow-through. Because we could see a quick pop after the resistance breach, I like a more aggressive position to capitalize. The higher volatility in the stock makes call spreads easier to deploy than a long call.
The Trade: Buy the April $40/$50 bull call spread for around $3.15.
You're risking $3.15 to make $6.85 if SNAP stock pushes to $50 by expiration.
Top Stock Trades for the Week: Walt Disney Company (DIS)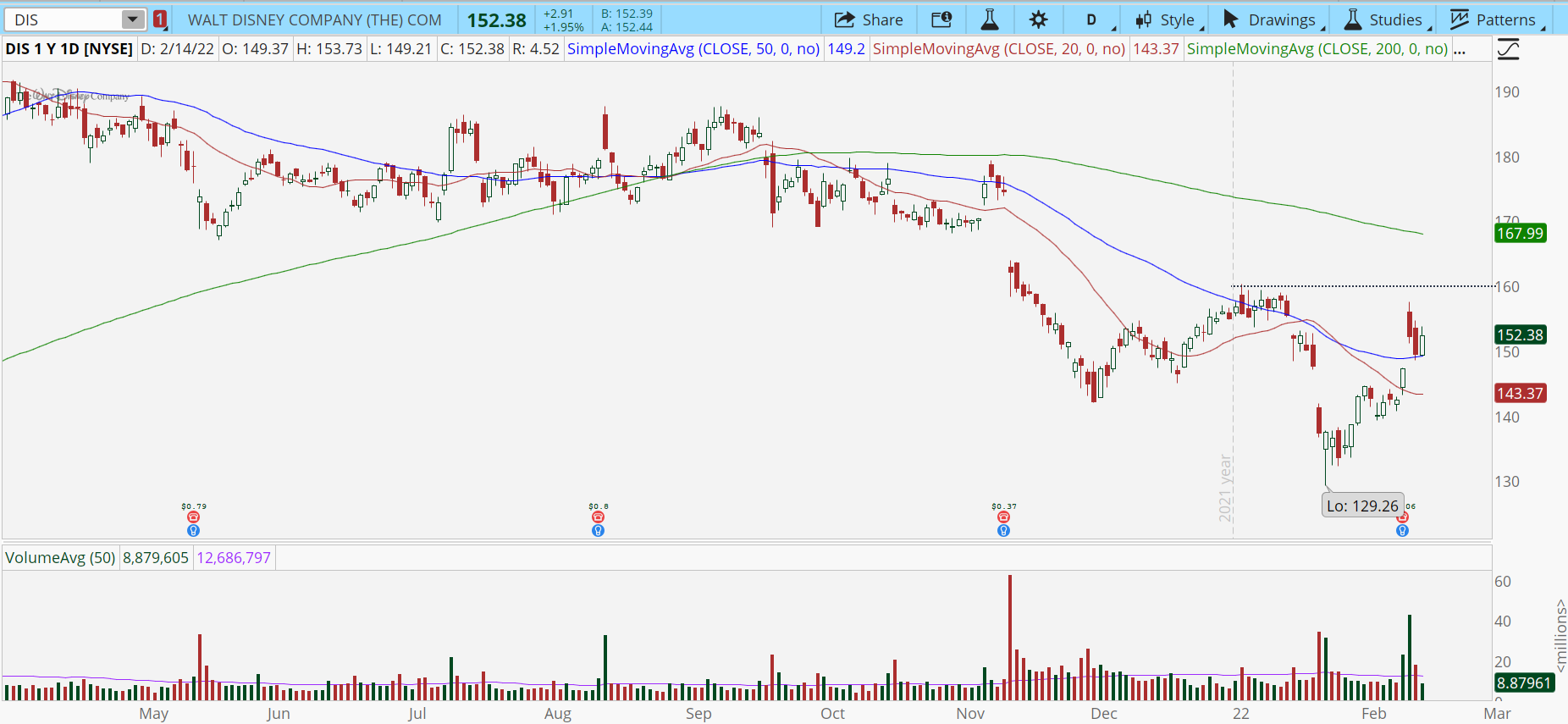 Source: The thinkorswim® platform from TD Ameritrade
Disney delivered earnings worth celebrating last week. After seeing a strong rebound in its theme parks division, the entertainment giant smashed forecasts. The House of Mouse also surpassed expectations for Disney+ subscriber growth. Its share price jumped on the news, and the current buy-the-dip pattern demands inclusion to this week's top stock trades.
So far, the 50-day moving average is holding firm as support. Below here, we also have the gap fill area that could see more buyers wade in. Implied volatility is too low to make selling puts or put spreads interesting. Instead, consider buying call spreads for a push to $160.
The Trade: Buy the April $150/$160 bull call for $4.60
The risk is $4.60, and the reward is $5.40.
On the date of publication, Tyler Craig was long DIS. The opinions expressed in this article are those of the writer, subject to the InvestorPlace.com Publishing Guidelines.
For a free trial to the best trading community on the planet and Tyler's current home, click here!
More From InvestorPlace
Stock Prodigy Who Found NIO at $2… Says Buy THIS Now
Man Who Called Black Monday: "Prepare Now."
#1 EV Stock Still Flying Under the Radar
The post 3 Top Stock Trades for the Week of Feb. 14, 2022 appeared first on InvestorPlace.
InvestorPlace | Stock Market News, Stock Advice & Trading Tips