4 Top Stock Trades for Friday: AMD, MSFT, DDOG, FB
We have been talking about this all week, saying that the frustrating and choppy price action may very well lead to more upside as the bulls needed to consolidate the recent gains. Let's look at a few top stock trades for Friday.
Top Sto…
We have been talking about this all week, saying that the frustrating and choppy price action may very well lead to more upside as the bulls needed to consolidate the recent gains. Let's look at a few top stock trades for Friday.
Top Stock Trades for Tomorrow No. 1: Advanced Micro Devices

Click to EnlargeSource: Chart courtesy of TrendSpider
I know we just talked about Advanced Micro Devices (NASDAQ:AMD) the other day, but today's monthly-up rotation over the May high really lit a fire under this stock.
Shares are up 7% on the day, as AMD easily cleared $104.55 and took off to the upside. When the move finally triggered, we were looking for a rally up to the $109 to $110 area. That's the 61.8% retracement of the current down-leg.
There now, traders — not investors — can consider booking some profit and moving to a break-even stop-loss.
7 Overlooked Value Stocks to Buy Before Wall Street Catches On
If AMD can continue higher, let's see if we can get to the $115 to $117 area and tag the 200-day moving average.
Top Stock Trades for Tomorrow No. 2: Microsoft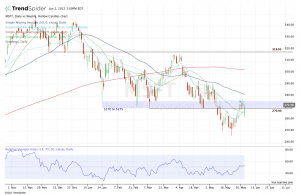 Click to EnlargeSource: Chart courtesy of TrendSpider
Microsoft (NASDAQ:MSFT) put the market is a sour mood this morning as it cut its guidance in between its regular quarterly earnings reports. That's never a good look. But what is a good look? Rallying on bad news, which is what the stock did today.
Shares were down 4% at the low and ended the day up 0.67%. It's a good battle by the bulls, and it's their ball to drop now.
With today's rebound, the stock is pushing up through the key $270 level. It also reclaimed the 10-day and 21-day moving averages. From here, Microsoft has to try and clear the 10-week moving average. If it can do so, it puts the 50-day in play, then the low-$290s.
On the downside, today's low is the risk level to watch at $261.60. Below that and the 2022 lows are vulnerable.
Top Stock Trades for Tomorrow No. 3: Datadog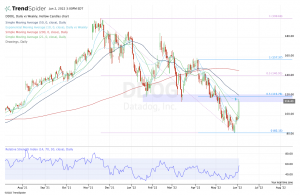 Click to EnlargeSource: Chart courtesy of TrendSpider
Woof, woof! Datadog (NASDAQ:DDOG) was barking today, as shares climbed almost 20% at one point. It's great seeing some money pour back into the beaten down tech sector.
However, the move thrusts shares right into a key area on the chart. That's as Datadog tests into the declining 10-week moving average and $115 to $120 area. The latter zone was a strong area of support until it failed earlier this month.
From here, it's simple. If this area is resistance, bulls need to see where Datadog finds support. Hopefully it comes into play above $100 and the 10-day and 21-day moving averages.
7 Stocks to Buy and Hold Forever in This Bear Market
If it continues higher from here, see if it can clear $120, along with the 50% retracement and 10-week and 50-day moving averages. If it can, we could be looking at a larger move, perhaps up to the $140 to $150 area.
Top Trades for Tomorrow No. 4: Meta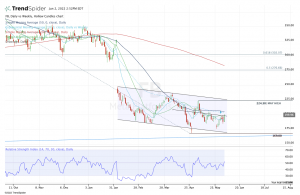 Click to EnlargeSource: Chart courtesy of TrendSpider
Last but not least is Meta (NASDAQ:FB). Like Microsoft, FB stock shook off some tough news this morning following the announced departure of COO Sheryl Sandberg, who has been with the company since 2008.
As for the stock, it continues to tango with the midpoint of its current channel. If it can push through this area, then the 50-day and 10-week moving averages are on the table. If the stock can push through that area, then the $224 to $225 zone is in play. That's the May high and channel resistance.
On the downside, a break of this week's low at $185 opens the door to channel support and the 2022 low at $169.
On the date of publication, Bret Kenwell did not have (either directly or indirectly) any positions in the securities mentioned in this article. The opinions expressed in this article are those of the writer, subject to the InvestorPlace.com Publishing Guidelines.
More From InvestorPlace
Stock Prodigy Who Found NIO at $2… Says Buy THIS
It doesn't matter if you have $500 in savings or $5 million. Do this now.
Get in Now on Tiny $3 'Forever Battery' Stock
The post 4 Top Stock Trades for Friday: AMD, MSFT, DDOG, FB appeared first on InvestorPlace.
InvestorPlace| InvestorPlace