4 Top Stock Trades for Friday: Gold, Bitcoin F, RSX
The bulls have done a good job bidding the market higher after a brutal open. However, the stock market is far from out of the woods at this point. With that in mind, let's look at a few top stock trades as we go into Friday.
Top …
The bulls have done a good job bidding the market higher after a brutal open. However, the stock market is far from out of the woods at this point. With that in mind, let's look at a few top stock trades as we go into Friday. 
Top Stock Trades for Tomorrow No. 1: Gold (GLD)

Click to EnlargeSource: Chart courtesy of TrendSpider
Gold has been performing really well lately, as stock market volatility and geopolitical risk drives the demand for safe-haven assets.
However, as the SPDR Gold Trust ETF (NYSEARCA:GLD) approached resistance this morning, we were cautious about the short-term upside.
If the GLD ETF can find its footing, then the $183 level remains in play. This level was not only resistance, but it was the 2021 high, meaning a move above it would unlock a yearly-up rotation.
That could put a move into the $190s in play, up to the 2020 high near $194.50. Above that, and $200-plus is possible.
7 of the Top Restaurant Stocks to Serve Up
As it pulls back now, though, we have to look for potential support. I would love to see the second-quarter high hold as support near $179. However, bulls almost need the Q4 high near $174.50 to hold as support — if the 10-day doesn't buoy it instead.
Top Stock Trades for Tomorrow No. 2: Bitcoin (BTC-USD)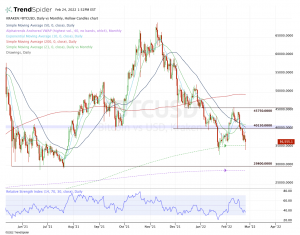 Click to EnlargeSource: Chart courtesy of TrendSpider
Bitcoin (BTC-USD) did not break below the January low this morning, even as the stock market did. That could be a good sign for "risk-on" assets moving forward, but it's not entirely clear yet. It's a clue, though.
For now, Bitcoin is holding the 21-month moving average and $35,000 level. If it breaks, then we can look for a test of last month's low at $32,940.
A move below that figure could put the key $29,000 to $30,000 area in play, which was strong support during the summer. It's also where the monthly VWAP measure comes into play.
On the upside, bulls need to see a move back through the 10-day and 50-day moving averages, as well as the $40,000 level, before seeing any sustained move to the upside.
Top Stock Trades for Tomorrow No. 3: Ford (F)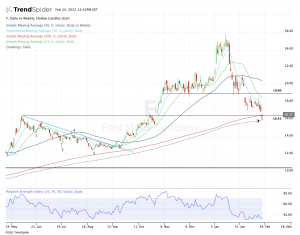 Click to EnlargeSource: Chart courtesy of TrendSpider
I have been stalking this setup for the better part of a month now, as Ford (NYSE:F) stock began to break down in mid-January.
While today's open was tough, it was somewhat "extreme" given the move in the indices. That doesn't mean it was uncalled for given the circumstances, but this morning's action was much more panicky. When that happens, we are less likely to get the perfect tags of key levels and bounces.
As it pertains to Ford, it's trading down into the 50-week and 200-day moving averages now, as well as the breakout level near $16.50. For a longer term position, I don't mind a starter position near current levels.
If we break down further, the fourth-quarter low at $13.89 could eventually be in play.
7 Semiconductor Stocks Smart Investors Will Buy Before They Rebound
On the upside, Ford needs to reclaim the 10-day, which has been active resistance over the last few weeks.
Top Trades for Tomorrow No. 4: VanEck Russia ETF (RSX)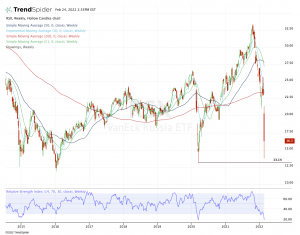 Click to EnlargeSource: Chart courtesy of TrendSpider
The VanEck Russia ETF (BATS:RSX) is getting hit hard today, which is no surprise. The RSX almost retested the 2020 Covid lows on the move.
Unless there are some quick resolutions in Eastern Europe, I expect this level will be tested in the coming days and weeks ahead.
When you zoom back even further, one can see how important the $12.50 level has been. I don't think that level is out of the question, either.
On the upside, let's keep an eye on this week's high, which coincides with last month's low (or closely coincides). Above this, and the RSX may fill the gap near $23.
On the date of publication, Bret Kenwell did not have (either directly or indirectly) any positions in the securities mentioned in this article. The opinions expressed in this article are those of the writer, subject to the InvestorPlace.com Publishing Guidelines.
Bret Kenwell is the manager and author of Future Blue Chips and is on Twitter @BretKenwell.
More From InvestorPlace
Stock Prodigy Who Found NIO at $2… Says Buy THIS Now
Man Who Called Black Monday: "Prepare Now."
Get in Now on Tiny $3 'Forever Battery' Stock
The post 4 Top Stock Trades for Friday: Gold, Bitcoin F, RSX appeared first on InvestorPlace.
InvestorPlace| InvestorPlace