6 Stocks With Earnings Reports Next Week
Earnings season continues, and while there have been some notable high profile misses for the fourth and final quarter of 2021, FactSet reports that with 56% of S&P 500 companies having issued earnings reports, 76% announced a positive ear…
Earnings season continues, and while there have been some notable high profile misses for the fourth and final quarter of 2021, FactSet reports that with 56% of S&P 500 companies having issued earnings reports, 76% announced a positive earnings per share (EPS) surprise and 77% reported a positive revenue surprise. Also, the blended earnings growth rate for companies listed on the S&P 500 index is 29.2%, marking the fourth consecutive quarter of earnings growth above 25%.
So while not perfect, corporate America continues to perform strongly as we emerge from the global pandemic. Over the coming week, we'll get fourth quarter results from several high profile names, including an influential U.S. retailer and an upstart gambling firm.
7 Oil Stocks to Buy as Multiple Catalysts Converge
Here are six stocks reporting earnings the week of Feb. 14:
Airbnb (NASDAQ:ABNB)
Roblox (NYSE:RBLX)
Nvidia (NASDAQ:NVDA)
Cisco Systems (NASDAQ:CSCO)
Walmart (NYSE:WMT)
DraftKings (NASDAQ:DKNG)
Earnings Reports Next Week: Airbnb (ABNB)
Source: BigTunaOnline / Shutterstock.com
On Feb. 15, we'll get a report card on travel demand as homestay and vacation rental company Airbnb reports its latest earnings. Is travel back, or has the omicron variant of Covid-19 put a further kink in the recovery of leisure travel and tourism? Airbnb, which has come to serve as a bellwether for the industry, will provide a good idea of omicron's impact with its Q4 numbers. Analysts are looking for the company to announce EPS of 3 cents on revenues of $1.46 billion.
ABNB stock comes into earnings on an upswing, having gained 17% in the past six months to trade at $175.31 per share as of its Feb. 11 opening. That growth includes a year-to-date bump of 4%. The gains in the company's stock come after it reported third quarter 2021 earnings that showed its gross booking value reached $11.9 billion, up 48% from the same quarter of 2020 and up 23% from the same quarter in pre-pandemic 2019. Gross bookings will continue to be the key data point to watch when the San Francisco-based company reports its Q4 numbers.
Roblox (RBLX)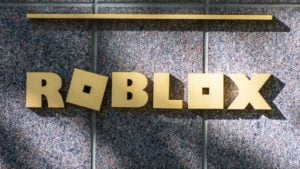 Source: Michael Vi / Shutterstock.com
Video game producer Roblox is in the news ahead of its latest earnings thanks to a nifty partnership it has struck with the National Football League (NFL). Ahead of this weekend's Super Bowl, the NFL announced that it is entering the metaverse through a partnership with Roblox. The video game developer has created a metaverse video game called NFL Tycoon that allows users to hang out in a virtual reality world and engage in activities ranging from playing football to managing a professional team.
The metaverse is a virtual reality world that is largely conceptual at this point. However, news of the NFL game was enough to send RBLX stock up 10% in a single trading session. The move higher is welcome given that the company's share price has fallen 33% year-to-date amid stock market volatility and investors' move away from highly valued technology companies.
The 7 Highest Dividend Stocks for Income Investors
For its fourth quarter earnings report on Feb. 15, analysts are expecting the still unprofitable Roblox to report an EPS loss of 13 cents on revenues of $767.65 million.
Earnings Reports Next Week: Nvidia (NVDA)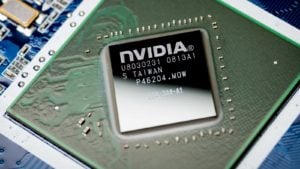 Source: Antonio Baccardi / Shutterstock.com
On Feb. 15, we'll hear from the leading chip maker for the first time since its planned $66 billion acquisition of Arm Holding was called off due to regulatory concerns. The deal was originally announced in 2020 and its price had ballooned from an initial estimate of $40 billion to as much as $66 billion in Nvidia stock and cash. The proposed acquisition faced global regulatory scrutiny. In December, the U.S. Federal Trade Commission sued to block the transaction on antitrust grounds. Last year, British competition authorities announced a probe into the sale.
Now that the purchase of Arm Holdings has been called off, Wall Street will be looking for Nvidia to provide a road map forward. There's reasons to believe that Nvidia will be just fine as demand for its graphics processing units (GPUs) that are used in video game consoles and mobile computers continues to be sky high.
Nevertheless, the company's stock has taken a hit recently, having fallen 16% year-to-date to now trade at $259.16. For its earnings next week, Wall Street expects EPS of $1.22 on revenues of $7.42 billion.
Cisco Systems (CSCO)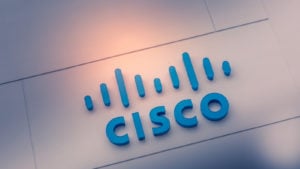 Source: Valeriya Zankovych / Shutterstock.com
Legacy telecom company Cisco Systems will step into the spotlight next week with its latest quarterly figures, scheduled for Feb. 16. The Silicon Valley stalwart is expected to report EPS of 81 cents on revenues of $12.65 billion for the final quarter of 2021. And while the company, which was founded in 1984, is viewed by some investors as a tech dinosaur, it is important to remember that 85% of global internet traffic today runs on Cisco Systems' connections, and that 98% of Fortune 500 companies use Cisco's software and solutions to run their daily operations.
Like other technology names, CSCO stock has come down so far this year as investors rotate into value and cyclical securities that are less sensitive to interest rates. However, at its Feb. 11 opening share price of $54.87, Cisco's stock is up 15% in the last year and up 72% over the past five years.
7 EV Stocks With Key Product Launches In 2022
Clearly, this company and its stock still has some life left in it. Cisco Systems has been aggressively expanding its 5G network architecture, and analysts will be watching to see how that infrastructure investment impacts the company's bottom line.
Earnings Reports Next Week: Walmart (WMT)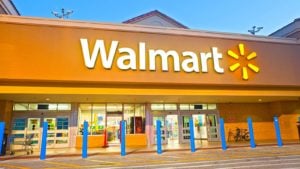 Source: fotomak / Shutterstock.com
How is consumer spending holding up? We'll find out when retail giant Walmart reports earnings on Feb. 17. The Bentonville, Arkansas-based company's stock has basically been stagnant over the past year, down 6% to $136.82. Yet many analysts remain bullish on the company and say it is only a matter of time before WMT stock rips higher. A strong earnings beat could prove to be the needed catalyst. Analysts have forecast that Walmart will report EPS of $1.49 on revenues of $151.5 billion.
The omicron wave of Covid-19 that led to new lockdown measures and kept consumers inside could hurt Walmart's sales during the critical holiday period that runs from Thanksgiving through Christmas and New Year's. If the consumer proved resilient, it could help to power both Walmart's earnings and share price higher. However, the retailer is also contending with record inflation and wage growth as well as ongoing supply chain constraints. We'll see how it all stacks up next week. Wall Street will be paying special attention to the company's online sales growth, which has been a key driver during the pandemic.
DraftKings (DKNG)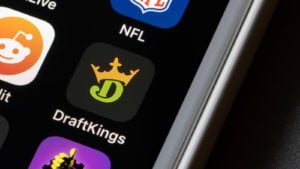 Source: Tada Images / Shutterstock.com
It's too bad the Super Bowl won't be reflected in the earnings released by DraftKings on Feb. 18. The Boston-based sports betting company is going all in on this year's Super Bowl, hoping to capture some of the record $7.6 billion that is expected to be wagered on the big game between the Cincinnati Bengals and Los Angeles Rams.
DraftKings is heavily promoting itself in the lead-up to the Super Bowl and trying to draw in gamblers with several promotions. The company is estimated to be giving away $10 million in free bets and promotions to people who use its app to wager on the game, including a $1 million grand prize.
7 Best Blue-Chip Stocks to Buy for Safety in This Volatile Market
DraftKings is also one of only two gaming companies advertising during the Super Bowl. How the aggressive promotions and advertising impact the company won't be known until its next earnings report. But it shows that the company is moving to take market share in the highly competitive sports betting and online gambling industry. A total of 30 states and Washington, D.C. have now legalized gambling in some form, paving the way for DraftKings and others to expand.
Wall Street is looking for DraftKings to report an earnings per share loss of 79 cents on revenues of $445.13 million. This year, DKNG stock is down 15% at $22.95 a share, bringing its loss over the past six months to 55%.
On the date of publication, Joel Baglole held a long position in NVDA. The opinions expressed in this article are those of the writer, subject to the InvestorPlace.com Publishing Guidelines.  
Joel Baglole has been a business journalist for 20 years. He spent five years as a staff reporter at The Wall Street Journal and has also written for The Washington Post and Toronto Star newspapers, as well as financial websites such as The Motley Fool and Investopedia.
More From InvestorPlace
Stock Prodigy Who Found NIO at $2… Says Buy THIS Now
Man Who Called Black Monday: "Prepare Now."
#1 EV Stock Still Flying Under the Radar
The post 6 Stocks With Earnings Reports Next Week appeared first on InvestorPlace.
InvestorPlace | Stock Market News, Stock Advice & Trading Tips