7 Cheap Cryptos to Buy Under $1
Ripple (XRP-USD) – Incoming end to U.S. Securities and Exchange (SEC) lawsuit could catalyze gains
Cardano (ADA-USD) – Cheap layer-1 network with Ethereum (ETH-USD) pedigree
Tron (TRX-USD) – Recent growth boom pushing Tron in…
Ripple (XRP-USD) – Incoming end to U.S. Securities and Exchange (SEC) lawsuit could catalyze gains
Cardano (ADA-USD) – Cheap layer-1 network with Ethereum (ETH-USD) pedigree
Tron (TRX-USD) – Recent growth boom pushing Tron into the spotlight
Dai (DAI-USD) – Fully decentralized, community-driven stablecoin
Polygon (MATIC-USD) – By far, the largest layer-2 network
Cronos (CRO-USD) – The cheapest token native to one of the world's largest exchanges
Terra (LUNA-USD) – Why not see where it goes?
Source: Shutterstock
There's nothing better than getting something for a steal. There's a reason people are addicted to buy-one-get-one deals and liquidation sales — there's a rush to getting something far below its value. This translates directly to investing, too. Who doesn't like seeing a stock in their portfolio going 10x or even more? Now, with the boom in the crypto market, investors are seeking out cryptos to buy with the same hopes for their wallets.
One of the best parts about cryptos, too, is that they can be so cheap. To be sure, that's mostly because the life span of the average project is exceedingly short and many can't even stay alive long enough to appreciate. However, there are plenty of plays one can opt into for under $1 that show solid fundamentals. Consider some of these cheap cryptos to buy:
Ripple
 XRP-USD
39 cents
Cardano
ADA-USD
49 cents
Tron
TRX-USD
8 cents
Dai
DAI-USD
$1
Polygon
MATIC-USD
62 cents
Cronos
CRO-USD
17 cents
Terra
LUNA-USD
$0.00015
Cheap Cryptos to Buy: Ripple (XRP-USD)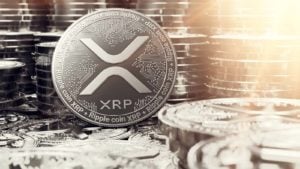 Source: Shutterstock
Ripple's XRP is one of the best cryptos to buy right now for a grip of reasons. For one, it's one of the only cryptos compliant with ISO 20022. The international banking language is becoming ubiquitous around the world, and as a network seeking to lead the remittance and international transaction space, it's good for the crypto to meet this standard.
But the more timely reason to buy XRP right now is because Ripple is due to end its legal battle with the SEC. For a year and a half, Ripple has been duking it out with the SEC in the courtroom. The case, which is rooted in whether XRP is a currency or a security, is going to be an important one for the industry.
It will certainly set a precedent for how the SEC classifies cryptocurrencies, and it may open the door for more suits against other projects. Luckily, things seem to be going Ripple's way. And with word that the suit could come to a close in the coming months, investors might expect a big price catalyst from it.
Cardano (ADA-USD)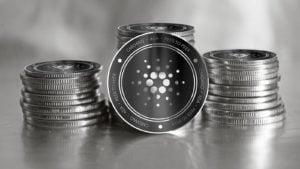 Source: RuskaDesign / Shutterstock.com
Cardano is a buy at any price. It's a solid network with a large pool of users and a slate of useful dapps. But more importantly, it is selling at bargain-bin prices when compared to other layer-1s. And given the network's close ties to Ethereum, it obviously has thinkers behind it who are capable of creating a wildly successful product.
Charles Hoskinson is the founder of Cardano. While he may not be a household name, he is one of the founders of one of the largest crypto projects in the world, Ethereum (ETH-USD). Hoskinson teamed up with seven other developers in creating Ethereum, yet he abandoned the project just before its 2015 launch due to a falling out with other members.
In response, Hoskinson created Cardano to compete with Ethereum. And in its short time since launching smart contracts last fall, it has made a solid case for its $17.5 billion market capitalization. Now, it has 600 dapps on its network and 3.6 million wallets.
Cheap Cryptos to Buy: Tron (TRX-USD)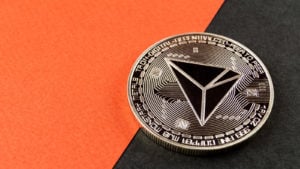 Source: mk1one / Shutterstock
Like Cardano, Tron is a network that's seen a boom in recent days. And, it's a crypto to buy right now because its price has not caught up to its hype. Trading at just 8 cents per coin right now, it is five times cheaper than even ADA.
Founded by prominent entrepreneur Justin Sun in 2018, the crypto has since gained prominence as a high-scaling layer-1, able to process thousands of transactions per second. Perhaps most notable is the network's acquisition of file-sharing service BitTorrent (BTT-USD).
Like Cardano, Tron is looking like a solid purchase right now because it's rapidly building out its user base. In a recent report, the network is celebrating over 93 million users. Nearly 1.5 million of these accounts were added just in the week leading up to the report. Moreover, it just released a stablecoin, USDD, which is noteworthy for its overcollateralization; the network is underlying the token with a $10 billion reserve.
Dai (DAI-USD)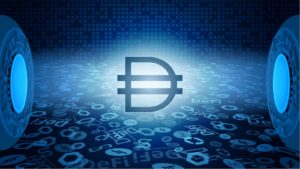 Source: Vladimir Kazakov / Shutterstock.com
This pick might be cheating a bit. After all, stablecoins are only $1 because they're supposed to be. But that doesn't mean they're not great cryptos to scoop up. The DeFi capabilities of stablecoins are endless, and DAI is one of the top dogs of the sector.
One of the most interesting aspects of DAI is its decentralization. Most other stablecoins are centralized, meaning changes to these tokens are handled by a small team of developers calling the shots. DAI, on the other hand, is part of the Maker (MKR-USD) decentralized autonomous organization (DAO) ecosystem. In a DAO model, those who hold governance tokens get to vote on proposals, allowing changes to the network to be made entirely democratically.
These users also keep the token collateralized. Rather than holding reserves in a centralized vault, the network uses Maker Vaults. Users enter Ethereum assets into these vaults, and the network analyzes the assets and calculates their risk of volatility. Based on these calculations, the protocol then mints a proportional amount of DAI.
Cheap Cryptos to Buy: Polygon (MATIC-USD)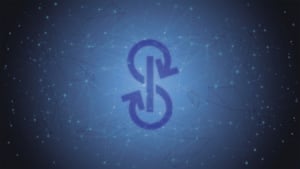 Source: Shutterstock
Of all the layer-2 networks, Polygon's MATIC is one of the best and cheapest cryptos to buy. Built to assist the Ethereum network, Polygon is one of the first choices when it comes to taking Ethereum transactions off-chain.
Layer-2 networks are, as the name implies, networks that exist atop another existing network. Polygon is specifically an Ethereum layer-2, meaning it is closely tied to Ethereum, built to complement and improve it. Users can tap layer-2s in order to avoid slow throughput or high gas fees on the first layer. The growing ubiquity of layer-2s makes things more convenient for everybody, de-clogging the main network while allowing their own users to pay microscopic gas fees.
And Polygon is one of the most savvy layer-2s available. It provides a whopping seven different scaling solutions — different technologies one can use to complete their transactions. Each one is chock full of its own features, too, providing different experiences from the others. Take, for example, Polygon Nightfall, a solution that also allows users to make their transactions private.
Cronos (CRO-USD)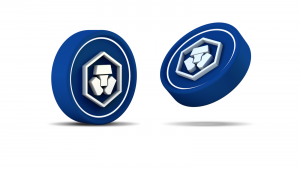 Source: Voar CC / Shutterstock.com
Exchange tokens are becoming increasingly popular. Like stablecoins, exchange tokens are the lifeblood of the crypto trading ecosystem. However, some exchange tokens are a bit too expensive for some investors. Luckily, Crypto.com's exchange token, CRO, is dirt cheap and likely won't stay that way forever.
Crypto.com is one of the world's largest exchanges; it offers over 400 crypto trades, sees millions of visits each week and processes hundreds of millions of dollars in trading volume each day. CRO, launched in 2018, is an increasingly central part of the exchange's ecosystem. Primarily, it was created to support the company's mobile payments app. Since then, its userbase has grown. Now, it serves as a reward for Crypto.com's Visa (NSYE:V) card, allowing for rewards between 1% and 8% on purchases. Developers signal that CRO will continue to expand its use cases as the exchange platform increases its offerings.
Pricing in at just 17 cents currently, CRO is far more affordable than other exchange tokens of its magnitude. Take for example KuCoin's (KCS-USD) $16 price, FTX's (FTT-USD) $28 price or Binance's (BNB-USD) whopping $311 price. If CRO is to grow just to $1, it could mean big gains for investors who get in now.
Cheap Cryptos to Buy: Terra (LUNA-USD)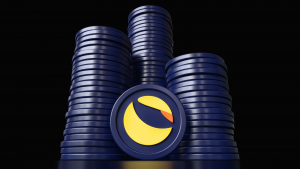 Source: David Sandron / Shutterstock.com
This pick is surely controversial. Just a month ago, LUNA was at an all-time high of over $119. Today, it's worth just $0.00014 apiece. This comes after the network's rapid collapse on the back of TerraUSD's (UST-USD) price de-pegging. However, with a robust revival plan falling into place, and the microscopic prices the coin is trading for now, there's plenty of reason to throw a small investment at it and watch where it goes.
After passing a community vote, Terra developers are rolling out a big makeover for the network tomorrow. This includes creating an entire separate network from the ground up, called Terra 2.0. Terra 2.0 will launch an entirely new LUNA crypto, while the existing asset will be rebranded to Luna Classic, taking the ticker symbol LUNC. LUNC will underlie the existing Terra network just as it is, albeit under a new "Terra Classic" name.
Seeing as developers aren't giving up on the asset yet, there's room to make a speculative asset in LUNA as it turns to LUNC. If the network is able to rebuild itself to even a fraction of the size it was earlier this year, it would still mean massive gains for holders.
On the date of publication, Brenden Rearick did not have (either directly or indirectly) any positions in the securities mentioned in this article. The opinions expressed in this article are those of the writer, subject to the InvestorPlace.com Publishing Guidelines.
More From InvestorPlace
Stock Prodigy Who Found NIO at $2… Says Buy THIS
It doesn't matter if you have $500 in savings or $5 million. Do this now.
Get in Now on Tiny $3 'Forever Battery' Stock
The post 7 Cheap Cryptos to Buy Under $1 appeared first on InvestorPlace.
InvestorPlace| InvestorPlace