A.I. Will Be Even Bigger Than Your Wildest Expectation
The "mania" surrounding the Dot Com boom … a similar mania surrounding A.I. … separating the good from bad A.I. investments … a special AI Super Summit event today at 4 PM EST
In January of 1999, MIS Internatio…
The "mania" surrounding the Dot Com boom … a similar mania surrounding A.I. … separating the good from bad A.I. investments … a special AI Super Summit event today at 4 PM EST
In January of 1999, MIS International hadn't seen one dime of profits, and its stock traded well below $0.50 per share.
But MIS management was aware of a powerful sentiment shift rippling throughout the business and stock market landscape. It had to do with a new, electrifying phrase…
"Dot Com."
Younger investors might not recall this, but in the late 90s, the term "Dot Com" was magic. It promised vast riches from companies that had found a way to leverage the power of the internet.
Any company possessing even the faintest scent of "Dot Com" in the late '90s was investment gold.
MIS realized this and decided to signal to the business world (and Wall Street) that it was now a budding digital economy leader.
And how would it signal this, exactly?
Simple – by changing its name to include "Dot Com." And so, MIS International became Cosmoz.com.
You know where this is going…
How much of a bump do you think the stock enjoyed?
100%…
300%?…
From less than $0.50 a share, Cosmoz.com – which again, had never turned a dime of profit – soared nearly 1,000% to $5 a share.
Fast-forward to 2001 in the wake of the Dot Com meltdown
As analysts and commentators sifted through the wreckage of the Dot Com burst bubble, three Purdue University finance professors published a fascinating takeaway…
They looked at 95 companies that had added "Dot com" or "Internet" to their names during the '90s bubble run-up.
What was the impact on the stock prices of these companies in the wake of this branding shift?
On average, they enjoyed a 74% stock price surge.
But here's the kicker…
This 74% gain took place in just 10 days – from five days before the name-change announcement to five days afterward.
Even more remarkable, those gains didn't disappear (until the market crashed). It was just a one-time "freebie." A stock bump of 74% purely for tapping into a powerful market narrative.
The authors concluded that the market behavior revealed "a mania on the part of investors."
Well, get ready for a new "mania."
This time it's coming courtesy of the latest magic phrase…
"Artificial Intelligence."
The coming agony and ecstasy of Artificial Intelligence (AI)
Back in November, the company c3.ai was coming off a long stretch of disappointing Wall Street.
From its high in 2020 to its low in late-December of last year, it had destroyed virtually all investor capital. About 94%, as you can see below…
Source: StockCharts.com
But c3.ai has something powerful – the whole "ai" part of its name (as well as its "AI"-focused business model). "AI" is also its stock ticker.
So, in the wake of the AI-frenzy surrounding ChatGPT's launch last fall, investors clamored for all things "AI."
And what was the result for c3.ai's stock?
A 169% pop in less than six weeks.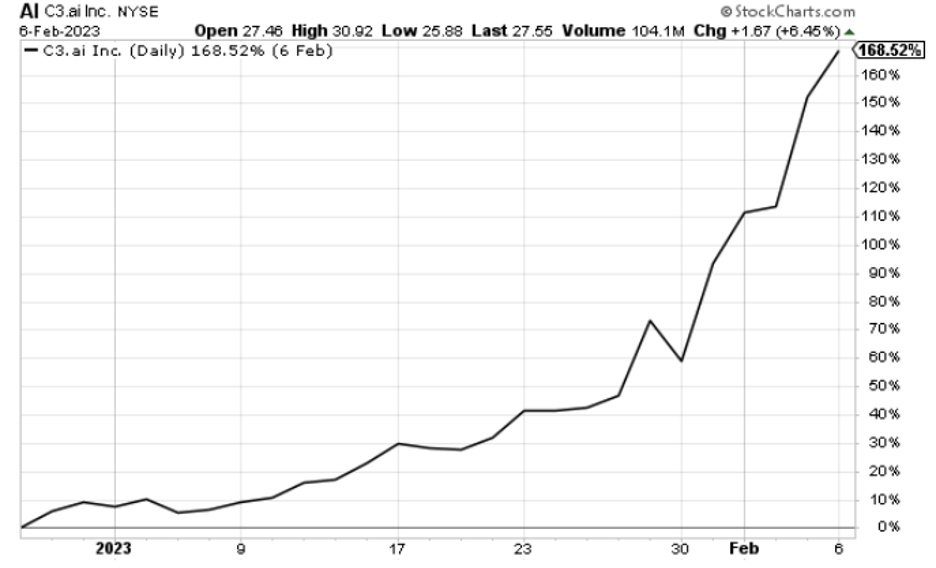 Source: StockCharts.com
Now, to be clear – I don't know anything about c3.ai. It might be the single best AI play for investors looking to position themselves today. This stock-price run-up could be more than deserved.
But I suspect that many of the investors who pushed up c3.ai's stock 169% in about a month are in the same boat as me…
They don't know anything about c3.ai either.
But they're shoveling fistfuls of dollars at anything that smells of AI – just like investors did during the "Dot Com" boom. To use the term from earlier – "a mania on the part of investors."
Might there be a better way?
Fortunately, yes.
Today, at 4 PM ET, our experts Luke Lango and Eric Fry are sitting down to host InvestorPlace's first-ever AI Super Summit conference
Here's Luke describing the challenge of investing in AI today:
There will continue to be a ton of hype in this industry.
Countless startups will launch their own AI model with the promise of changing the world. You won't have any shortage of those stocks to choose from over the next 12 months.
But there will be a serious shortage of fortune-making stocks.
The simple reality about any major technological revolution is that it consolidates over time.
At the beginning, hundreds of companies emerge, all hoping to change the world and strike it rich in the process. But in the end, just a handful make a significant impact. The rest will go bankrupt.
The same will be true in the AI Revolution.
On the other hand, we've all read the stories of the lifechanging riches created by even a meager investment in Amazon, Microsoft, or Apple back in their early days.
Will we see that again with AI?
Enormous wealth-creation will repeat itself with AI – possibly on an even greater scale
To understand why we're making this big claim, let's return to Luke:
The Age of AI will create new multi-trillion-dollar empires and destroy seemingly indestructible empires.
But it will do so on a scale greater than any we've ever seen.
According to the World Economic Forum, the global digital economy measured about $14.5 trillion in 2022.
That's huge. But it is nothing compared to the size of what the AI Economy will be one day.
According to PwC, the AI Economy will grow to $15.7 trillion by 2030 alone. That's just 8 years away.
Luke points out that the folks at ARK Invest also see the AI market valued around $15 trillion by 2030.
However, they also see a mega-bull-case scenario for the market growing to $40 trillion by 2030.
And after reaching 100% adoption, they believe the global AI market could drive global labor productivity to about $200 trillion.
Back to Luke:
For reference, the entire U.S. economy is worth just over $20 trillion, so there are pathways for the AI Economy to one day be significantly more valuable than the entire U.S. economy.
This is the biggest and most important technological revolution of our lifetimes, with the biggest economic stakes of any paradigm shift we've ever witnessed.
And that brings us to this afternoon's event.
Understanding AI's reality – not its hype
As was the case with the "Dot Com" boom, there's a great deal of hope, marketing, and empty promises swirling around the recent AI explosion.
Our challenge is to separate fact from fiction so that we can invest wisely.
Back to Luke on this:
The first step in embracing something is understanding it.
That's why, today at 4 PM EST, I am going to discuss what AI is, how it works, what drives it, and why it's only going to get better from here.
I'm also going to discuss how AI will change the world, what specific industries it is going to have the biggest impact on over the next 12 months, and of course, which AI stocks are the best ones to buy right now.
As noted earlier, the event will also feature our macro expert Eric Fry. Like Luke, Eric sees enormous investment returns attached to this budding AI mega-trend.
Here's Eric:
According to the deep research we've been performing, Luke and I believe that we could have years of gains in the AI market ahead of us.
This isn't just a market rebound that's coming; it's a revolution.
And it's on par with the release of the first desktop PC, the Internet, the iPhone, and more.
Even if you're not ready to invest a dime into AI, today's event will be valuable simply by providing an early preview of what's coming…
We've crossed the Rubicon. AI is going to change everything. We'd all benefit from understanding what's on the way.
I'll give Luke the final word:
If there is one presentation you don't want to miss this year, this is it.
This is the presentation that could give you a sneak-peak into the future of our economy – a presentation that could tell you how to capitalize on an economic opportunity bigger than the entire U.S. economy.
Reserve your seat here for a peek into an opportunity bigger than the entire U.S. economy.
Have a good evening,
Jeff Remsburg
The post A.I. Will Be Even Bigger Than Your Wildest Expectation appeared first on InvestorPlace.
InvestorPlace| InvestorPlace