Accumulate Solana Now While Everyone Still Doubts It
Equity markets have been in turmoil for weeks over macro headlines. The world's politicians and some central banks are wreaking havoc with stock prices. With that special brand of chaos in mind, I find it oddly comforting to take a brea…
Equity markets have been in turmoil for weeks over macro headlines. The world's politicians and some central banks are wreaking havoc with stock prices. With that special brand of chaos in mind, I find it oddly comforting to take a break from that sort of investing and focus on trading crypto instead. While Bitcoin (BTC-USD) is the chief coin in charge, I trade up-and-coming, fundamentally viable alternatives. Solana (SOL-USD) is one the cryptocurrencies I will watch for the next few years.
Source: Shutterstock
Here's why.
First off, it has a viable thesis based on a logical use case. Currently, the bulk of the crypto transactions happen on the Ethereum (ETH-USD) network. This keeps a solid bid under its supporting coin ETH-USD. It has a few competitors and Solana is one of the leading ones.
As of this writing, SOL was ranked No. 8 on my Crypto.com and it's only growing. Its $33 billion market cap is 90% behind ETH and only 10% behind Cardano (ADA-USD).
The lag to ETH is the exciting part, because that's the technical reason to own Solana. As crypto grows, SOL-USD will grow in an effort to catch up to its competition.
Crypto's popularity is growing despite its many critics. This trend will accelerate exponentially because of this endless pool of new-comers. Over time, more and more converts will join the fray, and Solana services will be even more in demand.
Experts suggest that SOL is faster and more efficient than ETH. Users usually migrate to cheaper and faster options, so they will flock to SOL in time. After all, Solana has a mind-blowing speed advantage. This makes me confident that it is a legit competitor.
A Bit of Solana Over Time Is Great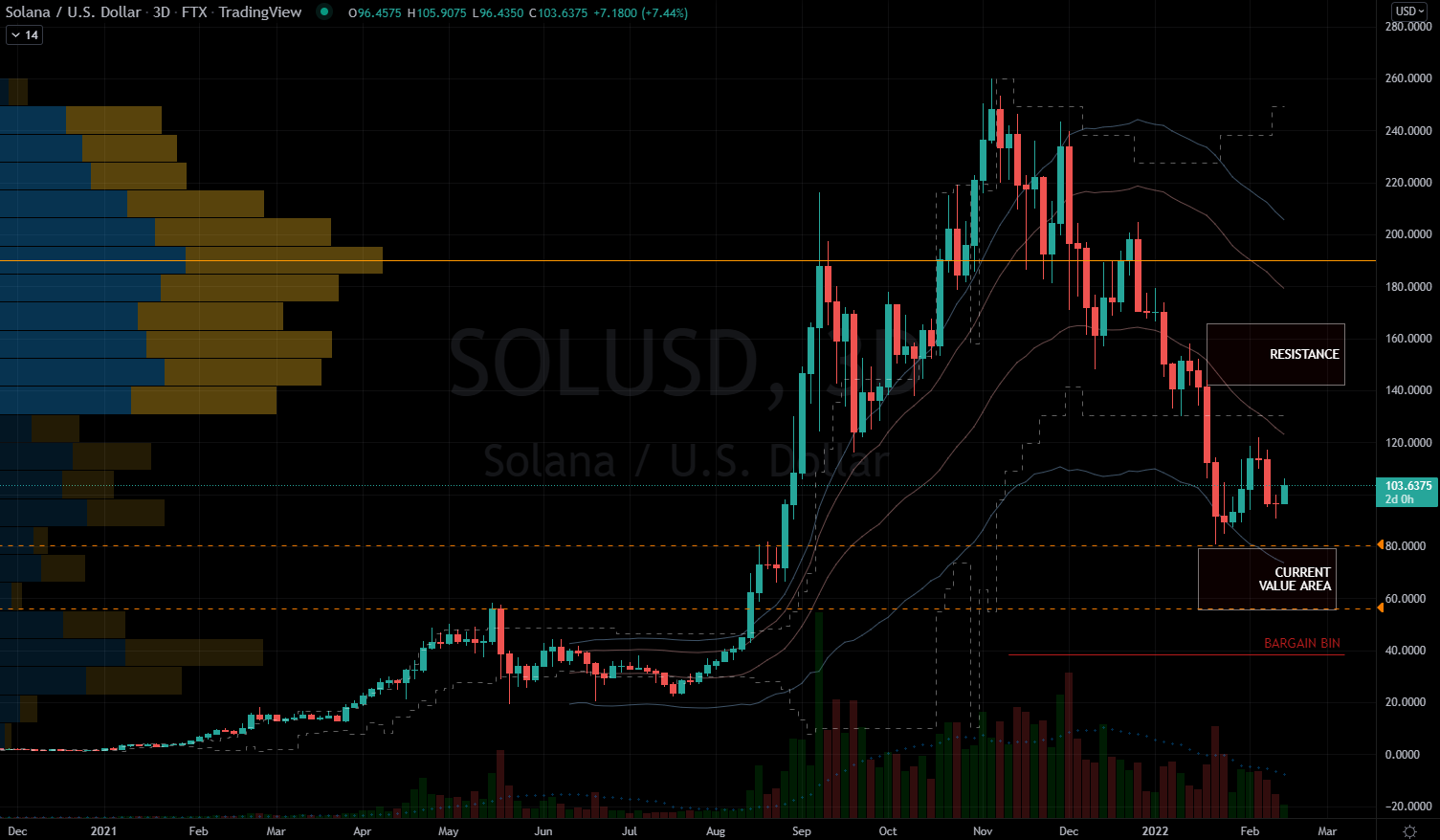 Source: Charts by TradingView
Another thing we know for sure about crypto is that prices move fast. Even the critics know that, so studying charts helps a lot with the timing of SOL-USD purchases. The recent dip in cryptocurrencies was a good opportunity to buy your favorite coins. SOL-USD is always on my list and I got a bargain: Anything under $100 makes for a good spot to start a stash.
7 Housing Stocks to Watch as Investors Question the Bull Thesis
However, I don't condone taking full positions at once. As I said, they move fast and long so investors should not assume they nailed a bottom. The overall strategy is similar to the one for gold. It is best to accumulate a little bit at a time and over time. This eliminates the need to be surgical about finding the absolute perfect time to jump all in.
More Skeptics Now Means More Fans Later
The millions of crypto skeptics is the massive pool of future users. Eventually they will need to enter positions into crypto. I can understand the mainstream skepticism, but I find it mind-boggling that financial and investment experts still shun it. "Fake" is usually their leading argument against cryptocurrency. This is a meaningless adjective because artificial is not mutually exclusive with value. Yes, someone invented the process, but that's the case for everything in our financial market.
This includes the dollar, which is a fiat currency. The only reason it has value is because people believe it does. You can say this about anything from art to cars, so why should crypto be any different? The laws of supply and demand apply very well to crypto. There are millions of people seeking to own SOL-USD; therefore, it has value. These coins serve a purpose as payment for transactions and are forcing innovation in fintech.
User Growth Will Come
Solana should gain more momentum as overall transaction volumes grow. The current king, Ethereum, is expensive and relatively thousands of times slower.
This is especially true if you stray outside of the trading platforms and into personal DeFi wallets. I urge readers to start looking into the viability of crypto. I am confident that in the future they will play an important role in the transfer of wealth.
Not all coins will make it, but SOL-USD, ETH-USD and ADA-USD have a solid chance. Eventually the world will adjust to these new ideas and accept crypto.
I bet that there were a few tall faces 700 B.C. when they proposed using gold for payment. The same goes for the first time someone offered the idea of cash more than 1,000 years ago. Every new concept initially draws a lot of resistance from people. We don't like change because we get comfortable with the status quo.
In this case, I'm forcing myself to learn enough, so I would have an advantage later. The value concept now is simple: Supply of coins is finite and demand is ever-increasing. This is a recipe for higher prices in the future. So it is not hard to see crypto and Solana crushing all other asset classes for years on end.
On the date of publication, Nicolas Chahine held positions in SOL-USD and ETH-USD. The opinions expressed in this article are those of the writer, subject to the InvestorPlace.com Publishing Guidelines.
Nicolas Chahine is the managing director of SellSpreads.com.
More From InvestorPlace
Stock Prodigy Who Found NIO at $2… Says Buy THIS Now
Man Who Called Black Monday: "Prepare Now."
Get in Now on Tiny $3 'Forever Battery' Stock
The post Accumulate Solana Now While Everyone Still Doubts It appeared first on InvestorPlace.
InvestorPlace | Stock Market News, Stock Advice & Trading Tips