Alphabet Is a Money Machine and Will Keep on Printing Profits
Shares of internet giant Alphabet (NASDAQ:GOOG, NASDAQ:GOOGL) look to have finally found a floor after a pronounced post-earnings pullback. GOOG stock fell over 10% from its all-time high at $3,042 just over a week ago before bouncing off sup…
Shares of internet giant Alphabet (NASDAQ:GOOG, NASDAQ:GOOGL) look to have finally found a floor after a pronounced post-earnings pullback. GOOG stock fell over 10% from its all-time high at $3,042 just over a week ago before bouncing off support at $2,650 per share.
Source: achinthamb / Shutterstock.com
Some of the euphoria that took Alphabet to those highs may have been overdone. Interest rates have pushed to recent highs and put a damper on all big-cap tech. However, the selling in this stock has now gotten a little extreme. Look for shares to head higher in the coming weeks.
Here's what you should know about Alphabet moving forward.
GOOG Stock: Valuation View
Alphabet recently reported earnings that easily beat consensus on both the top and bottom line. Earnings per share (EPS) came in at $30.69, more than $3 above analyst estimates of $27.34. Revenues were also a big upside surprise; the reported $75.33 billion far outpaced expectations of $72.17 billion. More importantly, the company also announced a 20-1 stock split effective July 1.
7 Housing Stocks To Sell if You Think the Boom Is Going To Bust
Initially, GOOG stock surged to all-time highs on the news, but it subsequently dropped — and sharply so. This marked the fourth-straight quarter the company has trounced earnings. Yet, the stock has gone nowhere since the report from last July.
The combination of better earnings and a flat stock price equates to much lower valuation multiples for Alphabet. Currently, the trailing 12-month (TTM) price-earnings ratio (P/E) sits at just 24.3, which is well below the stock's five-year average of 28.2. It's also at a discount to the current 25.3 times for the S&P 500.
Fellow InvestorPlace contributor Mark Hake recently wrote a very insightful look at GOOG stock from a fundamental perspective. Hake especially notes the monstrous FCF that fuels the ever-increasing stock buybacks for Alphabet. The combination of buybacks and a stock split, along with attractive fundamentals, should provide a lift for GOOG over the next several months.
Technical Take
GOOG stock got overbought post-earnings, but it's now back to a more neutral regime. The 9-day RSI, MACD and Bollinger Percent B are all at mid-range readings. Shares are hovering just above the 20-day moving average at $2,720.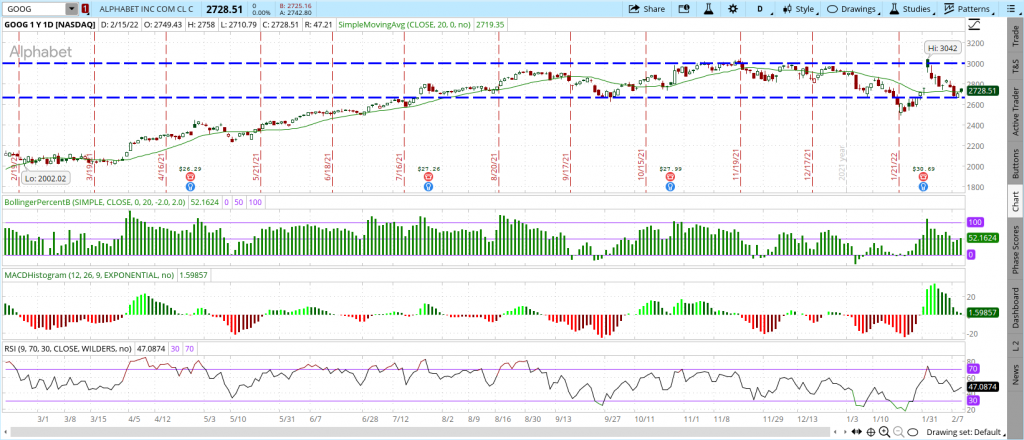 Source: The thinkorswim® platform from TD Ameritrade
More importantly, GOOG held the critical $2650 support level on two occasions before finally firming recently. This type of price action is very constructive and many times precedes significant rallies.
Implied volatility (IV) has come down considerably post-earnings, as is the norm. Currently, it's at the 50th percentile, meaning option prices are about average. They are comparatively very cheap, however, versus the historic volatility at the 97th percentile.
This favors spread strategies (buying an option and selling an option) when constructing trades. What's more, this is especially true for GOOG options which are extremely expensive due to the high price of the stock.
So, to position to profit from a pop in GOOG stock, a bullish call debit spread makes probabilistic sense.
How to Trade GOOG Stock Now
Buy GOOG July $2,750 calls and sell GOOG July $2,800 calls for a $24 net debit.
Maximum gain on the trade is $26 if GOOG stock is above $2,800 at July expiration. Maximum risk is the net debit paid of $24. Potential return on risk is 108%.
More risk adverse traders can further hedge the position by selling shorter-term, further-out-of-the-money call spreads to bring in additional premium.
The spread expires after the 20-1 stock split for holders of record on July 1 to take advantage of what is normally a bullish event. In addition, July has been one of the best-performing months for GOOG stock on a seasonal basis over the years.
On the date of publication, Tim Biggam did not hold (either directly or indirectly) any positions in the securities mentioned in this article. The opinions expressed in this article are those of the writer, subject to the InvestorPlace.com Publishing Guidelines.
Tim spent 13 years as Chief Options Strategist at Man Securities in Chicago, 4 years as Lead Options Strategist at ThinkorSwim and 3 years as a Market Maker for First Options in Chicago. Tim makes weekly appearances on Bloomberg TV  "Options Insight", Business First AM "Trader Talk", TD Ameritade Network "Morning Trade Live" and CBOE-TV "Vol 411" to discuss everything from volatility and option related. He has also been invited for reoccurring appearances on CNBC's Volatility Playbook.
More From InvestorPlace
Stock Prodigy Who Found NIO at $2… Says Buy THIS Now
Man Who Called Black Monday: "Prepare Now."
Get in Now on Tiny $3 'Forever Battery' Stock
The post Alphabet Is a Money Machine and Will Keep on Printing Profits appeared first on InvestorPlace.
InvestorPlace | Stock Market News, Stock Advice & Trading Tips