AMD Stock Is a Buy After Nvidia's Earnings
Source: JHVEPhoto / Shutterstock.com
Advanced Micro Devices (NASDAQ:AMD) is on the move. Shares of the high-flying semiconductor gained as much as 7.5% in early trading Thursday amid a broad market surge. But it wasn't just a general…
Source: JHVEPhoto / Shutterstock.com
Advanced Micro Devices (NASDAQ:AMD) is on the move. Shares of the high-flying semiconductor gained as much as 7.5% in early trading Thursday amid a broad market surge. But it wasn't just a general risk-on rally that boosted AMD stock. Fellow chipmaker Nvidia (NASDAQ:NVDA) reported Q2 earnings that were good enough to bring buyers into semiconductor stocks across the board.
AMD shares had already been outperforming the S&P 500 and their industry. Today's pop further supports the case for a bottom for those looking for a reason to scoop up the stock. Let's take a closer look at the chart to build the case.
Ticker
Company
Current Price
AMD
Advanced Micro Devices
$98.76
AMD Stock Is a Buy Because Its Price Chart Bottomed
Despite its stellar fundamentals and growth trajectory, Advanced Micro Devices has suffered alongside everything else over the past six months. It's a growth stock, after all, and a high beta one at that. As the weekly chart will attest, prices fell 50%. The halving occurred, mind you, while its earnings continued to climb. Together that created a dramatic drop in its price-to-earnings ratio, which should have fundamental analysts warming to the stock.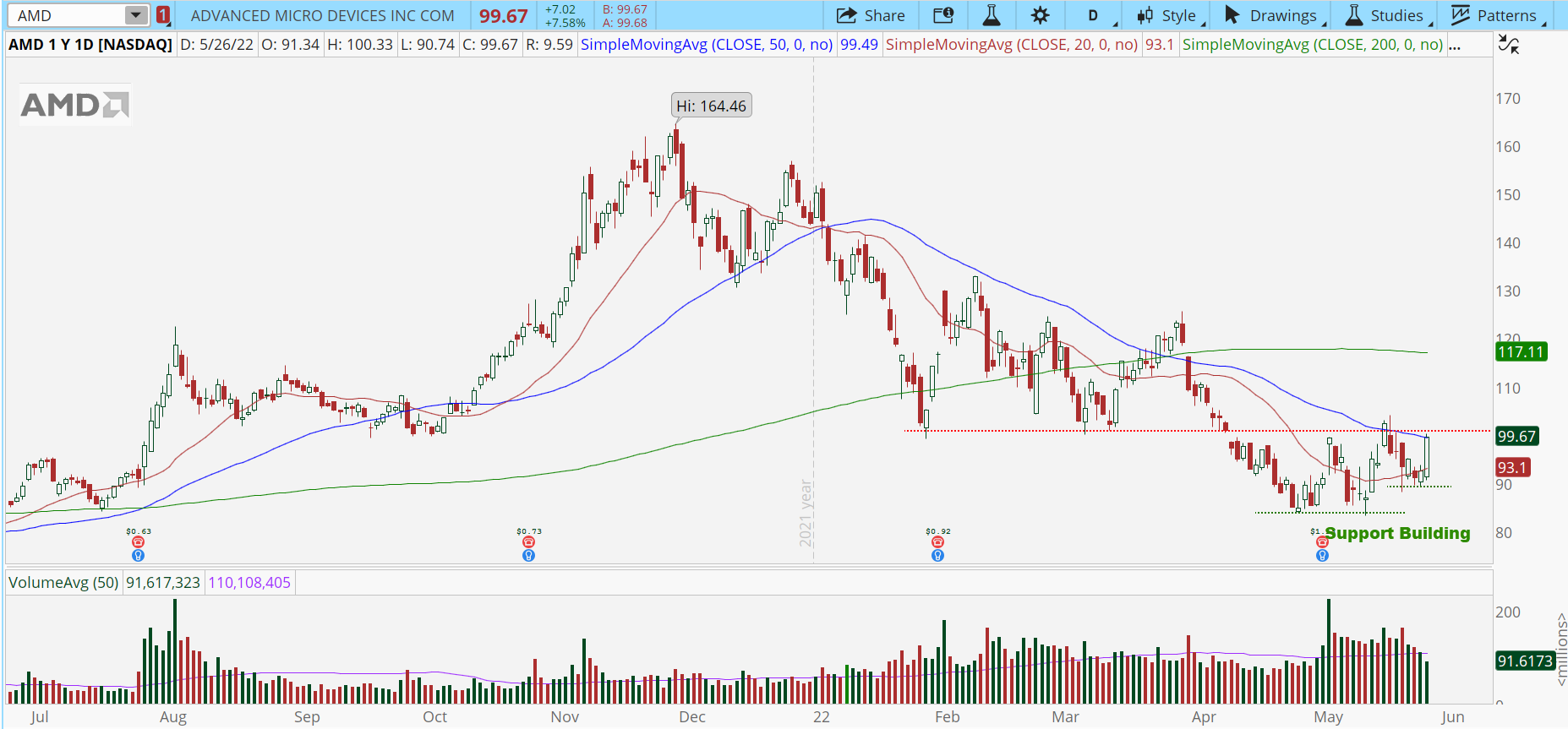 Source: The thinkorswim® platform from TD Ameritrade
But that's just the icing on the cake. The main reason I find AMD stock a tempting target for buyers is the price action of late. Here are the bullish developments.
First, the stock surged following this month's earnings announcement. Positive responses to quarterly reports have been a rarity this season, so it sets AMD apart from others.
Second, the last two downswings saw a double bottom and higher low develop. Both formations suggest demand is increasing.
Third, these bullish developments have occurred while the technology sector continued to sink to a new low. In other words, Advanced Micro Devices is outperforming its sector.
7 Beaten-Down Growth Stocks That Look Like Big Bargains Right Now
The Looming Breakout Is a Trade Worth Taking
Today's rally has prices pushing into the 50-day moving average for the second time in two weeks. A break out here will spell a decisive change in character and should set the stage for returning to the 200-day moving average near $117. At the same time, we're testing the psychologically significant $100 level. This proved substantial support on the way down and has since been a critical resistance zone. Closing above would also confirm buyers have taken control of the short-term trend.
While you could buy shares outright, the options market provides a great way of juicing your returns with leverage.
Buy AMD Stock Options for Big Profits
For a cheap bet, consider purchasing vertical call spreads. The trade consists of buying a lower-strike call option while selling a higher-strike call of the same expiration against it to reduce the overall cost and risk of the position. Also known as a bull call spread, the strategy offers limited, but substantial upside.
The Trade: Buy the June $100/$110 bull call spread for $3.70.
You're risking $3.70 to make $6.30 if AMD stock rises past $110 in the next three weeks. That translates into a potential return of 170%.
On the date of publication, Tyler Craig was long AMD.
More From InvestorPlace
Stock Prodigy Who Found NIO at $2… Says Buy THIS
It doesn't matter if you have $500 in savings or $5 million. Do this now.
Get in Now on Tiny $3 'Forever Battery' Stock
The post AMD Stock Is a Buy After Nvidia's Earnings appeared first on InvestorPlace.
InvestorPlace| InvestorPlace