Are We Starting a Major Rally?
What to expect from stocks … a look at historical rebounds from corrections … a specific corner of the market that's jumping
First and foremost, our thoughts and prayers go out to the Ukrainian citizens who are caught in …
What to expect from stocks … a look at historical rebounds from corrections … a specific corner of the market that's jumping
First and foremost, our thoughts and prayers go out to the Ukrainian citizens who are caught in the middle of Russia's invasion into Ukraine.
As our hypergrowth specialist, Luke Lango, wrote in yesterday's Innovation Investor Daily Notes, it's a "human tragedy." As we learn of ways to help support Ukrainian humanitarian aid efforts in the coming days, we'll pass them along here in the Digest.
In the meantime, let's look at the investment impact of Russia's attack.
***What will happen after yesterday's massive rally?
Yesterday morning, on the heels of the Russian invasion into Ukraine, U.S. stocks plunged.
But as the trading day continued, all three major stock indexes staged a massive rally, each closing in positive territory. Most impressively, the Nasdaq ended the day up more than 3%.
Source: StockCharts.com
As I write Friday afternoon, all three indexes are surging higher, building on those gains. The Dow is even on pace for its best day of 2022.
Now, it's too soon to declare that this rally will hold and we've escaped Russia-related weakness. That said, even if there's more volatility in our immediate future, history suggests that sustained gains aren't far off.
For those details, let's turn to Luke:
(Two days ago), we did some research for our Innovation Investor subscribers on the historical significance of the S&P 500 entering into correction territory, which the index just did (three) days ago.
The research largely concludes, perhaps obviously, that buying stocks after the S&P 500 enters correction territory is a great investment strategy for anyone looking to invest for 12 to 36 months.
Through 25 such corrections since 1950, the average 12-month forward return from the date the S&P 500 entered correction territory is about 5%, while the average three-year forward return is about 27%.
Excluding recessionary periods, the average 12-month and three-year-forward returns are 10% and 32%, respectively.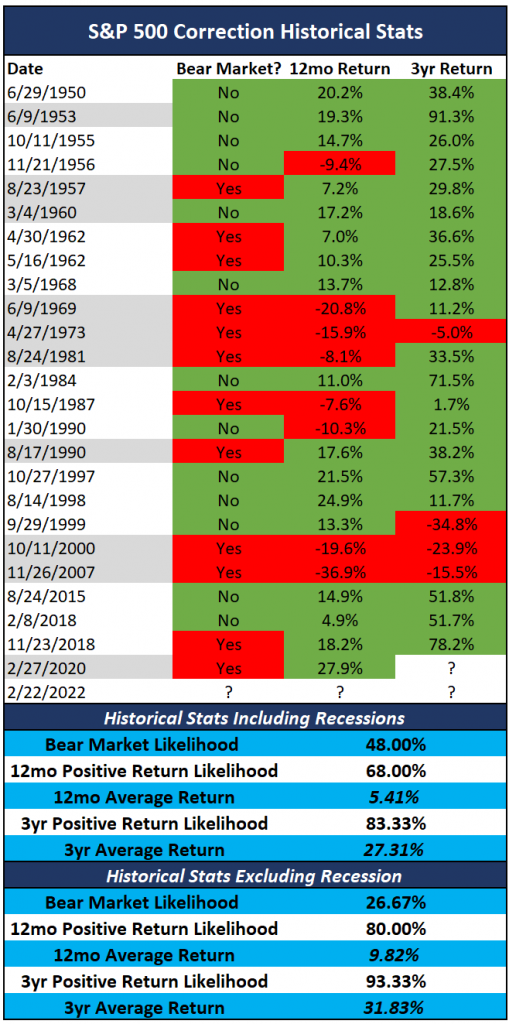 We believe this research strongly supports the notion that history is repeating itself today.
Looking at the data, Luke points out that corrections weren't normally bottoms. Stocks often do continue to fall after a correction – but only for a few months.
But excluding recessionary periods, stocks were higher 80% of the time 12 months after the S&P 500 entered a correction territory.
Back to Luke for the takeaway:
In other words, unless the U.S. economy drops into a recession, history says stocks will be substantially higher within 12 months.
Our fundamental analysis suggests that the U.S. economy won't fall into a recession in 2022, and therefore, we firmly believe that stocks will trade choppy over the next few months — before roaring higher by more than 10% in the second half of 2022.
***How yesterday's invasion could actually help the U.S. stock markets
The biggest threat to the stock market has been the risk of too much monetary tightening from the Fed.
Yesterday's attack changes things.
Back to Luke:
The Russian invasion of the Ukraine creates so much geopolitical and economic uncertainty, at a time when the global economy was already starting to slow, that we believe it will force the Fed to move much more slowly and cautiously on its monetary tightening path in 2022.
The market agrees with us.
Before the invasion, traders were pricing in a 40% chance that the Fed hiked 50 basis points in March, with the consensus belief that they will hike six to eight times this year.
Now, traders believe there is less than a 5% chance of a 50-basis-point move in March, while consensus expectations have dropped to five to seven rate hikes for 2022.
Luke is referencing the FedWatch Tool by the CME Group. It's constantly adjusting the probabilities of various rate hikes at upcoming FOMC meetings.
You can check it out yourself by clicking here.
And to Luke's point, yesterday, we heard from various Fed presidents speaking about the impact of the Russian invasion on upcoming Fed policy changes. They generally hedged their language, but nodded toward the potential of slowing things down.
For example, Cleveland Fed President Loretta Mester said the conflict could have an effect on the U.S. economy in the medium term and should be factored into the Fed's decision.
***One sector that's surging in the wake of the invasion
A corner of the market we've long been bullish on is cybersecurity. But yesterday's invasion is a fresh reminder of the (unfortunately) bright future of this sector.
To establish some context, here's the BBC with how Russia is using cyberattacks against Ukraine:
Ukraine has been hit by more cyber-attacks, which its government says are "on a completely different level".
Earlier on Wednesday, the websites of several Ukrainian banks and government departments became inaccessible.
At the same time a new "wiper" attack, which destroys data on infected machines, was discovered being used against Ukrainian organisations.
The incident represents the third wave of attacks against Ukraine this year, and the most sophisticated to date.
In response, we saw huge gains from cybersecurity stocks, even when the broad market was selling off Thursday morning.
From CNBC:
Cybersecurity stocks were a rare bright spot Thursday as Russia's invasion of Ukraine sent major indexes down.
The conflict has prompted concerns of cyberattacks, especially against critical infrastructure companies.
Amid the rising anxiety of an escalation in the conflict, shares of the following cybersecurity companies jumped: Telos, up more than 20%; Palo Alto Networks, up 13%; CrowdStrike, up 13%; and Mandiant up 12%.
It turns out, Luke was highlighting this trade for readers two days ago. From his update:
The reality is that modern warfare isn't exclusively fought on battlefields between people — it is also fought in the cloud between computers.
Many believe that the current Russian invasion of the Ukraine could involve Russia attempting cyberattacks on the U.S. and EU in the coming weeks.
The threat of such attacks emphasizes the need for next-gen cybersecurity systems to defend government and intelligence data — and a small tech company we own in our Innovation Investor portfolio is working with nearly every allied government and intelligence agency to make next-gen cybersecurity systems.
Indeed, its stock price was up yesterday during the broader market sell-off.
To join Luke in Innovation Investor and get his cybersecurity plays, click here. In any case, if your portfolio doesn't have exposure to cybersecurity, give it a look. This is a long-legs trend that's going up in the years to come.
***A quick word of caution before we sign off
Keep your eyes on China and Taiwan. This has the potential to be a tinderbox issue that could disrupt the bullish stock rally we believe is coming.
Here's Luke, explaining:
We would like to warn of the bear case possibility here wherein Russia's actions embolden China to invade Taiwan.
There are reports that Chinese military aircraft have entered Taiwanese airspace. That's worrisome. We do not believe an invasion will follow suit – but, if it does, things will get ugly in a hurry.
Taiwan is the world's preeminent semiconductor chip supplier, and everything these days is built on semiconductor chips. A Chinese invasion of Taiwan would massively disrupt all of that chip supply and create enormous economic headaches for computer companies, cloud companies, cryptos, and pretty much everything related to technology.
We DO NOT believe such an invasion is likely. However, it is a possibility. Therefore, we maintain a largely bullish medium-term outlook on our stocks.
We'll be watching and will keep you updated here in the Digest. For now, it's not a reason for major concern. But if that changes, you'll read about it here.
Have a good evening,
Jeff Remsburg
The post Are We Starting a Major Rally? appeared first on InvestorPlace.
InvestorPlace| InvestorPlace