Bitcoin Is Priming for a Long-Term Breakout
Cryptocurrencies as a financial asset class have failed to deliver on their promise, going by their recent price performances. This alternative investment option has been stuck in a rut since peaking in early November 2021. Bitcoin (BTC-USD),…
Cryptocurrencies as a financial asset class have failed to deliver on their promise, going by their recent price performances. This alternative investment option has been stuck in a rut since peaking in early November 2021. Bitcoin (BTC-USD), the most valued crypto, is not an exception to this lackluster trend.
Source: kitti Suwanekkasit / Shutterstock.com
Much was said about how Bitcoin would take the world by storm and emerge as a potent threat to fiat currencies. After all, cryptos offer such advantages as decentralization, ease of transactions and privacy. These selling points, however, did not prove to be adequate to get a huge number of people on board quickly.
But when all is said and done, there is no denying of the fact that Bitcoin is here to stay. From the adoption perspective, things are moving, although not at a pace crypto enthusiasts would have desired. Wall Street firms had initially shrugged off digital currencies as noises. But many of them have come around and begun to at least acknowledge cryptos.
A case in point, JPMorgan's (NYSE:JPM) Jamie Dimon. After calling out Bitcoin as a fraud in 2017, he has backpedaled . The firm's analysts now have a long-term price target of $150,000 for the apex crypto.
What's Happening With Bitcoin Prices?
Bitcoin had a stellar start to 2021, as the world slowly and steadily emerged out of the first wave of the pandemic. Trading during the year, however, was marred by volatility, with occasional hard rallies and steep pullbacks.
7 Stocks to Buy After Sentiment Slipped to Lows
The upside seen at the start of the year was the next leg of a rally that began in mid-October 2020. Bitcoin peaked at $64,863.10 on April 14, 2021, only to pull back toward a trough between the $31,000-$34,000 area a few times.
Bitcoin violated this support area and dropped to a low of $28,893.62 on June 22, 2021. It was then seen bouncing off this bottom until early August. It took the next leg up only to be locked in another consolidation phase in the range of $41,600-$51,600 until early October.
The subsequent upward move had enough momentum to take the crypto to its all-time highs of $68,990.90 on Nov. 10. The rally unraveled shortly after, taking Bitcoin all the way back to a bottom at $33,184.06 on Jan. 24, 2022, a peak-trough decline of about 52%.
Bitcoin has staged a fidgety recovery since then.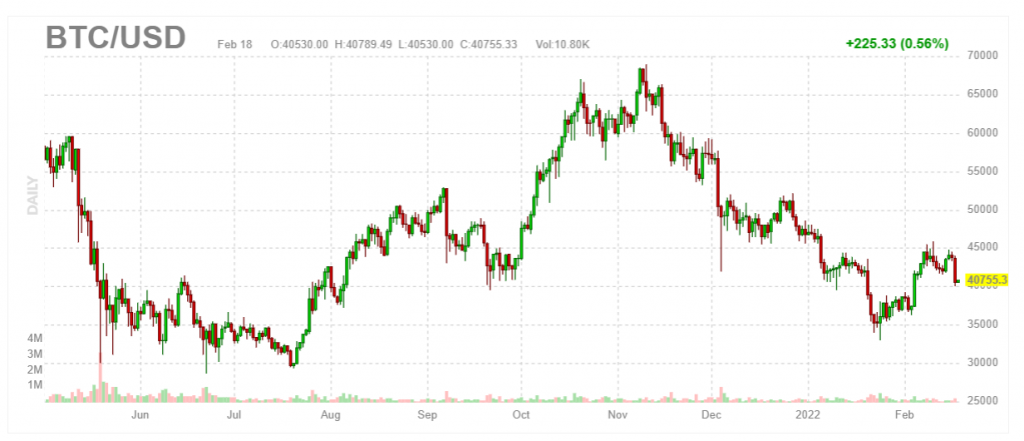 Source: Provided by Finviz
What's Weighing On Bitcoin?
Bitcoin has polarized the investment community and experts. Its detractors have pointed out risks such as volatility and instability. This argument, however, is not on firm ground. Name one worthwhile investment opportunity that is immune to these problems — It'll be hard for you to find any.
Others argue that Bitcoin has no intrinsic or fundamental value and it isn't backed by anything. The total Bitcoin currently in circulation is about 18.96 million vis-à-vis the maximum supply ceiling of 21 million set by its creator Satoshi Nakamoto.
Bitcoin's intrinsic value comes from its scarcity. In other words, the basic economic concepts of demand-supply impart scarcity value to the asset.
A few macroeconomic and regulatory risks are currently weighing down on the crypto space. After keeping interest rates at extremely accommodative levels, the Federal Reserve has signaled a string of rate hikes coming in 2022 as inflation rears its ugly head.
A high-interest-rate environment moves money away from risky assets such as cryptocurrencies and into the less-risky government bonds.
Increased regulatory scrutiny is another deterrent. China has banned cryptos in all forms and crypto mining as well. A few other nations have  adopted a similar stance, while about 42 countries have put restrictions on cryptos in one form or another, according to a report compiled by the Law Library of Congress.
Fears of a more widespread ban are on the minds of investors.
With several alternatives available now, investors are also weighing in the possibility of Bitcoin losing its dominant positioning among digital currencies.
But the argument that altcoins will take the spotlight away from Bitcoin is baseless, according to a report titled Bitcoin First, authored by Fidelity Digital Asset's Director of Research Chris Kuiper. The analyst said:
"One of the biggest reasons is that any improvement in one characteristic of bitcoin, such as improving its speed or scalability, leads to a reduction in another characteristic, such as bitcoin's level of decentralization or security."
Experts Optimistic of a Bitcoin Recovery
Notwithstanding the surrounding uncertainties, analysts are optimistic.
Bitcoin is on track for a rebound in the second half of 2022, Coindesk reported, citing a report from FSInsight. The research firm sees the apex crypto hitting $200,000, about five-fold increase from where it is currently.
Also among the Bitcoin bulls is Cathie Wood's Ark Invest, which lays the case for Bitcoin hitting $1 million by 2030. Ark Invest analyst Yassine Elmandjra said in the Big Ideas 2022 report:
"Bitcoin's market capitalization still represents a fraction of global assets and is likely to scale as nation-states adopt as legal tender."
The analyst sees several positive factors such as maturing investors base, who are long-term focused; increased institutional interest; and technological breakthroughs in the network.
The Bottom Line on Bitcoin
In this increasingly digital world, Bitcoin is definitely in for a long haul. Due to the decentralization involved, Bitcoin and by extension all digital currencies provide a secure way of transacting while eliminating the need for intermediaries in those transactions.
Bitcoin also taps into the scope offered by the unbanked and underbanked, who can easily get access to credit and payments via digital currencies.
Carlyle Group's David Rubenstein said in an interview last to CNBC last year:
"Cryptocurrency is not going away, just like gold is not going away."
Negative geopolitical and macroeconomic headlines may trigger short-term moves. Some of these can ultimately prove positive. The case in point in the current standoff between Russia and Ukraine that accelerated the legalization of cryptocurrencies by the latter.
From the technical perspective, the "crypto winter" many skeptics have called may not prolong for long. now, that doesn't mean corrections and pullbacks can be ruled out. Cryptos largely remain volatile, after all. All these will be part of a long road to a longer-term uptrend. And the short-term volatility in itself provides profit-generating opportunities.
In the near-term, Bitcoin should be able to comfortably hold support around the $40,000 level, which has offered support to the crypto on a couple of occasions in the past six months.
On the date of publication, Shanthi Rexaline did not have (either directly or indirectly) any positions in the securities mentioned in this article. The opinions expressed in this article are those of the writer, subject to the InvestorPlace.com Publishing Guidelines.
Shanthi is a contributor to InvestorPlace.com as well as a staff writer with Benzinga. Equipped with a Bachelor's degree in Agriculture and an MBA with specialization in finance and marketing, she has about two decades of experience in financial reporting and analysis, and specializes in the biopharma and EV sectors.
More From InvestorPlace
Stock Prodigy Who Found NIO at $2… Says Buy THIS Now
Man Who Called Black Monday: "Prepare Now."
Get in Now on Tiny $3 'Forever Battery' Stock
The post Bitcoin Is Priming for a Long-Term Breakout appeared first on InvestorPlace.
InvestorPlace | Stock Market News, Stock Advice & Trading Tips