Don't Overthink This One: Buy the Dip in Snap Stock!
Did you see Snap (NYSE:SNAP) stock yesterday? Shares of the social media company dropped more than 40% after disclosing it would miss second-quarter financial targets – and, unbelievably, we think this is a golden buying opportunity in S…
Did you see Snap (NYSE:SNAP) stock yesterday? Shares of the social media company dropped more than 40% after disclosing it would miss second-quarter financial targets – and, unbelievably, we think this is a golden buying opportunity in Snap stock.
For starters, the U.S. economy is slowing rapidly. When the economy slows, consumers stop spending money. When consumers stop spending money, advertisers stop, well, advertising. Consequently, digital ad platforms — like Snap — earn less.
Pretty simple, right?
Well, here are a few other simple ideas to float by you: The economy doesn't slow forever… consumers don't stop spending forever… advertisers don't stop advertising forever… and digital ad platforms don't earn less forever.
The economy will rebound soon enough. With it, so will consumer and advertising spending. And Snap will earn more than before – because the company operates a "super-sticky" social media platform with 330 million daily active users reaching 75% of the 13- to 34-year-old demographic in more than 20 countries.
That is the sort of the platform with a chokehold on youth demographics that will attract tons of ad dollars for years to come.
In the meantime, SNAP is now trading at its lowest valuation multiples ever.
Don't overthink this one: With Snap stock, you have a long-term growth asset now trading at a record-low valuation. Buy the dip… check back in three years… ring the register for 500% or greater gains.
The 2022 Ad Recession Has Arrived
Just four weeks ago, Snap issued bullish Q2 guidance, calling for revenues to grow about 20% to 25% this quarter.
In those four weeks, the economy has slowed so dramatically that – last night – Snap called for revenues this quarter to grow no more than 20%. The implication therein is that revenue growth decelerated a jaw-dropping 50% over the past four weeks.
The 2022 "ad recession" has arrived.
This is not unusual.
The advertising markets are traditionally a bell-weather of the global economy.
When the economy is strong, advertising spend is strong. When the economy is weak, advertising spend is weak.
This was true in the aftermath of the Dot-Com Crash in the early 2000s, which spilled into a recession. It was true again during the 2008 Great Financial Crisis. And it was true a third time during the outbreak of the Covid-19 pandemic in 2020.
When the economy slows, advertising spend drops.
The drops usually aren't big. Nor do they last long. They are, however, noticeable. We're talking a 4% pullback in 2001, a 10% pullback in 2009, and a 4% pullback in 2020. Meaning that – on average – economic slowdowns hit ad spending by about 5% over the course of a year.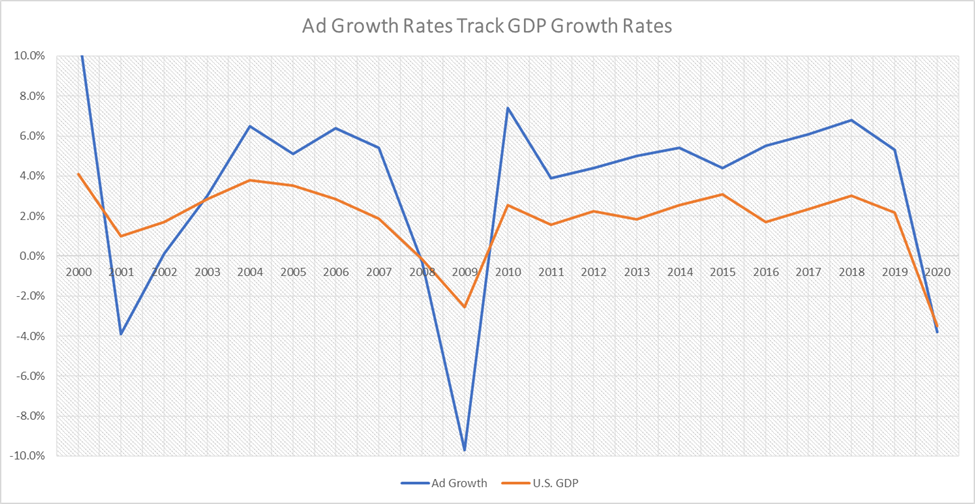 It appears we could be in the early stages of a similar advertising slowdown in 2022.
To be clear: We are not saying that the U.S. economy is knocking on the door of a recession. Rather, we are saying the economy is slowing and the recession risks are rising. In response, advertisers are pulling back ad spending, the likes of which will likely create an ad market slowdown in 2022.
Snap's warning speaks to this reality. As do the flurry of bad earnings reports last week, from retailers like Walmart (WMT) and Target (TGT). And the continued deluge of negative economic data, including yesterday's surprise 16% drop in April new home sales.
We're in the midst of an economic slowdown.
That's why Snap stock plunged yesterday. Heck, that's why every digital ad stock plunged yesterday.
But we're buying this dip with both hands.
A Very Bright Future Through Augmented Reality
The big-picture bull thesis on why to buy the dip in digital ad stocks is very simple. It goes something like this:
1. Ad recessions aren't that big, and they don't last long.
2. Digital ad stocks are valued at record-low valuations.
3. Once this ad recession ends (soon), digital ad stocks will rebound (huge).
The Snap stock bull thesis follows a similar logic. But it is much more than just "buy the dip in Snap stock because its ad trends will rebound and the stock is cheap."
Snap is the leader in the next generation of the internet.
We are amid an enormous paradigm shift from a 2D internet to a 3D internet. That is, the internet of the last decade was all about consuming 2D images and videos through screens. The internet of the next decade will be all about consuming 3D images and videos through immersive augmented reality environments.
Today, we sit in the early innings of this transition.
At the forefront of this transition in the social media space is Snap.
Sure, Meta talks a big game with its huge name-change and all. But the reality is that what Meta is building – this metaverse where we all play ourselves as digital avatars – is not the future.
The future is the integration of augmented reality technologies to enhance our physical experiences, not replace them.
Snap is building that future.
The company is building a suite of AR tools to enhance a consumer's physical experiences, starting with a focus on enhancing the shopping process.
For example, Snap's new "Try-On" filters allow consumers to virtually try-on clothes through their smartphone cameras. Prada (PRDSF) is using these filters to allow prospective buyers to see what their bags would look like virtually hoisted around their shoulders. Gucci (PPRUY) is using these filters to allow consumers to "try on" their glasses. Farfetch (FTCH) is using these filters to allow consumers to "try on" full outfits.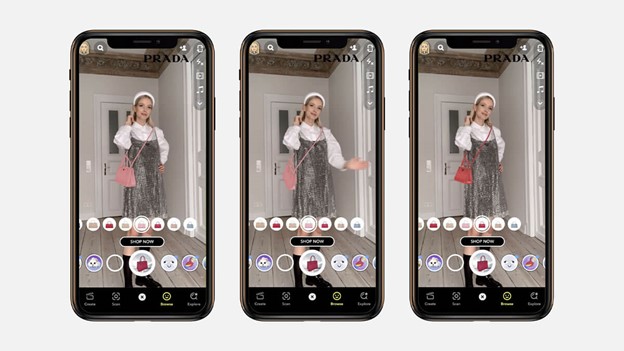 Source: Prada newsroom
This is the future of shopping.
A consumer goes online, and instead of browsing through static 2D images of apparel to try and decide what would look good on them, they will leverage AR technology to virtually try on outfits, shoes, bags, make-up, glasses, and more. The stuff that looks good, the consumer will buy.
This will radically improve the shopping experience, drive higher conversions, yield lower returns, and ultimately make for happier shoppers and merchants.
AR shopping is the future.
Snap is at the epicenter of this future. Specifically, it is building the core technology – AR software enabling the recreation of 2D images as 3D virtual replicas that can be placed on any object in a camera's purview – that will facilitate this future.
This is special technology. It's game-changing technology. And Snap knows this. So, the company doesn't want to just keep this tech on its platform and forever be a niche social media company that only the kids use to message each other. Snap has opened up this technology to be used by merchants on their own websites.
To that end, Snap is only a social media company for the time being. But by 2030, this will be a social media company that is also a B2B AR software solutions provider to the entire fashion industry.
By then, we see every major retailer – Nordstrom, Amazon, Walmart, Urban Outfitter's, Nike, and more – using Snap's AR filters.
So, I repeat: Snap stock is a fantastic long-term investment opportunity. You're not just buying a popular social media operator with a burgeoning digital ad business. You're buying the future backbone of shopping.
And that future backbone of shopping is on fire-sale right now.
Snap's Record-Low Valuation
Following yesterday's selloff, Snap stock may not be trading at its lowest price ever, but because of the company's rapid sales growth, it is trading at 4.6X trailing sales. That marks an all-time low price-to-sales multiple for Snap by about 25%.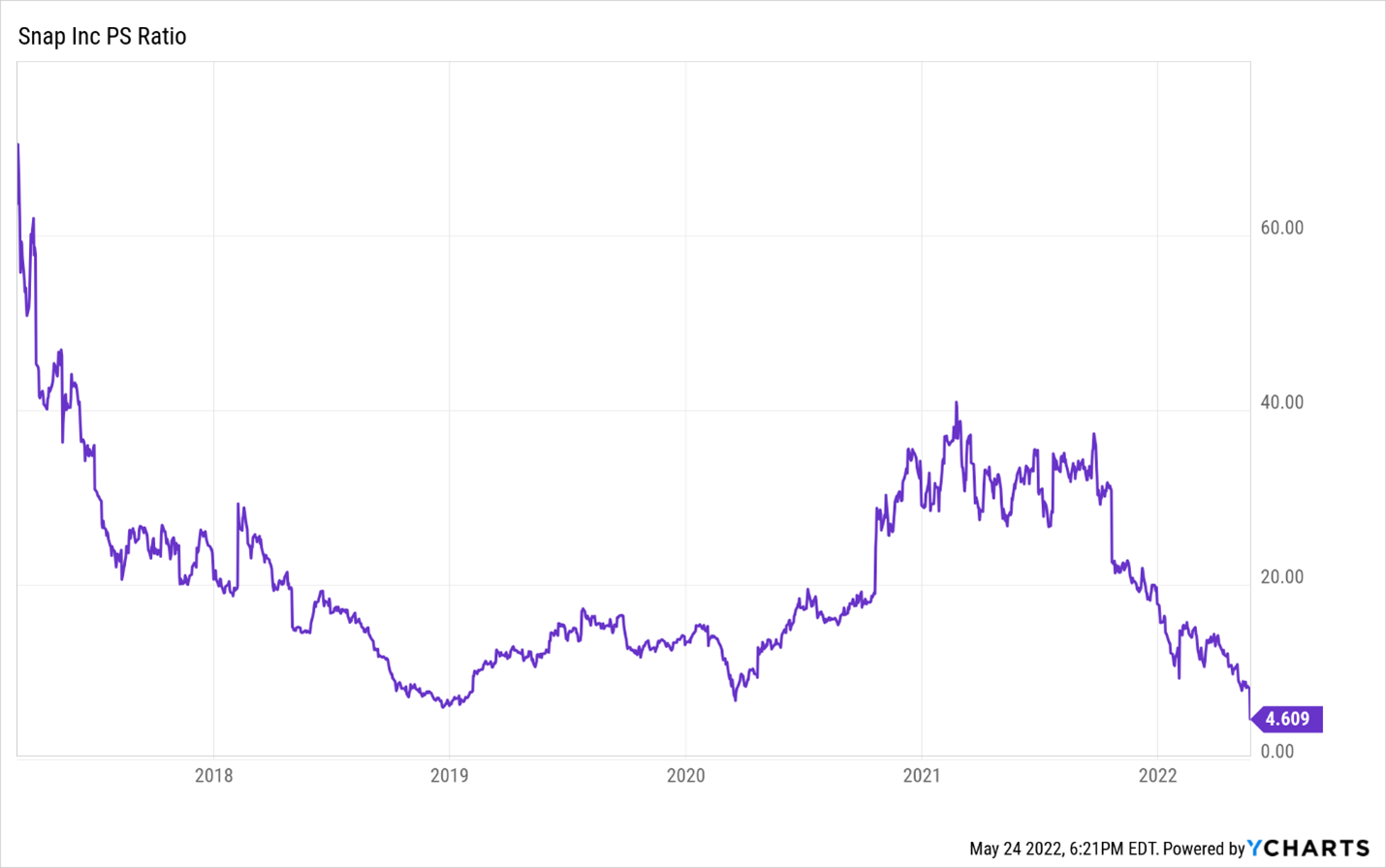 Snap stock bottomed in late 2018 around 6X sales. It bottomed during the pandemic outbreak at around 7X sales.
From those two levels, the stock soared. In 2019, the stock ripped 300% higher. In 2020, it jumped 500%.
At all-time low valuation levels, is a similar massive rally in store for Snap stock this time around?
We're very confident it is…
The Final Word
Everyone loves to think of Snap as this niche social media platform only teenagers use to send silly — and sometimes lecherous — messages to one another.
I get it; I used to view Snap in that light. When the company IPO'd in early 2017, I was one of the stock's most vocal bears.
But in late 2018, a buddy of mine in Silicon Valley — a software engineer at one of the world's leading technology firms — met Snap CEO Evan Spiegel. He told me to not bet against Snap. "Spiegel is building the future of the internet," he said.
My friend was right.
Spiegel has much bigger ambitions for Snap than just this niche social media platform. That's just the start. His vision for Snap is to build a company that provides the tools to power the next generation of the internet.
That vision is coming to life as we speak.
Unfortunately, it's coming to life during the shakiest stock market since 2008. The benefits of Snap's new AR technologies, consequently, is being drowned out the company's ad slowdown.
But the ad slowdown will pass, like every ad slowdown before it. When it does pass, Snap will be left with a complete set of AR tools it needs to revolutionize the internet.
This isn't the end for Snap. It's just the beginning. Thanks to the coming Augmented Reality Revolution, buying Snap today will net you multiples on your investment over the next few years.
On the date of publication, Luke Lango did not have (either directly or indirectly) any positions in the securities mentioned in this article.
The post Don't Overthink This One: Buy the Dip in Snap Stock! appeared first on InvestorPlace.
InvestorPlace| InvestorPlace