Fast-Moving Upstart Stock Requires Patience After Earnings Pop
Things shifted dramatically last night for Upstart (NASDAQ:UPST) stock after the company reported earnings. The reaction brought about a 30% spike in UPST stock. I don't condone chasing such a large move this fast. And while I do remain…
Things shifted dramatically last night for Upstart (NASDAQ:UPST) stock after the company reported earnings. The reaction brought about a 30% spike in UPST stock. I don't condone chasing such a large move this fast. And while I do remain optimistic about UPST, I can't promise that it will rally much more than this. (It did experience a massive rally last summer from $110 to $400 in three months).
Source: Postmodern Studio / Shutterstock.com
Bullish possibilities aside, I believe we should be smart about this and not blindly chase the open. Investors should mark the overnight high of $150 per share as resistance.
While I suggest waiting for a dip to buy, let's take a look at how current investors might approach the excitement. Those who are holding losses should use the pop to fix their trades. After all, when positions go against you, your goal is to get out with minimum damage. A miracle rally like this is a door out of a jam.
Meanwhile, those seeking to get long UPST stock should exercise patience. Running after a stock has climbed 30% can be hazardous to your financial health. I completely understand the FOMO, especially with UPST. It has proven its athleticism last year, but remember it runs in both directions. It reminds me of Shopify (NYSE:SHOP) with how fast it can move. Trading stocks like this requires strong skills not just conviction.
UPST Stock Has Resistance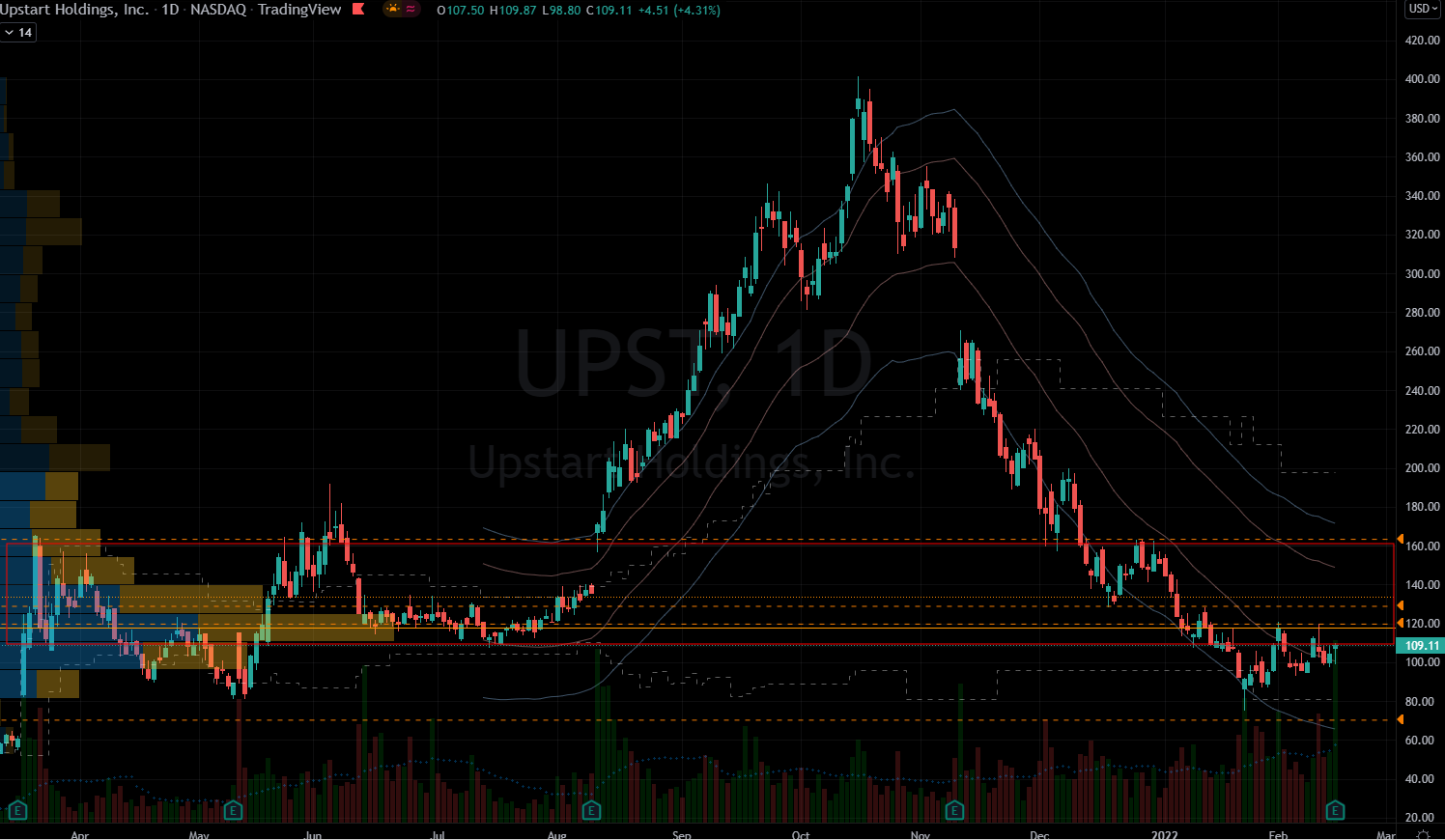 Source: Charts by TradingView
The short story about Upstart's fundamentals is that they are strong. But we must also consult the chart to avoid easy mistakes.
Although UPST stock can still rally much higher, the $135 zone has been pivotal since last March. Often enough when the stock rallies back into areas of contention it finds sellers lurking there. This isn't a reason to try and short this move. In fact, I caution against it, seeing what it did on its last super spike. (Those who tried it last time suffered tremendous hardship).
7 Housing Stocks To Sell if You Think the Boom Is Going To Bust
I have already successfully traded Upstart stock on the bullish side twice before. But I suggest resisting a repeat of that trade now, as the easy pop has slipped away. Instead, I suggest waiting for a dip, even if it doesn't come for weeks. At least we now know where there is risk appetite is lurking, which translates into support levels.
I expect the resistance above to extend through $150 per share. These were key battle zones last year from May through August. Therefore, somewhere in the middle lies a reasonable reentry into UPST stock. Sometimes it's okay to miss a rally so not to get into a bad predicament.
The stock teetered up and down 30% for months last year. Therefore, I suspect it could chop around in a very wide range now. This leaves room for active trading with options; however, I don't suggest casual investors take this approach.
Upstart Management Is Doing a Fine Job
The fundamental metrics are attractive and support a long-term, bullish thesis. The company has increased sales at an exponential rate, and it is now profitable. Last night's report was all positive, so it gave the critics nothing to pick at.
However, Upstart even had a share buyback program, which worries me a little bit. A company that needs to grow fast should not waste money on buying back shares. That's especially true when a company can grow sales 251% year-over-year like UPST did.
Investors who need a buy back incentive to own UPST shares have no business owning it. Those who are looking for value in extreme growers are not doing it right. My conclusion is that this report does not introduce anything new. I was already confident that the company was doing a fine job growing the business. Last night's report merely reiterates that fact, but it offers me no new reason to like it more.
In other words, this is a fine company with a long prosperous future ahead of it, but there's absolutely no need to panic back into it.
On the date of publication, Nicolas Chahine did not hold (either directly or indirectly) any positions in the securities mentioned in this article. The opinions expressed in this article are those of the writer, subject to the InvestorPlace.com Publishing Guidelines.
Nicolas Chahine is the managing director of SellSpreads.com.
More From InvestorPlace
Stock Prodigy Who Found NIO at $2… Says Buy THIS Now
Man Who Called Black Monday: "Prepare Now."
Get in Now on Tiny $3 'Forever Battery' Stock
The post Fast-Moving Upstart Stock Requires Patience After Earnings Pop appeared first on InvestorPlace.
InvestorPlace | Stock Market News, Stock Advice & Trading Tips