Forget Oil, Look at Natural Gas
The highest natural gas prices since 2008 … major supply/demand structural problems even before the war in Europe … the investment that just made Eric Fry's readers 340%
A quick scheduling note before we jump in.
Our office…
The highest natural gas prices since 2008 … major supply/demand structural problems even before the war in Europe … the investment that just made Eric Fry's readers 340%
A quick scheduling note before we jump in.
Our offices will be closed on Monday as we celebrate Memorial Day.
If you need help from our Customer Service team, they'll be happy to assist you on Tuesday when we reopen.
Have a wonderful Memorial Day weekend, and thanks to all who have served our country.
***You know about the raging gasoline prices, but what you might be less familiar with is the bull market in natural gas
On Wednesday, U.S. benchmark natural-gas prices (Henry Hub) jumped to above $9 per million British thermal units (MMBtu) for the first time since 2008.
This is just the latest milestone in a monster bull market that's seen U.S. natural-gas prices surge by more than 130% here in 2022. Prices are about 3.3-times above the five-year average.
But based on macro disruptions in the global market, there's likely far higher prices to come.
Yes, U.S. natural gas is benefiting from the war in Europe. We'll get to that in a moment.
But there are other factors pushing prices higher, one of the most important of which is high electricity demand.
Many people associated natural gas with winter. They're surprised to learn that natural gas is the U.S.'s #1 source of electricity.
You can see this in the graphic below from the U.S. Energy Information Administration. Last year, natural gas accounted for a full 38% of U.S. electricity generation.
Source: U.S. Energy Information Administration
Now, before we even get to Russia/Ukraine, we've seen demand for natural gas increase recently due to weather.
From OilPrice.com:
In addition, early heat waves in the U.S. at the start of May boosted demand for air conditioning and power generation, while supply growth is struggling to catch up with demand.
Moreover, working natural-gas stocks are 17% lower than the year-ago level and 15% lower than the five-year average for this week, according to the EIA's latest Weekly Natural Gas Storage Report released on May 19.
Record LNG exports and unseasonably high demand for electricity have combined in recent weeks to push U.S. gas prices considerably higher than they normally are at this time of the year. And this may only be the beginning.
Warmer than usual spring weather, expectations of a hotter summer, and record LNG exports to help Europe reduce dependence on Russian gas could send the U.S. benchmark natural-gas prices to above $10/MMBtu in the coming weeks, analysts say.
Despite the mention of Russian gas, we're not quite ready to dive into that. First, let's establish greater context for just how delicate today's natural gas supply/demand balance is.
Even before the war in Europe, this balance was flashing warning signs.
***Global natural-gas equilibrium is out-of-whack
The world was already facing the potential for gas shortages this winter. But not because of Russia. This has been coming for a long time.
As coal has become the energy source non grata in recent years, countries around the world turned to natural gas.
This dependence only grew as countries moved away from other energy sources – for example, nuclear energy in the wake of the 2011 Fukushima disaster.
Meanwhile, as often is the case, suppliers were slow to boost production.
Why exactly?
Well, much of it has to do with the natural boom/bust cycle of a commodity. When times are bad and prices are low, natural gas executives simply aren't thrilled to sink millions of dollars into new drilling projects.
But what about today, when prices are sky high? Why isn't there more urgency to increase supply?
Well, one big reason is Wall Street.
From CNBC:
…Oil executives blamed Wall Street.
Nearly 60% cited "investor pressure to maintain capital discipline" as the primary reason oil companies weren't drilling more despite skyrocketing prices, according to the Dallas Fed survey.
In short, given volatility in U.S. energy stocks in recent years, big investors have been pressuring gas executives to use their newfound free cash flow to pay down debt or return money to shareholders instead of investing in new supply.
This has helped create the delicate supply/demand balance that exists today.
So, start with that backdrop, then add extreme weather and a massive hit on global supply from Russia, and suddenly we have a real problem.
***Finally, about Russia…
Let's jump back to Bloomberg:
Longer term, the LNG demand-supply balance is expected to get more out of whack, especially if Russian gas is removed.
The global market could be short nearly 100 million tons per year by the middle of the decade, according to a Credit Suisse report last month. That's equal to more than the annual demand of China, the world's top buyer of LNG.
"Even before the Russia-Ukraine crisis, the global LNG market was tight with record high prices," said James Taverner, a senior director at S&P Global. "Market tightness is likely to persist over the next few years. Prices are likely to continue experiencing wild swings from day to day."
Now, let's throw in a new wrinkle.
Billionaire investor George Soros just wrote a letter to Italy's Prime Minister, Mario Draghi, suggesting that Russian President Vladimir Putin is about to run into major problem with his natural-gas reserves.
From CNBC:
The EU, which includes 27 countries, receives about 40% of its natural gas supplies from Russia, making it difficult for the bloc to stop buying it overnight.
But, according to Soros, the EU is also a very important market for the Kremlin and Putin needs the gas revenue to support his economy.
"It is estimated that Russian storage capacity will be full by July. Europe is his only market. If he doesn't supply Europe, he must shut down the wells in Siberia from where the gas comes. Some 12,000 wells are involved. It takes time to shut them down and once they are shut down, they are difficult to reopen because of the age of the equipment," Soros said in the letter.
Putin and Europe are playing chicken.
If Europe calls Putin's bluff, meaning it secures enough energy to move away from Russian natural gas, Putin will either have to sell his gas at huge discounts to, say, China and India, or he will have to shut off the spigot.
Either way, it would have a destabilizing – and potentially long-legs – effect on natural gas prices.
Bottom line, the tailwinds behind higher natural-gas prices aren't going anywhere.
***How might you play this?
Perhaps the simplest way is the SPDR S&P Oil & Gas Exploration & Production ETF (XOP). Its top 10 holdings include Exxon, Diamondback Energy, Occidental, and ConocoPhillips, to name a few.
I should throw in a quick congratulations to Eric Fry's Speculator subscribers. Yesterday, Eric recommended they close out their final one-fourth position in their XOP trade for a gain of 340%.
By the way, don't misinterpret Eric's "sell" recommendation. He remains incredibly bullish on energy, but Speculator subscribers were playing this with an option that expires in three weeks. That's behind the decision to lock in gains today.
A second possibility is Cenovus Energy (CVE). This is another recommendation from Eric in his Speculator portfolio.
Eric recommended an option play on CVE less than two and a half months ago. It's currently up 117% as I write. Eric believes more gains are coming.
Finally, perhaps the purest play on natural-gas prices is the United States Natural Gas Fund (UNG).
Here's its description:
The investment objective of UNG is for the daily changes in percentage terms of its shares' net NAV to reflect the daily changes in percentage terms of the price of natural gas delivered at the Henry Hub, Louisiana, as measured by the daily changes in the Benchmark Futures Contract, less UNG's expenses.
And here's its performance so far in 2022 compared to the S&P (up 153% if you have trouble seeing it).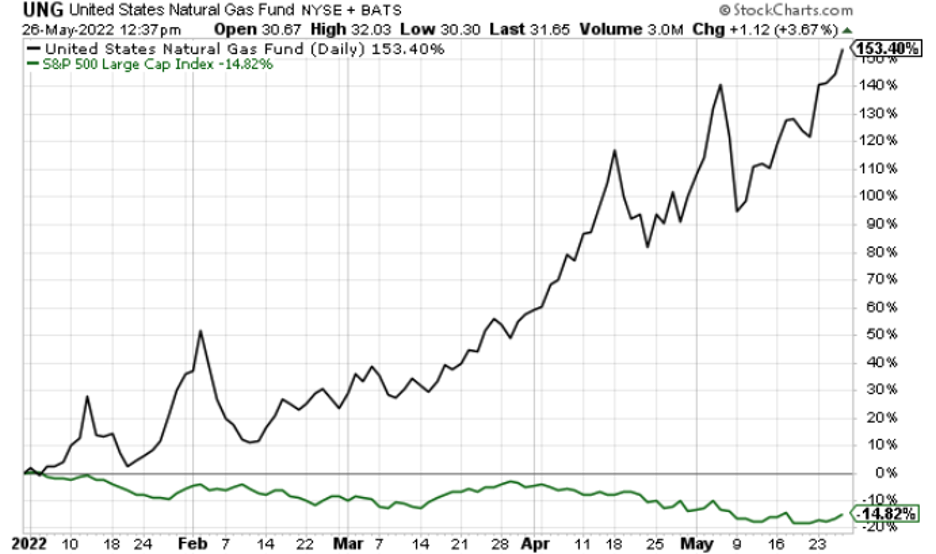 Source: StockCharts.com
***Bottom line, the global supply/demand balance for natural gas is horribly strained
Now, add removal of supply from Russia… add the potential for a spike in demand from, say, a heat wave in Europe this summer… add in the potential for a spike in demand from, say, a cold spell in the U.S. this winter…
Without enough supply to meet this demand, there's only one outcome…
Prices will be headed higher.
The natural-gas trade still has plenty of life in it. If you're looking for growth in a bear market, you found it.
By the way, to learn more about how a pro like Eric uses options to juice these oil trades, click here.
Have a good evening,
Jeff Remsburg
The post Forget Oil, Look at Natural Gas appeared first on InvestorPlace.
InvestorPlace| InvestorPlace