How to Get Paid to Buy Disney Stock at a Discount
The gains had by Walt Disney (NYSE:DIS) stock after its recent earnings report disappeared this week. The well-deserved optimism over the numbers is being overshadowed by continued anxiety surrounding the Russia-Ukraine situation.
Source: spi…
The gains had by Walt Disney (NYSE:DIS) stock after its recent earnings report disappeared this week. The well-deserved optimism over the numbers is being overshadowed by continued anxiety surrounding the Russia-Ukraine situation.
Source: spiderman777 / Shutterstock.com
On Wednesday night, news of Russian troops invading Ukraine had stock futures in freefall. In a battle between war and individual company fundamentals, war trumps.
And that means patience is likely warranted for those looking to buy DIS stock.
Let's look at both Disney's earnings report and price chart to get a better idea of what's driving the narrative.
Theme Parks Back DIS Stock
After multiple disappointing quarterly announcements, Disney finally delivered something worth cheering for this go-around.
Earnings per share leaped to $1.06, far exceeding analyst expectations. Revenue also came in above forecasts, topping $21.8 billion. Disney+ subscriber growth and a much-needed rebound in the company's parks, experiences and products division played a big part in the recovery.
7 of the Top Restaurant Stocks to Serve Up
Sales doubled from the year-ago quarter for Disney's parks, coming in at $7.2 billion. Notably, international visitors haven't yet returned, so there's still plenty of room for further growth. Before the pandemic, these guests made up nearly one-fifth of ticket sales.
The positive response to earnings is a welcome change after three consecutive quarters of disappointment. And it could mark a critical shift in sentiment for the rest of the year. Moreover, it should limit the downside and make buyers more willing to strike during future selloffs.
Disney's Stock Chart
The downtrend has shaved 36% off of Disney's share price from peak to trough. While not near as bad as the carnage in growth stocks, it is still far worse than the S&P 500's 10% correction. The bright side is that you're now getting DIS stock at a far lower valuation. Unfortunately, the weekly time frame remains stuck in a downtrend. As robust as the recent rally was, it failed to print a higher high. Resistance held firm at the falling 20-week moving average, which also maintained the bearish tilt of the weekly trend.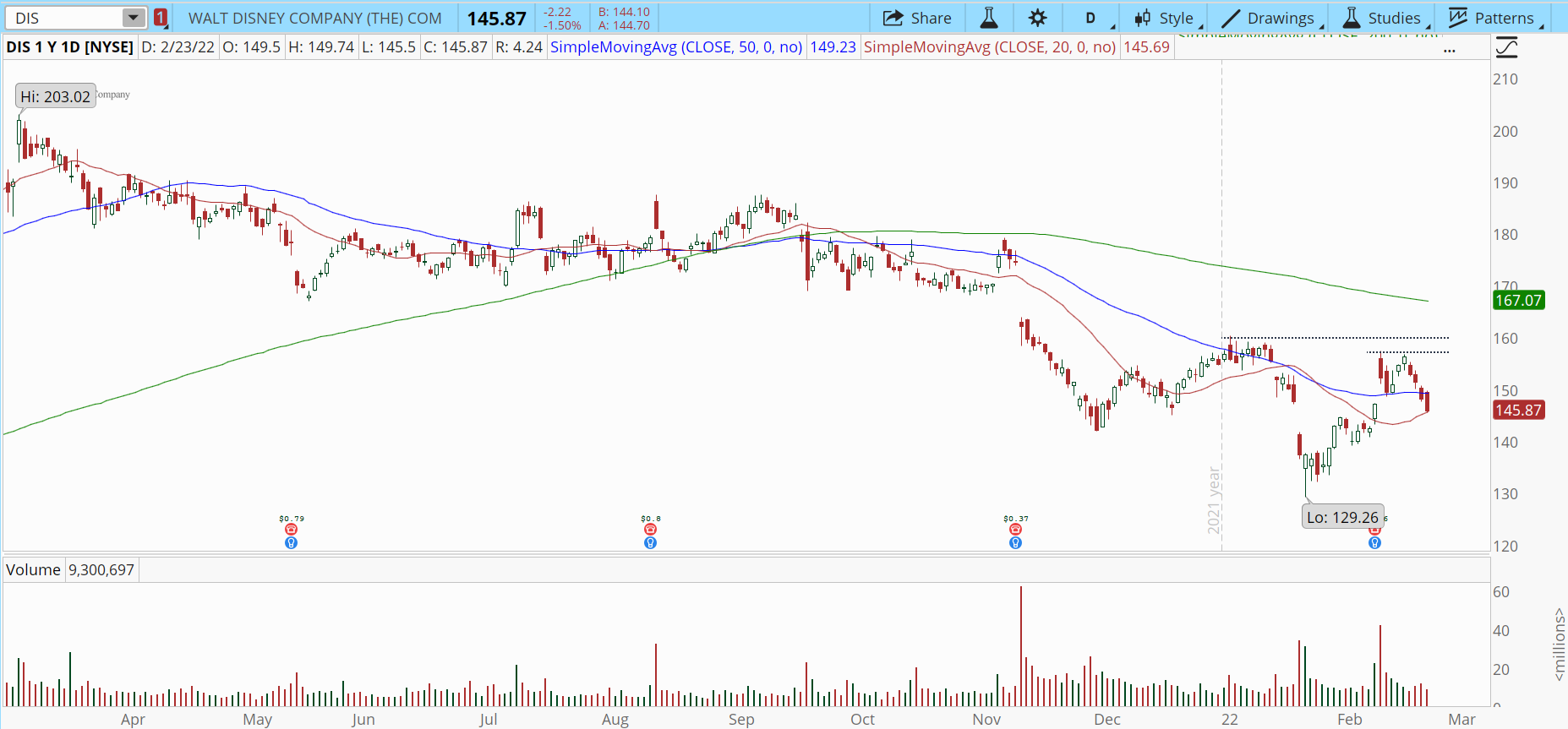 Source: The thinkorswim® platform from TD Ameritrade
Wednesday's weakness officially filled the earnings gap. With that, the chance of the fill zone becoming support is shot. Prices also cracked the 50-day moving average and will likely open below the 20-day Thursday morning. In sum, the daily trend is back to pointing lower as well. Perhaps a revisit of $130 is in the cards. If nothing else, the current technical posture doesn't give a reason to pull the trigger right now.
Directional traders should wait for prices to break above resistance at $157. Doing so would reverse the daily and weekly trends higher. That or we need a new bottoming pattern to form with lower pivot highs that can serve as timely signals to buy. Until then, I think the only thing that would interest me is lobbing far out-of-the-money naked puts.
Get Paid to Buy
Selling puts offers the potential to get paid for your willingness to buy shares at a discount to the current price. So, instead of acquiring shares now — which the chart doesn't currently support — how about selling the April $130 put option for around $2.50.
If DIS stock is above $130 at expiration, you pocket $250 per contract as your reward. And if prices sit below $130 at expiration,  you'll be obligated to buy shares at the cost of $127.50.
What I like about that particular price is that it's where Disney sat before the Covid-19 vaccine news came out in late-2020. So getting a chance to purchase shares again at that level seems like a steal.
On the date of publication, Tyler Craig was long DIS. The opinions expressed in this article are those of the writer, subject to the InvestorPlace.com Publishing Guidelines.
For a free trial to the best trading community on the planet and Tyler's current home, click here!
More From InvestorPlace
Stock Prodigy Who Found NIO at $2… Says Buy THIS Now
Man Who Called Black Monday: "Prepare Now."
Get in Now on Tiny $3 'Forever Battery' Stock
The post How to Get Paid to Buy Disney Stock at a Discount appeared first on InvestorPlace.
InvestorPlace| InvestorPlace