In the Short Term, ARK Innovation ETF Looks Too Troubled
The ARK Innovation ETF (NYSEARCA:ARKK) is one of the most talked-about topics in the stock world recently. Unfortunately, the general tone of those comments at the moment leans towards negativity. ARKK stock has returned -20.9% year-to-da…
The ARK Innovation ETF (NYSEARCA:ARKK) is one of the most talked-about topics in the stock world recently. Unfortunately, the general tone of those comments at the moment leans towards negativity. ARKK stock has returned -20.9% year-to-date (YTD), and -51.5% for the last 12 months (LTM).
Source: Spyro the Dragon / Shutterstock.com
Both the performance and volatility of ARKK stock have diverged seriously from mainstream benchmarks and other exchange-traded funds (ETF). The SPDR S&P 500 ETF Trust (NYSEARCA:SPY) has returned -4.4% YTD and 17.2% for LTM. Invesco QQQ ETF (NASDAQ:QQQ) returned -9% YTD and 8.6% LTM.
Meanwhile, ARKK stock's expense ratio (ER) is more than 3x compared to QQQ and more than 8x the SPY. The ARK Innovation ETF's expense ratio currently sits at 0.75%, or $75 per $10,000 invested annually.
LTM volatility for ARKK stock has been around 50% for the past year, compared to 37% and 35% for Nasdaq 100 Index and S&P 500 Index respectively. Investors who strategize their portfolio for low volatility or don't have a long investment horizon do not favor volatility. It doesn't come as a surprise that the ETF had a 57.29% drawdown recorded on Jan. 26, 2022.
The 7 Highest Dividend Stocks for Income Investors
Despite the current slump, investors should keep in mind that the fund has returned a staggering 280% since its inception date of Oct. 31, 2014. Its performance beats both the S&P 500 and Nasdaq 100 over the past five years.
Excess liquidity during 2020-2021 combined with historically low interest rates boosted the ARKK stock portfolio by about 190% from March 2020 to February 2021. Stay-at-home stocks and the holdings of the ETF were in a perfect position to take advantage of the March 2020 economic environment.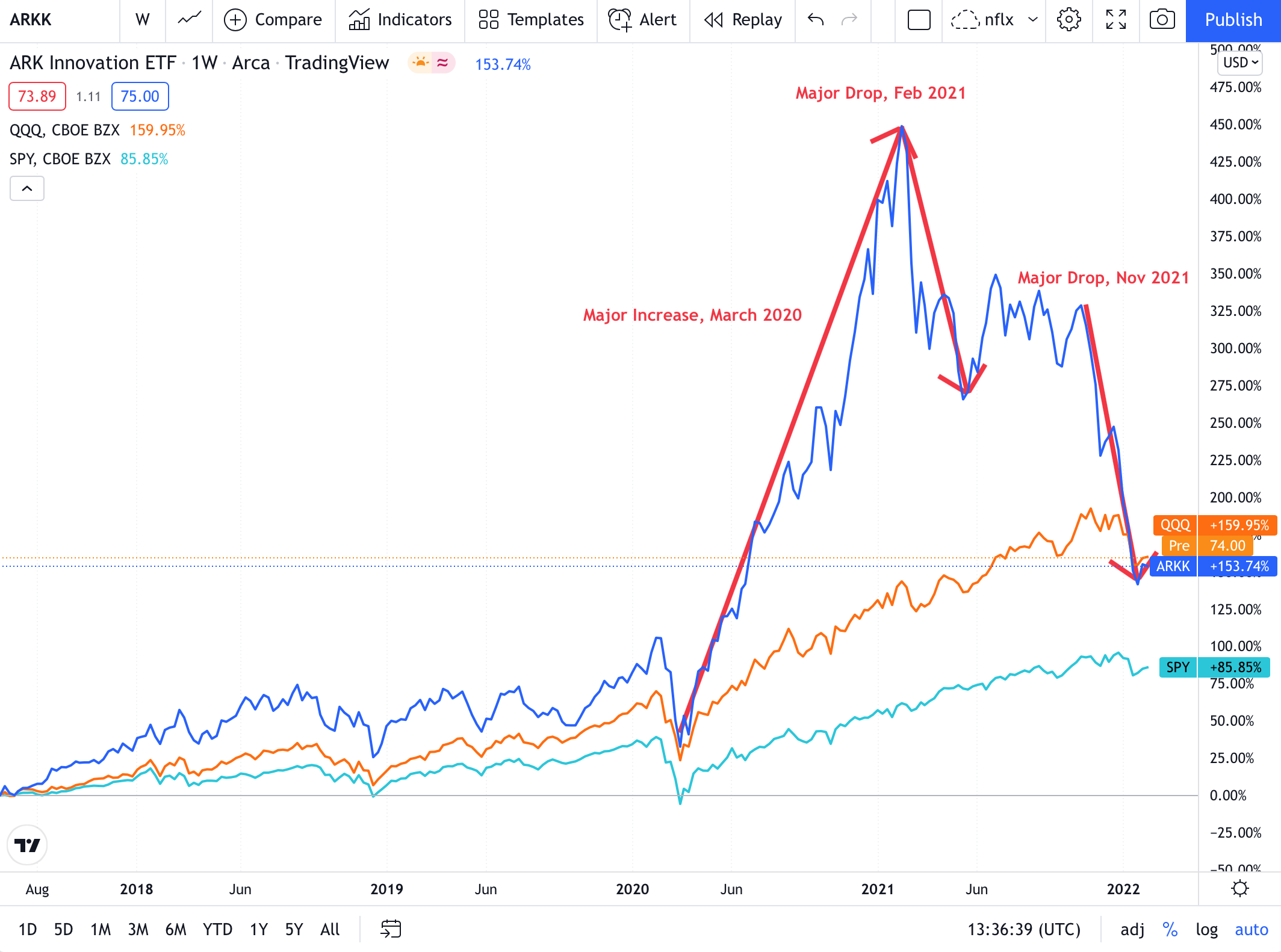 Source: tradingview.com
ARKK Stock Analysis and Holdings
ARKK stock's top 10 holdings account for 56% of the portfolio, with Tesla (NASDAQ:TSLA) being the most-held company of the fund, at 8.4%. The most recent ARKK stock downturn started around Nov. 1, 2021. Since then, only Tesla had a positive run. Roku (NASDAQ:ROKU), Teladoc (NYSE:TDOC) and Zoom Video Communications (NASDAQ:ZM), the three largest holdings after Tesla, have all dropped more than 40% since Oct. 1 of last year, and are still negative YTD.
The chart below shows the performance of main ARKK stock holdings since the beginning of the last stock downturn.
Source: Chart courtesy of koyfin.com
Market Analysis
How will these ARKK stock holdings perform for the foreseeable future? Stocks have been taking a hit in 2022 and the market correction has been mainly affected by the Federal Bank (Fed) monetary policy. The Fed has expanded the money supply by producing more money during the recent crisis, in the form of debt.
As a result, we are now experiencing increasing inflation and hence the Fed is switching to pursuing a rise in interest rates. The recent increase in the 10-year Treasury yield, currently at around 2%, has been readjusting all equities' future cash flows, and therefore their present valuation.
When interest rates go up, all assets' valuations are readjusted around that increase. So now we are in a different type of economic cycle as compared against the past decade, where rates were flat. Growth stocks and non-profitable companies with a lot of debt are severely affected by these changes. ARKK stock is a fund that largely holds companies that fall into the high-debt, high-growth, high-volatility category.
The chart below illustrates my case, where there is an apparent divergence between seven-year treasury yields and top ARKK stock holdings.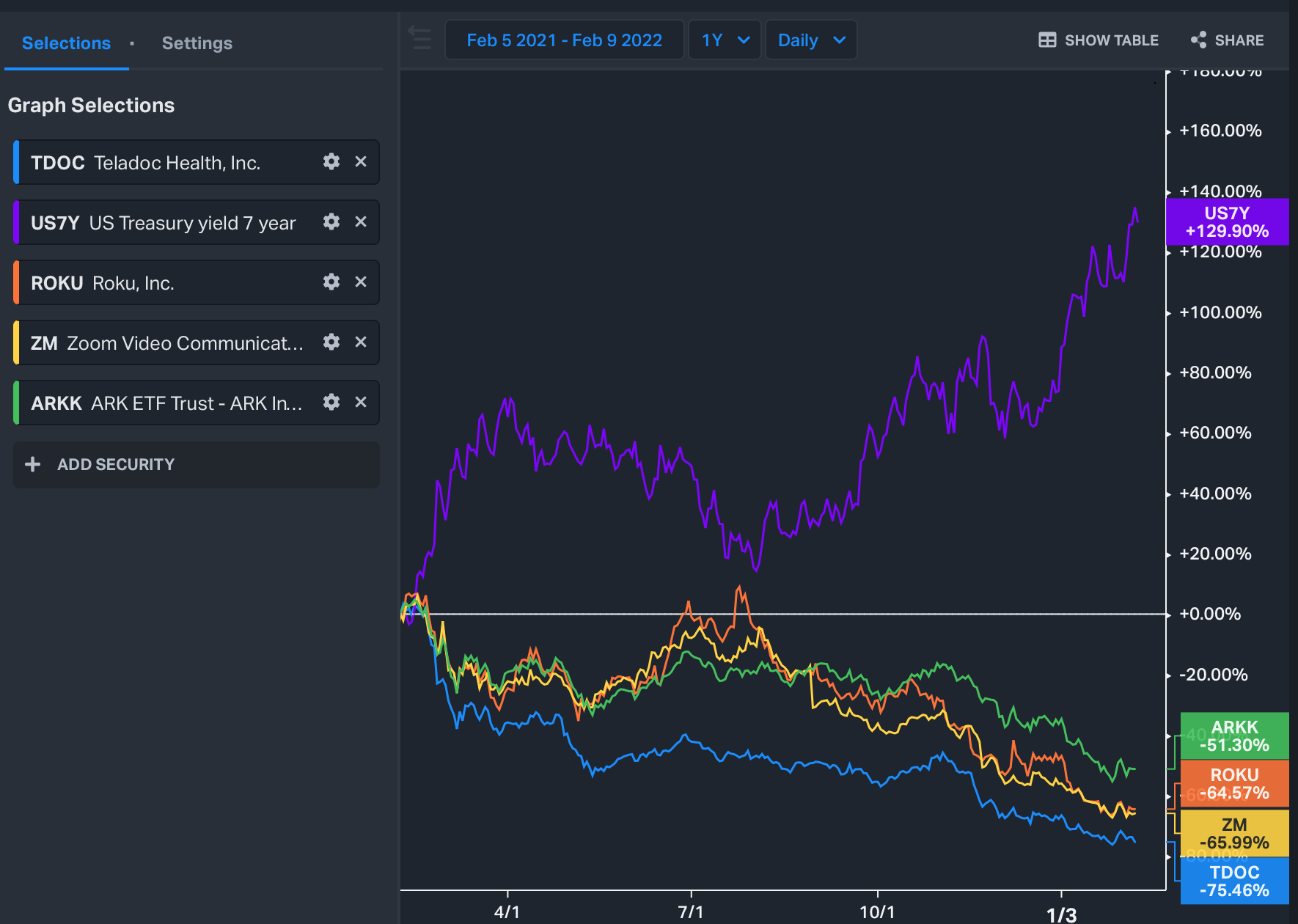 Source: Chart courtesy of koyfin.com
ARKK Stock Future
ARK offers both active and passive ETFs, as well as revolutionary transparency when it comes to their thought process, research models and investment process. ARK has a great marketing tactic that is in touch with retail investors and the media, mostly through its well-spoken, adversary and opinionated CEO, Cathie Wood.
History demonstrates that it is extremely difficult for an active ETF or a fund manager to extensively beat the market year after year. Legendary investor Peter Lynch had a famed 13-year run with an average gain of 29.9% per annum, but even under his watch, some of his investors lost money, depending on their investment entry and exit dates.
I believe that for the short to medium term, ARKK stock will continued being challenged, mainly due to the aforementioned current economic environment. For more bullish investors, they can and might still make money in the long run if they hold their ARKK stock position.
On the date of publication, Jonathan Tang did not have (either directly or indirectly) any positions in the securities mentioned in this article. The opinions expressed in this article are those of the writer, subject to the InvestorPlace.com Publishing Guidelines.
Jonathan Tang has gained extensive experience in the financial services industry in London. He has completed valuable projects for companies such as Bloomberg, London Stock Exchange Group and FactSet. He holds a master's degree in Investment & Risk Finance and has completed an MBA course at the London School of Economics. Jonathan has a passion for fintechs that democratize investing, stock market and public equities, ETFs, start-ups and real estate.
More From InvestorPlace
Stock Prodigy Who Found NIO at $2… Says Buy THIS Now
Man Who Called Black Monday: "Prepare Now."
#1 EV Stock Still Flying Under the Radar
The post In the Short Term, ARK Innovation ETF Looks Too Troubled appeared first on InvestorPlace.
InvestorPlace | Stock Market News, Stock Advice & Trading Tips