Lucid Stock Is on Much Better Footing Now Than in November
When investing in equities this month, we must also leave room for extrinsic errors. The stock market in general is now slave to headlines. This is the proverbial situation where equities are dying from a thousand cuts. The two main fear topi…
When investing in equities this month, we must also leave room for extrinsic errors. The stock market in general is now slave to headlines. This is the proverbial situation where equities are dying from a thousand cuts. The two main fear topics are multi-national war and rate hike cycles. As such, today's discussion of Lucid (NASDAQ:LCID) stock comes with a caveat. Regardless of how enticing the LCID stock thesis is, it must work within the prism of the whole market.
Source: gg5795 / Shutterstock.com
If the indices continue to correct, then Lucid will also fall in sympathy. Since it doesn't trade in a vacuum, it will be hard for it to rally alone. Luckily, the addressable market for the company is massive. Therefore, the long-term prognosis for it is good. That by definition makes it investable, so it is a matter of picking appropriate entries.
The internal combustion engine (ICE) has been the king for too long. ESG investing concepts have finally pushed a serious contender forward.
Thanks to Tesla (NASDAQ:TSLA), electric vehicles (EVs) are a serious threat to toppling ICE. Lucid, Nio (NYSE:NIO) and a few more companies are trying to follow suit. Luckily, the EV market is massive, because currently they are only but a fraction of the global production. There is room to switch more than 80 million vehicles a year from ICE to EV over the next decade.
It won't be easy, especially with the current battery restrictions. We will likely need a solid state one to replace current tech.
Nevertheless, Lucid brought about an extremely attractive vehicle. It it as pleasing to look at as it is technologically forward. I would guess that it will be popular once it's on the market. I wouldn't call it the "Tesla killer," because systemically it is in a different league. Tesla currently generates $6 billion in cash from operations, and $12 billion in gross profits.
Lucid Likely to Sell Out of Every Car They Make
This is not an insult because Lucid will sell out of every car they make. So it's a matter of management expanding their facilities in order to close the gap. LCID stock has incredible fans and I expect it to do well over time. But investors need to be choosy with their entry levels. Buying it blindly creates potential pitfalls like the one in November. Those who chased it at $56 per share lost more than half their money.
7 Defensive Growth Stocks to Buy for February
Simply looking left on the chart could have saved them a fortune. Because it would have been clear that $60 per share has been a disaster zone since the beginning. If the goal is to own it for the long term, then I would avoid entries at record high levels. Those who waited a bit, bought LCID stock at a 50% discount from November highs. They would have had twice as many shares too if they wanted.
The financial statements do not lend the LCID stock much help. That is okay for now, since they are still basically in quasi pre-production. So far they've only delivered a special batch of high-end vehicles. Speaking of which, earlier I called it niche and it may have upset a few readers. I was merely stating fact, because only the 2-percenters can afford it.
LCID Stock Owners Have Better Conviction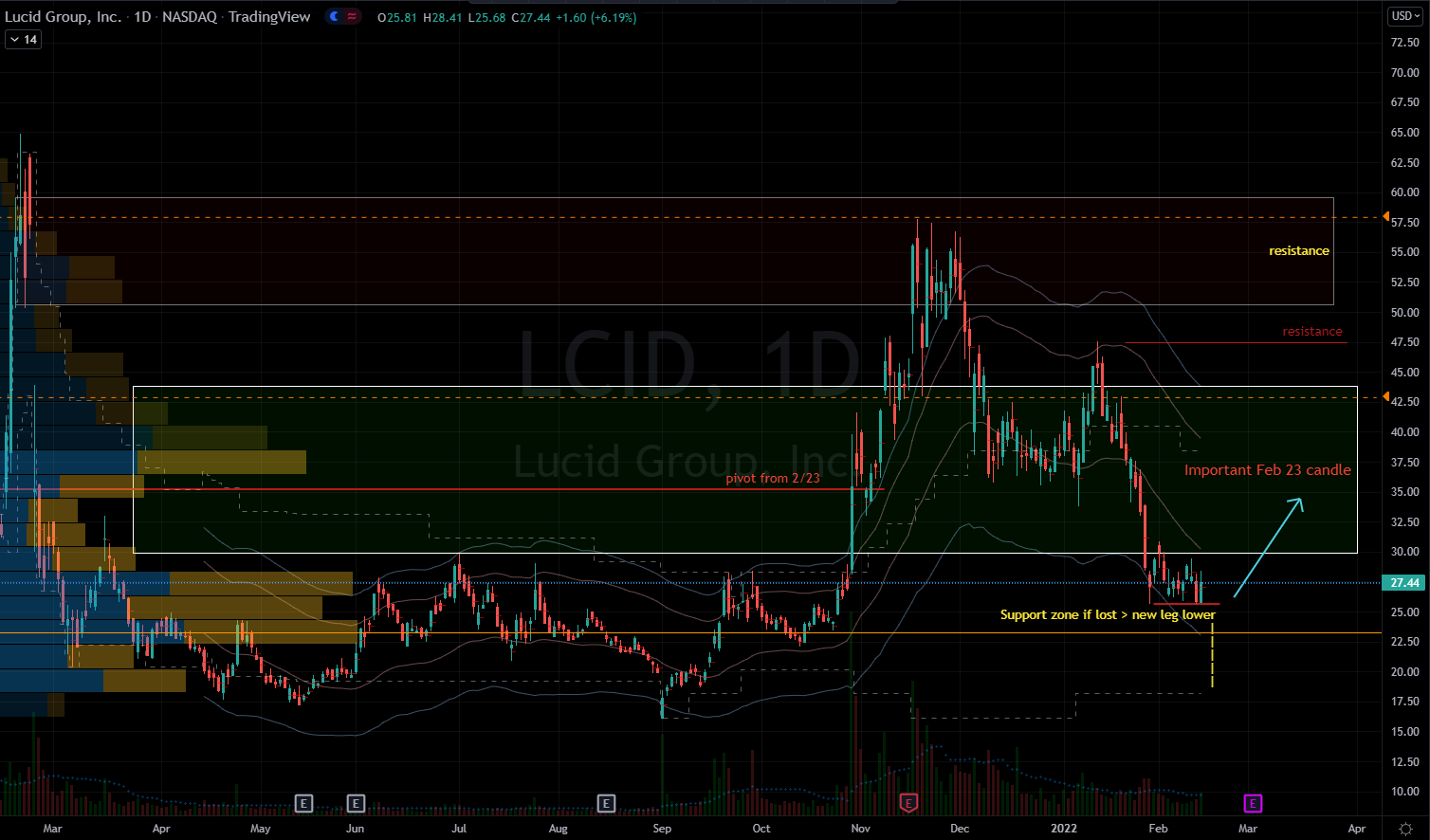 Source: Charts by TradingView
The bullish sales argument suggests greatness out of this company. The LCID stock opportunity is much better at these levels than back in November. The price has fallen back into the breakout level from October. Usually that's where stocks find support. The share owners at these levels have better conviction than the ones at $50. Therefore, they are much stronger hands, and less likely to sell at the drop of a hat.
Investors should resist averaging down on losing positions. The better strategy would be to average in. Instead of taking a full position at once, I can start with partial positions. This leaves room to add, thereby averaging in to 100% over time. Otherwise, I'd be just adding to a problematic trade and making it bigger by averaging down.
If the indices remain bullish, LCID stock has the potential to find footing. The mid-term swing trade rally could bring it to $32 per share. Anything higher would bring about technical sellers, so resist chasing it from there. These are markets on edge and they are not shy about selling rallies out of nowhere.
On the date of publication, Nicolas Chahine did not hold (either directly or indirectly) any positions in the securities mentioned in this article. The opinions expressed in this article are those of the writer, subject to the InvestorPlace.com Publishing Guidelines.
Nicolas Chahine is the managing director of SellSpreads.com.
More From InvestorPlace
Stock Prodigy Who Found NIO at $2… Says Buy THIS Now
Man Who Called Black Monday: "Prepare Now."
Get in Now on Tiny $3 'Forever Battery' Stock
The post Lucid Stock Is on Much Better Footing Now Than in November appeared first on InvestorPlace.
InvestorPlace | Stock Market News, Stock Advice & Trading Tips