NET Stock Is Under Stress But Cloudflare Is Not Under Threat
Investors on Wall Street have an endless stream of headlines to fret these days. We already had macroeconomic concerns from the Federal Reserve. And now a more serious topic regarding a potential war between Russia and the Ukraine has emerged…
Investors on Wall Street have an endless stream of headlines to fret these days. We already had macroeconomic concerns from the Federal Reserve. And now a more serious topic regarding a potential war between Russia and the Ukraine has emerged. The geopolitical crisis is escalating, and the fear is all out war. However, there is one constant that is not likely to change, and that is our need for technology — that's where Cloudflare (NYSE:NET) stock comes into play.
Source: Sundry Photography / Shutterstock.com
Pandemic lockdowns served as a global wake up call that accelerated the digitization trend. NET stock benefited from that catalyst because it offers pretty much everything we will need moving forward. But lately NET hasn't been enjoying the pandemic benefit. In fact, NET stock is down 25% year-to-date.
Ultimately, regardless of the short-term threats, the world will need more of what Cloudflare offers. It may temporarily stall, but the proof is in the financial metrics. Cloudflare has grown its revenues 55% per year for the past five years. That's pretty much all I need to see to have optimism for its future success.
Still not convinced? Let's take a closer look at whether this recent dip is a potential buy opportunity in Cloudflare stock.
The NET Stock Slide Will End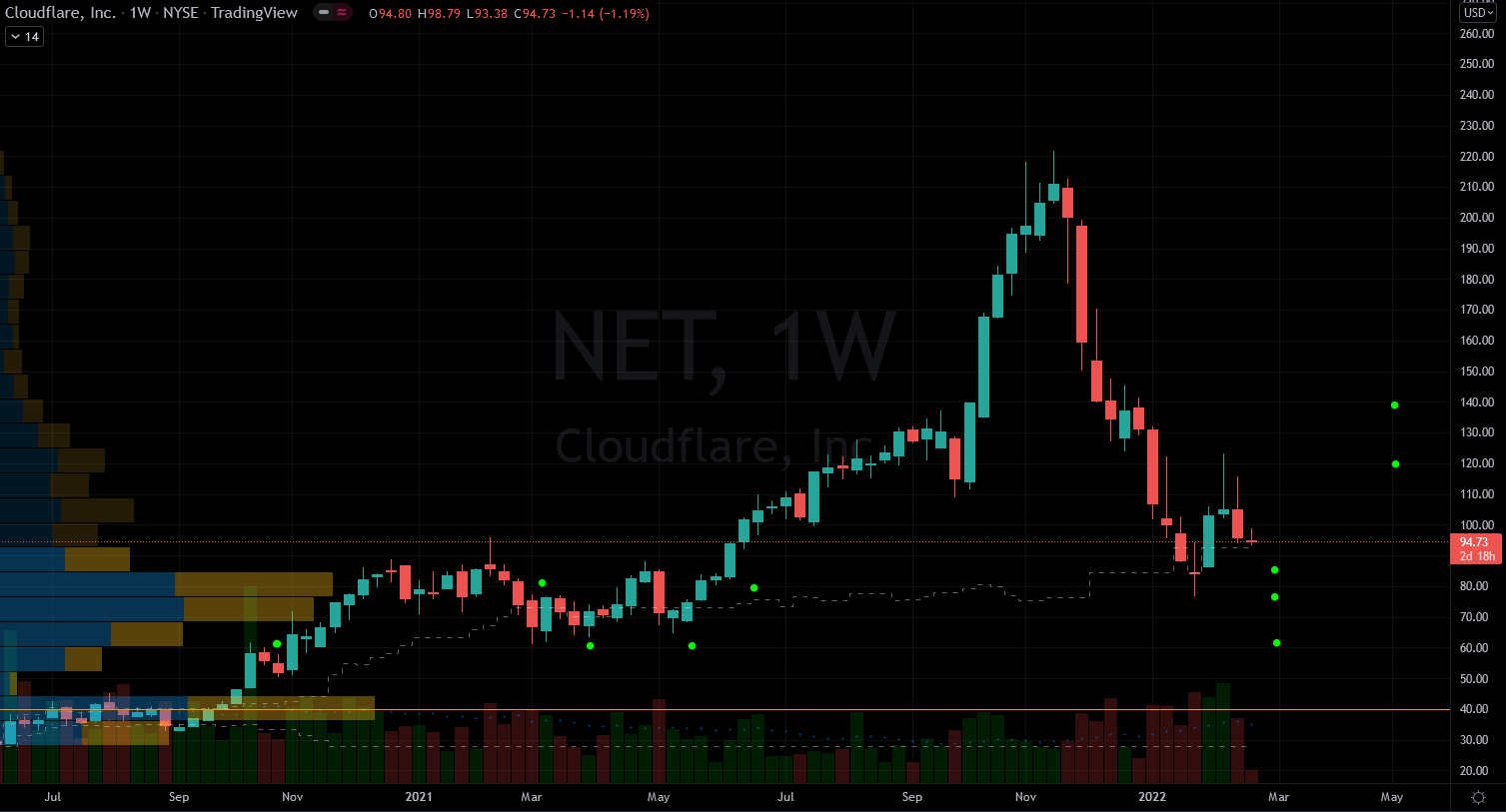 Source: Charts by TradingView
Since the business is healthy, my assumption is that the punishment in NET stock will end. Incredibly, it has already lost up to 65% of its value from its November highs. After struggling for over two months, NET finally bottomed. It even pulled out a 60% rally, but that too ended. Overall, the stock is still 10% above its pandemic 2020 breakout. The rally from there was astonishing, but therein lied the source of its current problems.
7 New ETFs To Consider if You Want To Play Today's Top Trends
The upside came too fast and way too much of it. As a result, the investor expectations rose to lofty levels. When they expect the moon it's easy to disappoint them, so they are throwing a fit about it. Eventually, this tantrum will end and smarter investors will pick up the pieces. Those newer buyers will be stronger and will spook less easily.
For now, I must respect the trend that started last November. Therefore, on rallies like the most recent one, investors should consider booking profits faster than normal. Also use the relief pops to fix broken trades, just in case they fade.
Cloudflare and the ARK Effect
It is now trendy to sell Cathy Wood stocks. In 2020, the ARK invest company under the leadership of Wood became very popular. NET fits the parameters that would interest her. For the last few months, Wall Street has been punishing anything that looks like a "Cathy" stock. The perfect example is Teladoc (NYSE:TDOC), which reported a strong quarter yesterday. Traders sold it down 5% on the headline, even though the company beat all expectations and grew sales 45%.
Current investor behavior is not making much logical sense, but I should give them leeway. I like the adage of not fighting the tape, and it applies here perfectly. Eventually, smart people will figure out that Cloudflare has its fingers on almost every current trend. It covers e-commerce, fintech, gaming, SaaS and more. From enabling website operation to delivering and securing content, it has it all. Every buzzword about hot trends is on its website.
There Are Signs of Stabilization
Luckily the NET stock chart is showing signs of improvement. But before I go there, I must remind you of the overall worry for the markets. If the indices crash on a war headline, nothing will hold up on its own. NET does not trade in a vacuum, so it too will fall below support.
Speaking of which, there are buyers lurking below $82 per share. That was where they bounced hard on Jan. 28 to rally 60%. Moreover, that is also a high volume zone from the beginning of last year. Investors are creatures of habit, so they like to rinse-and-repeat. So, when a stock falls into prior baselines it find willing buyers. In NET's case, it did so recently and over a period of six months before last June.
Fear is a powerful motivator, so I must respect its effect on investor psyche. For as long as the CBOE Volatility Index (INDEXCBOE:VIX) is this high, I assume that anything can happen. So, I would suggest only taking partial positions for new Cloudflare stock investors. For those who are already long, I would caution against adding more with all these extrinsic questions lingering.
On the date of publication, Nicolas Chahine did not have (either directly or indirectly) any positions in the securities mentioned in this article. The opinions expressed in this article are those of the writer, subject to the InvestorPlace.com Publishing Guidelines.
Nicolas Chahine is the managing director of SellSpreads.com.
More From InvestorPlace
Stock Prodigy Who Found NIO at $2… Says Buy THIS Now
Man Who Called Black Monday: "Prepare Now."
Get in Now on Tiny $3 'Forever Battery' Stock
The post NET Stock Is Under Stress But Cloudflare Is Not Under Threat appeared first on InvestorPlace.
InvestorPlace | Stock Market News, Stock Advice & Trading Tips