Rivian Needs Time to Build a Better Fan Base
The electric vehicle (EV) revolution went into high gear after Tesla (NASDAQ:TSLA) made it cool to own one. The world has had EVs since the 1880s but never as a serious option. Up until Tesla, the alt-fuel cars were wonky looking and posed no…
The electric vehicle (EV) revolution went into high gear after Tesla (NASDAQ:TSLA) made it cool to own one. The world has had EVs since the 1880s but never as a serious option. Up until Tesla, the alt-fuel cars were wonky looking and posed no threat to the internal combustion engine (ICE). Rivian (NASDAQ:RIVN) is among the popular new companies trying to follow in Tesla's footsteps. While the company has cars on main street already, RIVN stock has been a stick in the mud on Wall Street.
Source: James Yarbrough / Shutterstock.com
The stock is a fairly new equity issue in the market. Wall Street loved it at first but not lately, and it has been a wild one to trade.
Rivian came out of the gate screaming with a 70% rally in a week. Unfortunately that was a massive top, and it has since lost 70%, where it has found itself caught in a consistent descending channel.
The bears have had their claws into RIVN stock for months. But the good news is that the bulls are trying to make a stand now. The early signs of stabilization come from the recent sideways price action. Incidentally, that's how a proper bottom forms, as a process and not as a V-shape bounce. It must stop falling first so that the bulls can recover some dignity a bit at a time.
RIVN Stock Fans Need to Step Up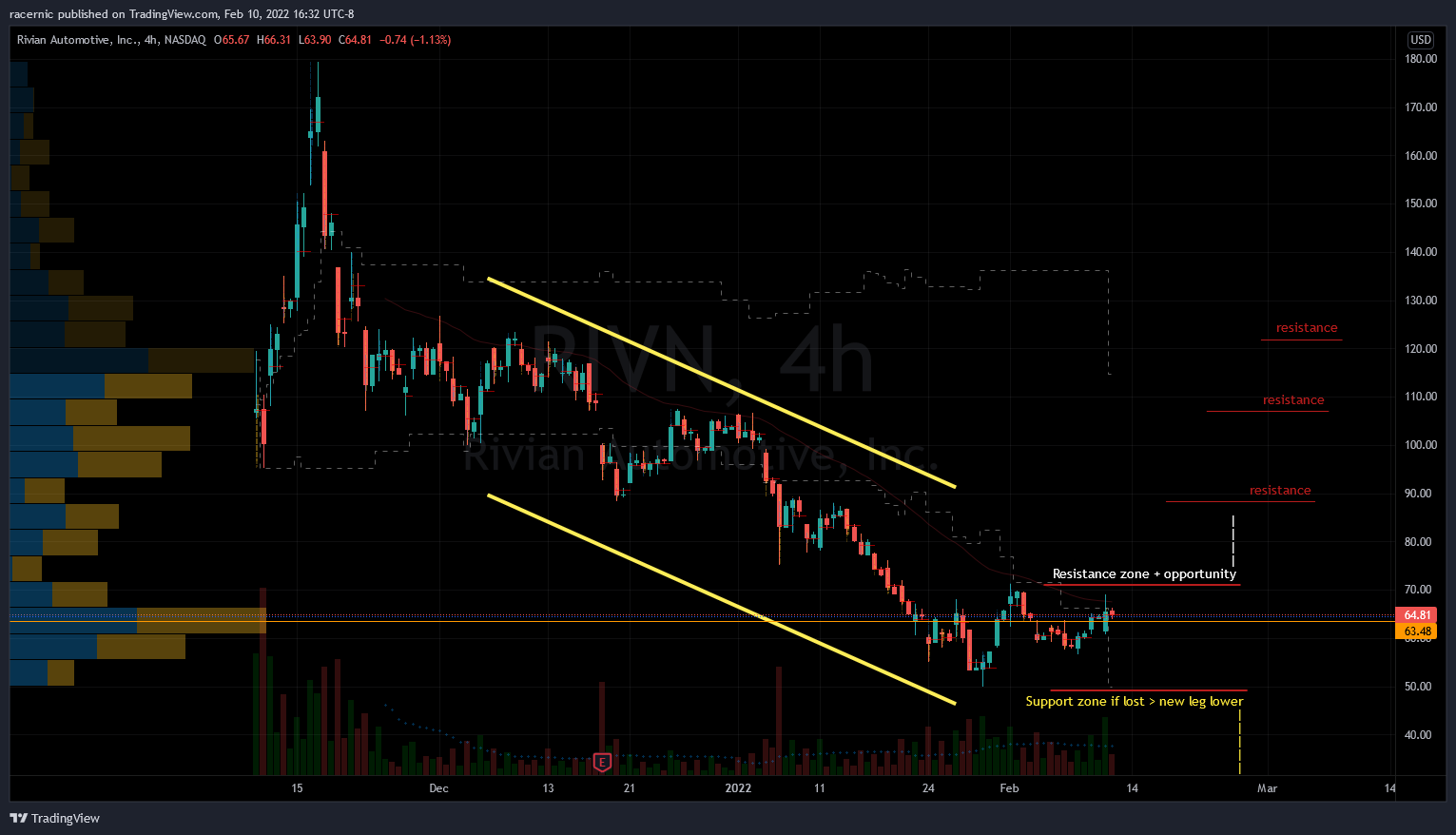 Source: Charts by TradingView
The fans of the RIVN will need to grow some courage, but the timing is awful for that. Investors are lacking confidence as they adjust to the Federal Reserve not being a friend. Goldman Sachs now expects a hike every meeting. Since 2018, the central bank has been a friend to Wall Street, and this would make them a foe.
In March they will official end the quantitative easing (QE) program. Moreover, they will start the opposite, which is a quantitative tightening (QT) cycle. If the St. Louis Fed comments yesterday are an example, it's likely to be harsh. Frankly they'd be making a mistake, because they'd be breaking the economy they just fixed.
As you can see, RIVN stock has to battle its bears, and fight the investor crisis of sentiment. Nevertheless, fans of EV stocks are unusually brave, so maybe they can pull it off. To do this, the bulls will need to tackle prior failure levels one at a time. They will start facing serious resistance from $75 per share on.
The goal is to first get out of from the descending channel that has been plaguing it for months.
Time Is a Missing Key Ingredient
The problem RIVN has now is that the current profit and loss statement doesn't inspire confidence yet. This is a brand new company trying to establish itself on Wall Street. The fundamentals for Rivian's stock rely heavily on hope and the broader success of the EV space. Electric vehicles are mounting a serious challenge to ICE machines, but the game is still ongoing. One fact is certain and that's the addressable market for Rivian vehicles is massive.
I live in Southern California, near Newport Beach, where I've already seen them on the road already. The machines are impressive and I bet they will be successful selling out of them. They also have the backing of a tiny company you may know called Amazon (NASDAQ:AMZN). Amazon hasn't backed many losing horses before. Its involvement inspires confidence in the Rivian team. I expect that they will do the job well.
So far I have no reason to doubt the success of the company. However, I have doubts about the current investor confidence in stocks. If the indices stabilize, then the short-term success of RIVN stock comes easier. Otherwise, investors should only take partial positions leaving room to add more later.
On the date of publication, Nicolas Chahine did not have (either directly or indirectly) any positions in the securities mentioned in this article. The opinions expressed in this article are those of the writer, subject to the InvestorPlace.com Publishing Guidelines.
Nicolas Chahine is the managing director of SellSpreads.com.
More From InvestorPlace
Stock Prodigy Who Found NIO at $2… Says Buy THIS Now
Man Who Called Black Monday: "Prepare Now."
#1 EV Stock Still Flying Under the Radar
The post Rivian Needs Time to Build a Better Fan Base appeared first on InvestorPlace.
InvestorPlace | Stock Market News, Stock Advice & Trading Tips