Roblox Stock Is Trying to Bottom Ahead of Earnings
Eyes up, growth stock lovers. Roblox (NYSE:RBLX) stock is breaking resistance for the first time since peaking last November. It's been ages since bulls were in control, so this is noteworthy.
Source: Miguel Lagoa / Shutterstock.com
The…
Eyes up, growth stock lovers. Roblox (NYSE:RBLX) stock is breaking resistance for the first time since peaking last November. It's been ages since bulls were in control, so this is noteworthy.
Source: Miguel Lagoa / Shutterstock.com
The reversal comes amid a broader comeback in growth areas of the market, which makes buyers' return even more believable. It's one thing if RBLX stock tries to climb out by itself. It's quite another if Wall Street is warming to the factor it calls home.
And warming, the Street is. There are a lot of ways to track market sentiment surrounding growth stocks.
My favorite is to follow the chart of the Ark Innovation ETF (NYSEARCA:ARKK) for two reasons. First, it ballooned in popularity following the pandemic and became synonymous with growth. Second, its holdings include what are arguably the highest-flying darlings of the bunch. Their multiples grew to the moon when optimism turned to starry-eyed exuberance.
The 7 Highest Dividend Stocks for Income Investors
Unfortunately, the fall from grace has been equally epic. But, like RBLX, we're finally seeing signs of stability support an upgrade in our bias.
More on that in a moment. But first, let's investigate the Roblox chart.
RBLX Stock Chart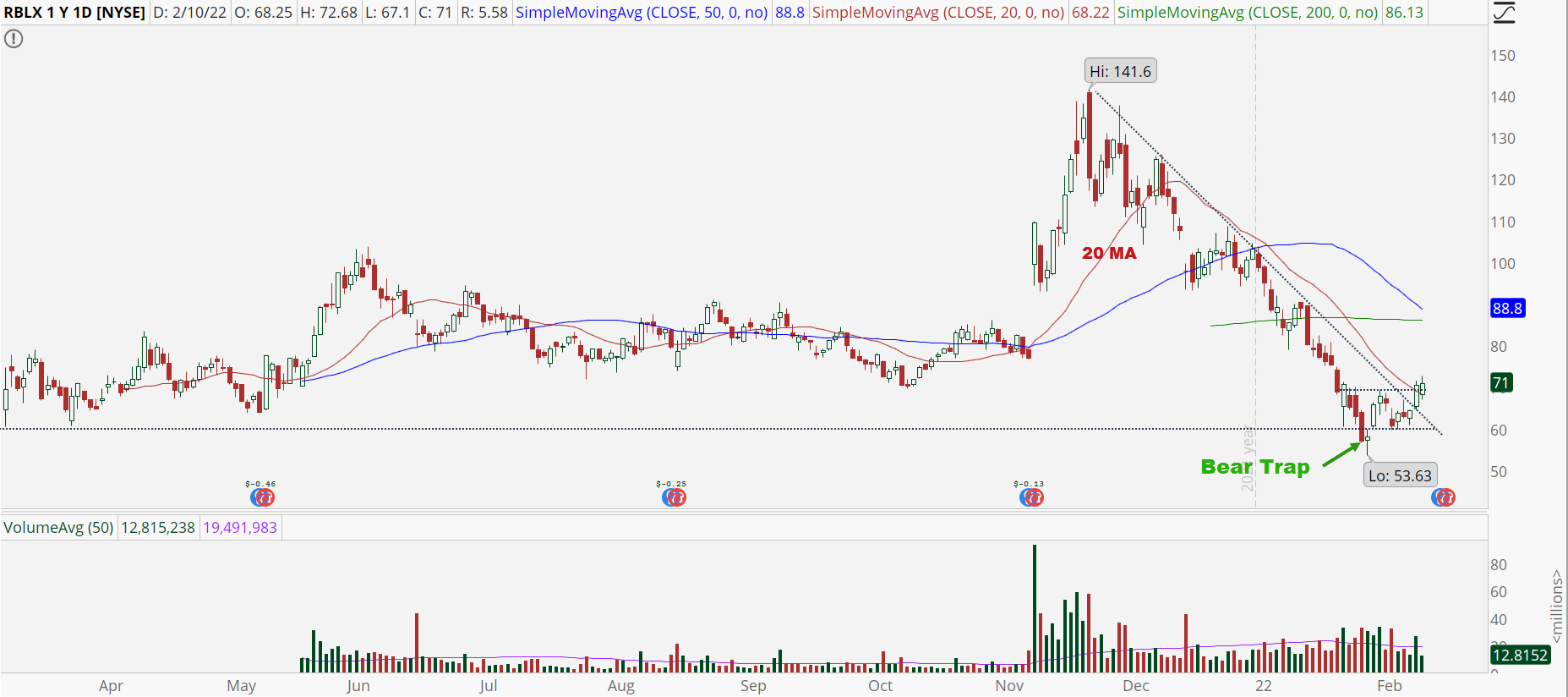 Source: The thinkorswim® platform from TD Ameritrade
From tip to tip, the share price cratered 62%. It broke all major moving averages along the way and could only cobble together a couple of pathetic bounces. On the bright side, the consistency of the unwind didn't sucker any smart bottom fishers in because there weren't any false signals generated along the way.
The end of the downtrend (for now, at least) saw prices breach the $60 support level before firing back up. This created a bear trap lending credibility to the current bottoming attempt.
Last week saw RBLX stock form a higher pivot low, and this week's rally is carrying prices above three forms of resistance: the old pivot high, the falling 20-day moving average, and the descending trendline. Much work remains, but there's no denying we now have a short-term uptrend in place.
Of course, the looming X-factor is next Tuesday's earnings report. Underwater shareholders have visions of last quarter's boon dancing in their heads. The stock leaped 42% in a single session and went on to double in value. A repeat is unlikely, but even if we just see a positive response, it could help solidify the bottoming attempt.
As the ARKK Turns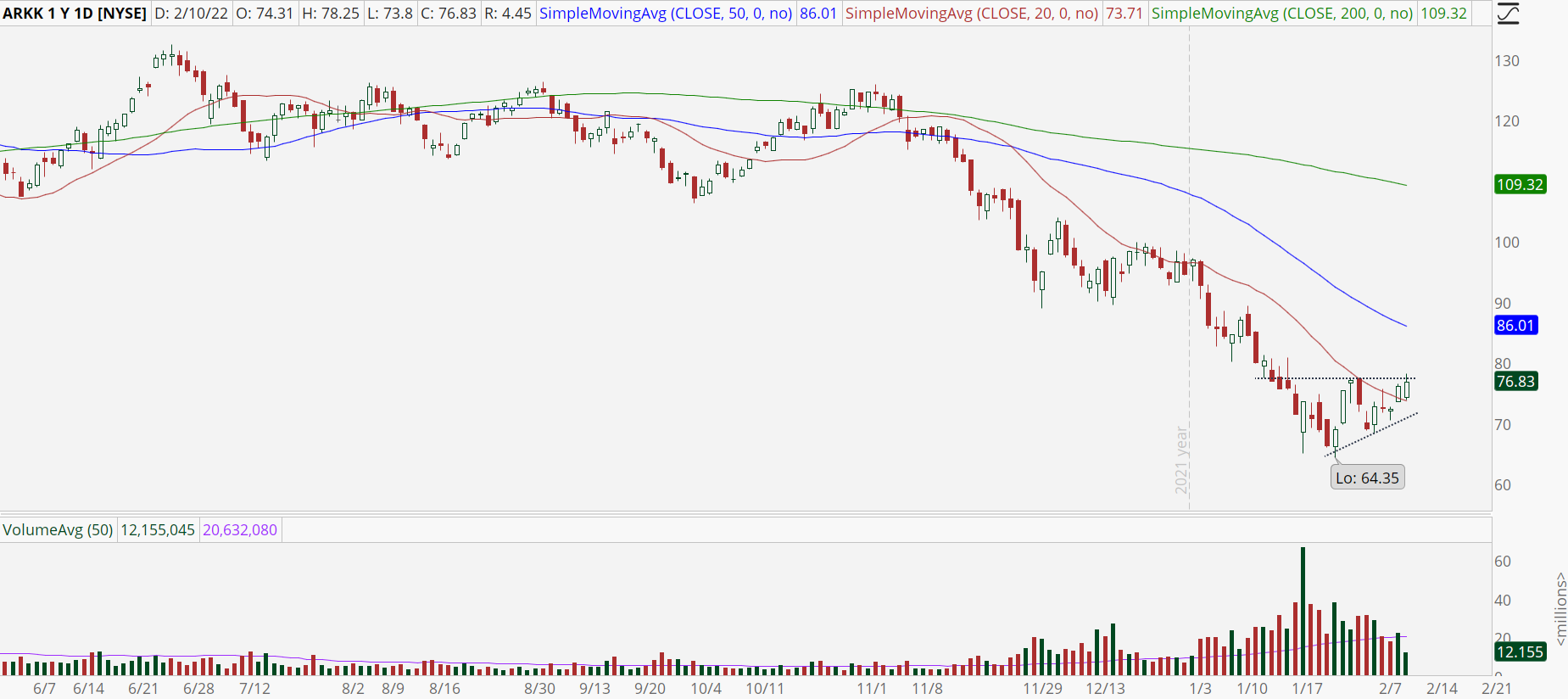 Source: The thinkorswim® platform from TD Ameritrade
More constructive price action in ARKK is also helping Roblox. The pair have exhibited a strong correlation in recent months. Such a link is common in times of turmoil. Anything growth-related has been viewed as poisonous, and the selling has been indiscriminate. So, the Roblox reversal has a much better chance of success if ARKK stops sinking.
And it's certainly trying. For example, we now have an ascending triangle pattern reflecting increasing demand for the first time in months. The jury's out on whether the current breakout attempt sticks. For Roblox's sake, let's hope it does.
I have two bullish ideas for those looking to roll the dice into earnings. The first offers a high probability of profit but a lower payout. The second provides a lower possibility of profit but a much higher payout potential.
Trade One: Sell the March $50/$45 bull put spread for 65 cents.
Consider this a bet that RBLX stays above $50 for the next month. If it does, you'll pocket the 65 cent credit.
Trade Two: Buy the March $85/$90 bull call spread for $1.00
You're risking $1 to make $4 if RBLX stock powers above $90 by expiration.
On the date of publication, Tyler Craig did not have (either directly or indirectly) any positions in the securities mentioned in this article. The opinions expressed in this article are those of the writer, subject to the InvestorPlace.com Publishing Guidelines.
For a free trial to the best trading community on the planet and Tyler's current home, click here!
More From InvestorPlace
Stock Prodigy Who Found NIO at $2… Says Buy THIS Now
Man Who Called Black Monday: "Prepare Now."
#1 EV Stock Still Flying Under the Radar
The post Roblox Stock Is Trying to Bottom Ahead of Earnings appeared first on InvestorPlace.
InvestorPlace | Stock Market News, Stock Advice & Trading Tips