Sea Limited Stock Is Still In Treacherous Waters
Wall Street investors cannot find the courage to buy famous giga-caps, so I don't blame them for shying away from Sea Limited (NYSE:SE) stock.
Source: Postmodern Studio / Shutterstock.com
After a 960% rally out of the pandemic bottom, S…
Wall Street investors cannot find the courage to buy famous giga-caps, so I don't blame them for shying away from Sea Limited (NYSE:SE) stock.
Source: Postmodern Studio / Shutterstock.com
After a 960% rally out of the pandemic bottom, SE stock crashed and burned in a fantastic fashion. On the way up it stutter-stepped around $240 per share. But on the way down it sliced through it like butter. It's been straight downhill on the weekly charts.
At its lows on Jan. 24, SE had lost 67% of its value. The level where it found support makes technical sense, because it was a resting platform in the summer of 2020. Similarly, the rally back also faced resistance from a pivotal zone near $195 per share. I bet that stands as resistance for a while, so investors need to be realistic with their expectations.
The pandemic rally was something unusual and a once-in-a-lifetime event. There will be lingering resistance above as a results.
7 Hot Stocks That Show No Signs of Cooling Off
Hopefully investors have not forgotten a their basic rules of investing. What happened in the 2020 aftermath on Wall Street is not what will continue to happen. The pendulum swung too far up, and now it's going back the other way. It would be a miracle if SE stock could hold its January bottom.
But that would enable the bulls to chip away at resistances above. There will likely be sellers lurking through $176 per share. So and for the meantime, the stock will ping pong inside a narrower range.
Trading SE Stock Requires Skill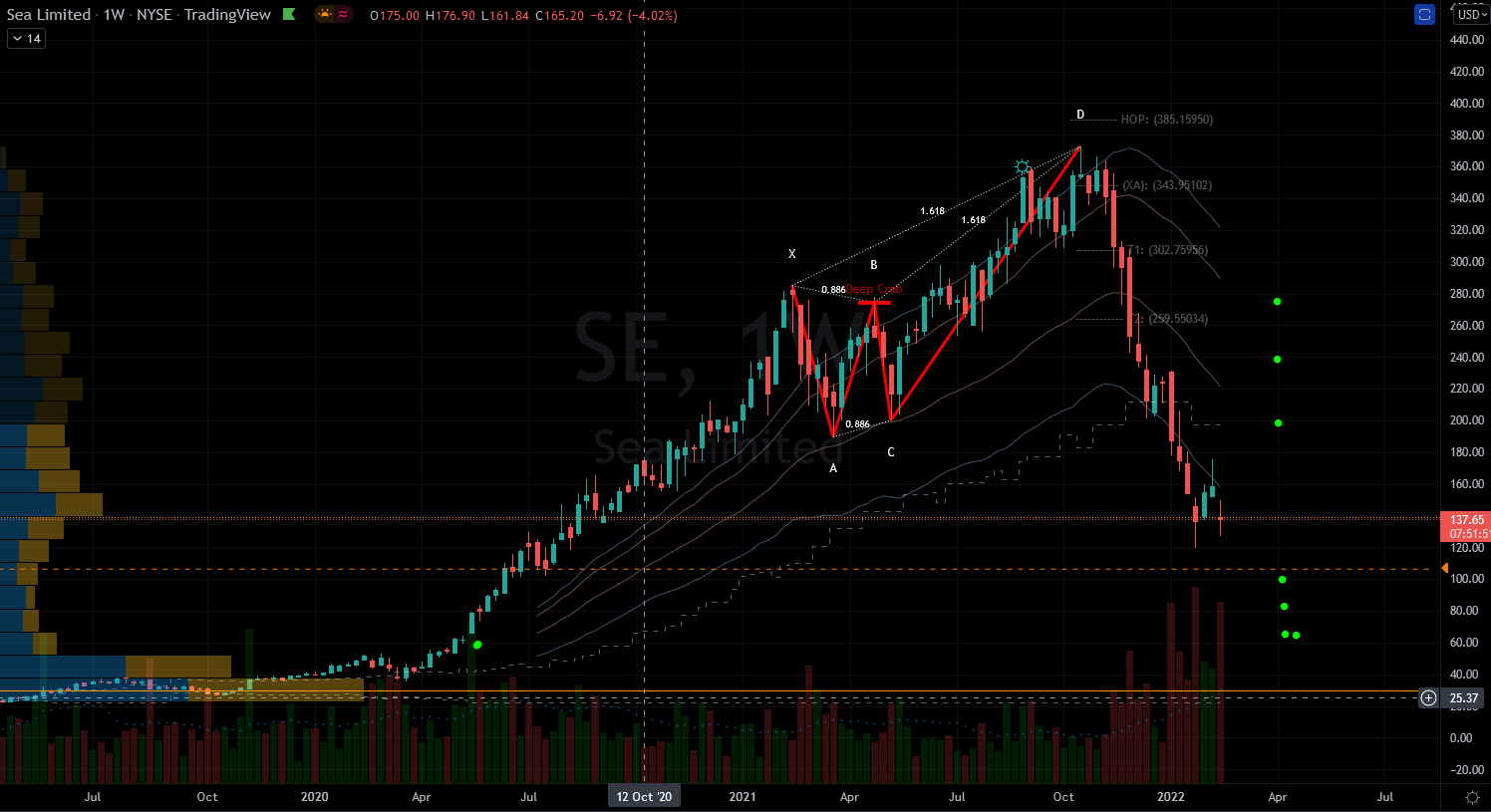 Source: Charts by TradingView
The traders among us can trade around short term support and resistances. But for the next few weeks, it is important for SE that the Wall Street jitters end. I doubt that it can rally while the markets are correcting. Therefore, investors need to be cautious and set stops below $120 per share.
Even though the stock has fallen so much already, there's plenty of space to fall further. Remember that the May 2020 breakout line was at $55 per share. If I own already it, I would consider protecting it using options. There are strategies there like selling covered calls and buying puts that could help. Investigate these opportunity thoroughly before implementing.
From an investment perspective, I see no rush to jump into a full position yet. Taking starter shares is fine, but leaving room for error is imperative. From a trading perspective, it is a viable thesis to take longs with a tight stop. But it takes discipline to be able to stick to those stops and book profits.
Moreover and in lieu of buying shares, I prefer selling puts on bad days. For example yesterday, I could have collected a decent premium for promising to buy shares at $85 per share. My breakeven point for those could be under $82. Selling puts does not guarantee me shares, but worst case I earn income out of thin air.
Financial Metrics Are Bulletproof
The fundamentals almost don't matter because not many investors are listening. Especially when the profit-and-loss statement is as young as this one. However, the financial metrics for SE stock are impressive. Total revenues last year were almost double of 2020, which were double 2019. Looking back four years, management has done that sequentially. These are special circumstances that don't happen often yet it's giving the stock no credit.
Out of the pandemic these were the stocks that everyone wanted. Now they are all toxic regardless of the financial metrics they display. The company is expanding at an exponential rate, yet they still carry a hefty $2 billion net loss. But if you consider the rate at which it grows, it is not expensive. For hyper-growing companies like this, the price-to-sales metric is the best gauge of value. In this case it is under 10, which puts it at a reasonable footing with the likes of FANG gang.
For now, investors should resist the temptation of adding to current risk. Averaging down is a horrible idea, but averaging in makes total sense. If I already took a full position, I should just accept it and not make my problem bigger. But those who took partial positions to start can add at lower prices.
On the date of publication, Nicolas Chahine did not have (either directly or indirectly) any positions in the securities mentioned in this article. The opinions expressed in this article are those of the writer, subject to the InvestorPlace.com Publishing Guidelines.
Nicolas Chahine is the managing director of SellSpreads.com.
More From InvestorPlace
Stock Prodigy Who Found NIO at $2… Says Buy THIS Now
Man Who Called Black Monday: "Prepare Now."
Get in Now on Tiny $3 'Forever Battery' Stock
The post Sea Limited Stock Is Still In Treacherous Waters appeared first on InvestorPlace.
InvestorPlace | Stock Market News, Stock Advice & Trading Tips