Smart Money: A Bear Market Doesn't Have to Be Nerve-Wracking
Bear markets are no fun, obviously.
In fact, they are miserable events… and we are deep in the throes of a wicked and destructive one.
Source: eamesBot / Shutterstock
No matter how well you prepare for them or how accurately you time th…
Bear markets are no fun, obviously.
In fact, they are miserable events… and we are deep in the throes of a wicked and destructive one.
Source: eamesBot / Shutterstock
No matter how well you prepare for them or how accurately you time their arrival, they still manage to claw away at your portfolio's value… or maul it completely.
The only sure-fire protection from a bear market is cash, which is the exact point I made in an October issue of Smart Money, when the stock market was still trading near all-time highs. I wrote…
Cash is the one and only reliable vaccine against capital loss.
Like all effective vaccines, it provides no visible therapeutic benefit. It doesn't make your hair grow, improve your eyesight… or lower your golf handicap. It simply repels harm and preserves your financial health.
Cash is the one and only infallible hedge against loss. It is risk-free and inert — just hanging out waiting for an opportunity, like a baseball pinch-hitter.
Make no mistake, the current market conditions are as difficult as any we have faced during the last 50 years. That's the bad news.
Is this the trade of the decade?
The good news is that bear markets sow the seeds of future investment successes… 100% of the time.
The Tyranny of the Immediate
No one would ever wish a bear market upon themselves, and yet, bear markets are a necessary evil. They bring about the opportunities that create future wealth.
Furthermore, bear markets remind us that investment success rarely arrives as quickly and painlessly as we would like. During bull markets, stocks seem lighter than air… and they seem to soar as effortlessly as a red-tailed hawk.
As a result, we grow accustomed to "easy gains" and immediate gratification. Eventually, we start to believe that rapid success is "normal," and we expect that we will always be right, right now.
That's a mistake… a big one.
I call this type of mistake the "Tyranny of the Immediate."
It is this tyranny that prioritizes short-term results over long-term potential. It demands being right, right now… no matter the prevailing stock market conditions.
But by insisting on immediate success, investors unfortunately often sabotage the opportunity to capture large long-term gains.
That's because investors who fixate on near-term gains and losses lack the patience and staying power to allow excellent investments to deliver their successes… over the long term.
Consider this real-world example of one well-known stock…
Let's call it "Stock X."
If you had purchased Stock X 30 years ago, you would have endured the following setbacks…
21% of the time, your stock would have produced an annual loss;
8% of the time, your stock would have produced a three-year loss;
And on one occasion during those 30 years, your stock would have spent an entire decade producing a loss.
Think about that! How would you feel about holding a stock for an entire decade without making one single penny on it?
Our gut reaction is to say, Heck no! … but if that stock had indeed been "Stock X," you might have been okay with that particular setback.
That's because Stock X is Berkshire Hathaway Inc. (BRK-A), the investment vehicle that made Warren Buffett a multi-billionaire… and made millionaires out of many ordinary investors.
But even this extraordinary rainmaker suffered numerous setbacks along its path to success.
"Mr. 1,000%" Has Revealed What He Believes to be the Trade of the Decade
It's true; if you had purchased Berkshire Hathaway 30 years ago and held that stock until the present moment, you would have endured several rough patches. Based on rolling 12-month calculations, BRK-A produced a negative annual return 21% of the time.
But those uncomfortable one-year episodes would have seemed like a day at Disneyland compared to the nearly 11-year stretch from June 1998 to March 2009 when BRK-A produced a loss!
One decade is a very long time to wait for a payday. It's a very long time to be wondering why you hadn't done something else with your money. Anything else.
And yet, during the last three decades, combined, BRK-A shares have delivered a whopping return of 5,000% – more than three times better than the S&P 500's result!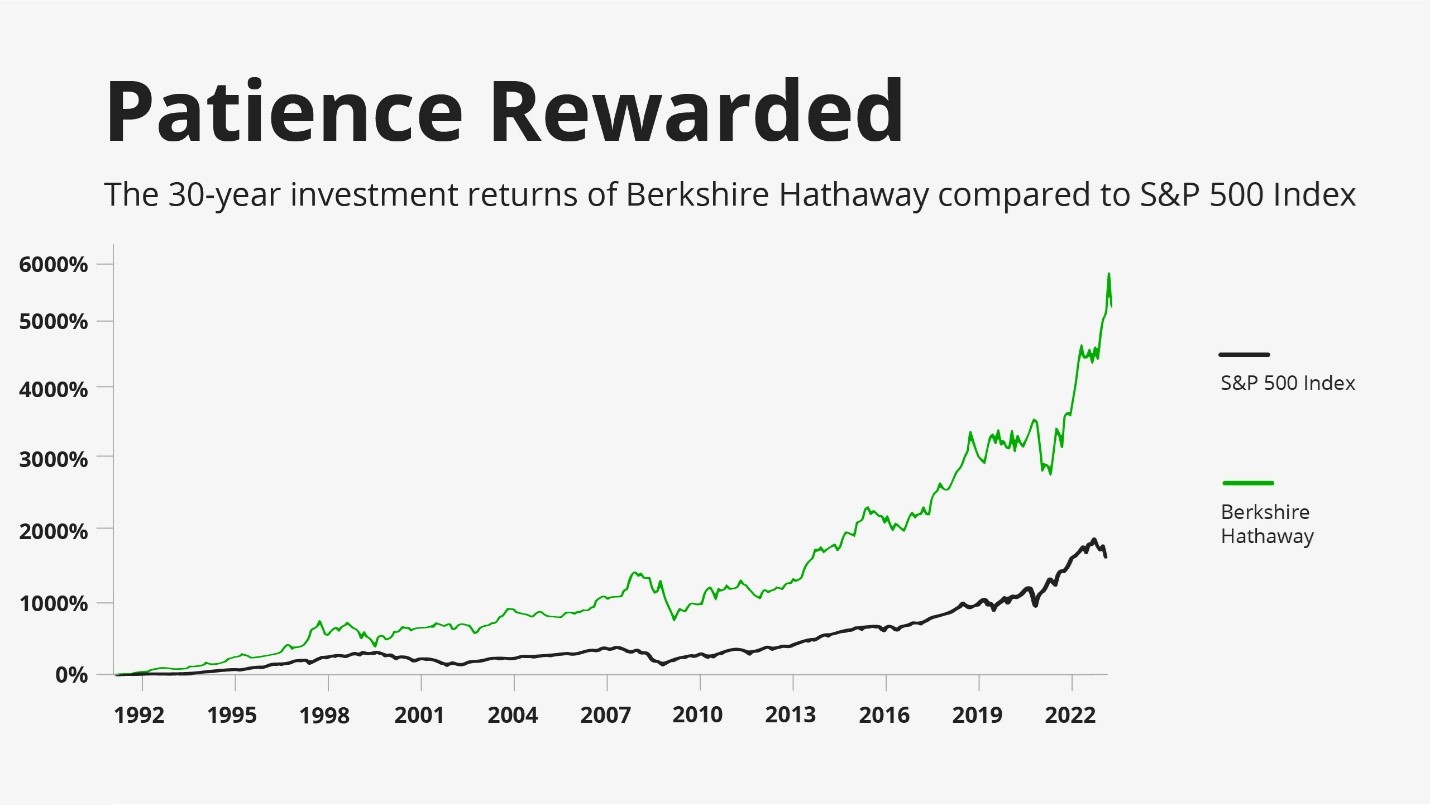 How Long Is Forever?
Now, Berkshire's extraordinary investment results would not have been possible without a long-term time horizon. As Warren Buffett himself famously explained, "Our favorite holding period is forever."
Admittedly, "forever" can be a challenging holding period, even when you own a stock that is as exceptional as Berkshire Hathaway has been… especially when a bear market strikes.
No one wants to endure a 10-year drought of zero returns. In fact, no one wants to spend any time at all losing money, but it is an unavoidable part of the investment process.
Even the Berkshire Hathaways of the financial markets will try the patience and endurance of investors from time to time… en route to delivering their market-trouncing gains.
Essentially, the sentiment right now is stay the course, and don't lose heart.
While it certainly feels like staying the course is the costliest error you could be making right now, the Berkshire Hathaway example shows that "doing nothing" could lead to some of the best money you can make.
And if you're willing to dive into the market right now, there may be no better time than now to scoop up shares of what I believe to be the Trade of the Decade…
Most investors are ignoring this sector's incredible potential, and the financial media has been scorning it as a has-been.
But when I say that this trade of the decade could deliver market-crushing gains… I'm serious about it.
Go here now to check it out.
Regards,
Eric
P.S. Just for tuning in to my presentation, I'll reveal the name and ticker symbol of one of my newest recommendations in this explosive sector…. Details here.
The post Smart Money: A Bear Market Doesn't Have to Be Nerve-Wracking appeared first on InvestorPlace.
InvestorPlace| InvestorPlace