SoFi Stock Will Recover From the Tech Stock Correction
Investors on Wall Street have very little confidence this month. The problems come from the slew of concerning, serious headlines. So it's not surprising to see younger stocks like SoFi (NASDAQ:SOFI) fall incessantly. SOFI stock now is …
Investors on Wall Street have very little confidence this month. The problems come from the slew of concerning, serious headlines. So it's not surprising to see younger stocks like SoFi (NASDAQ:SOFI) fall incessantly. SOFI stock now is almost 60% below its all-time high. If there is any good news, is that it's also about 16% above it recent lows. In the long run, this one has the opportunity to blossom into a leading financial technology (fintech) company.
Source: rafapress / Shutterstock.com
The hardship it is enduring now is not entirely its own fault. Even great stocks like Roku (NASDAQ:ROKU) and Meta (NASDAQ:FB) are falling on strong financial reports. The markets are selling first and asking questions later.
ROKU absolutely crushed last year's performances, but investors wanted blood and sold it down 27% from its Feb. 17 closing price to its Feb. 18 opening price. SOFI stock has to simply wait out this onslaught on the up-and-comers.
Management is carving its niche inside the consumer side of fintech. The sector is in a crucial transformative phase setting the future landscape. Believe it or not, crypto also plays a big role in that, as the world will adopt innovation from it. The pandemic has catapulted that movement forward leaps and bounds.
7 Hot Stocks That Show No Signs of Cooling Off
Meanwhile, the problem for SOFI stock is that it doesn't have enough history to get the benefit of the doubt. And even then, just consider what's going on with PayPal (NASDAQ:PYPL) stock. The company is on rails and has never done better. Yet the stock is collapsing like it is on a path to ruins.
SOFI Stock Will Not Be Toxic Forever
Some of the bearishness in this market is beyond reason. It's hard to justify these actions, yet the adage says to "not fight the tape." Those who are already long SOFI have reason to stay in it. Others looking to invest in a good company with potential can start nibbling. Since the CBOE Volatility Index is above 27, investors should remain humble with their conviction levels. This should dissuade them from taking full risk at once. Instead it makes sense to set it up in stages. The goal should be to average into a full position, and not needing the average down.
The fundamental metrics on SOFI stock are murky. Therefore I will rely more on logic and the business opportunity than a price-to-sales metric (P/S). Even then, the SOFI P/S is 18. That does not suggest bloat yet, especially for a young company whose current priority is growth.
The company's website lists opportunities in 10 different segments. That should translate into more financial success later. For now the problem is the silly behavior from the market. The rally out of the pandemic was wrong, and it is reversing now. This sort of reversal often overshoots the correct price. That means that excellent companies like Block (NYSE:SQ) and PayPal may seem toxic for no reason.
There Is Nothing Wrong With the Business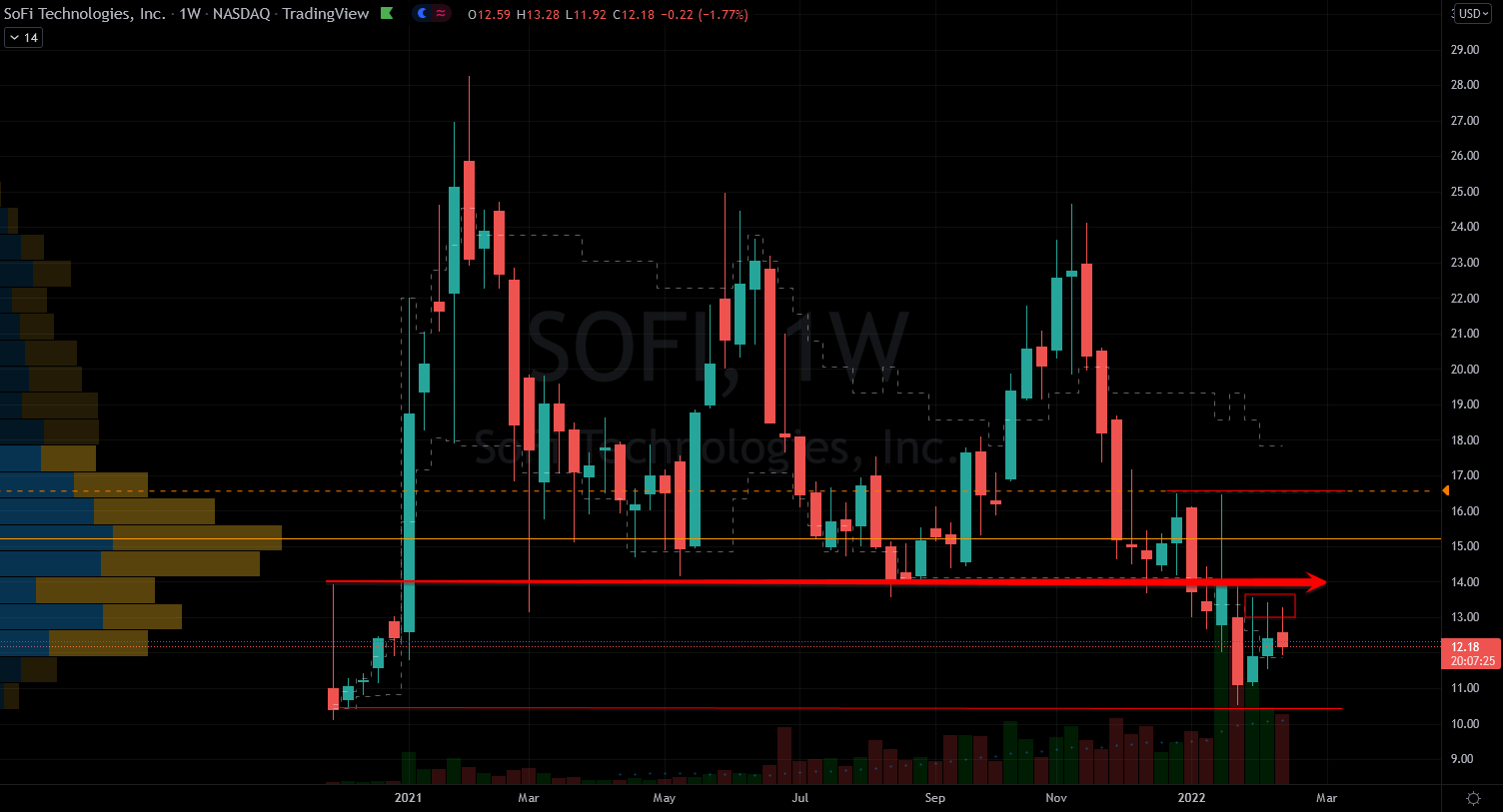 Source: Charts by TradingView
From a fundamental perspective, none of these companies I just mentioned have business problems. They are all at record sales and growth rates. I find it mind-boggling that the high-profile expert investors are not pounding the tables yet. Nevertheless, for now the bulls are hiding, so we should let the chips fall before we catch them.
Investors should monitor the $14 per share zone. This area has played a very pivotal role on four different occasions. Therefore, from a trading perspective, this stock is in between a rock and a hard place. SOFI has support below and a lot of resistance above. The rally back will face sellers, so there isn't a panic to buy into it yet. Adding a little bit now and some more later makes the most sense.
On the date of publication, Nicolas Chahine did not have (either directly or indirectly) any positions in the securities mentioned in this article. The opinions expressed in this article are those of the writer, subject to the InvestorPlace.com Publishing Guidelines.
Nicolas Chahine is the managing director of SellSpreads.com.
More From InvestorPlace
Stock Prodigy Who Found NIO at $2… Says Buy THIS Now
Man Who Called Black Monday: "Prepare Now."
Get in Now on Tiny $3 'Forever Battery' Stock
The post SoFi Stock Will Recover From the Tech Stock Correction appeared first on InvestorPlace.
InvestorPlace | Stock Market News, Stock Advice & Trading Tips