Strong Balance Sheet Makes PayPal Stock a Hard-to-Resist Holding
Digital payments processor PayPal (NASDAQ:PYPL) has been part of the new, modern economy for years. Yet, despite the company's leadership status, PYPL stock has been the target of persistent selling pressure.
Source: JHVEPhoto / Sh…
Digital payments processor PayPal (NASDAQ:PYPL) has been part of the new, modern economy for years. Yet, despite the company's leadership status, PYPL stock has been the target of persistent selling pressure.
Source: JHVEPhoto / Shutterstock.com
Some folks might blame this on the "tech wreck" that started in November of last year. However, the PayPal share price started to decline prior to that, in July.
As we'll see in a moment, it's possible that PYPL stock went up too far, too fast. If that's true, then a retracement was probably warranted.
On the other hand, maybe the retracement to the downside is overdone. PayPal's positive financial stats, along with the company's cryptocurrency-friendly policy, indicate that Wall Street is being too harsh.
A Closer Look at PYPL Stock
Admittedly, the rally in PYPL stock was powerful — maybe too powerful. The stock, believe it or not, rocketed from $86 in March of 2020 to $310 in July of 2021.
7 Stocks to Buy After Sentiment Slipped to Lows
PayPal is a good company, but it's difficult to justify a 260% gain in the share price. A pullback from $310 was to be expected, but how much is too much?
Fast-forward to mid-February of 2022, and PYPL stock was trading at $110. There was no end to the selling in sight, it seemed.
Contrarians can view this as a buying opportunity, since the idea is to buy during peak pessimism. Of course, this is easier said than done, since it can be emotionally difficult to buy when other people are selling.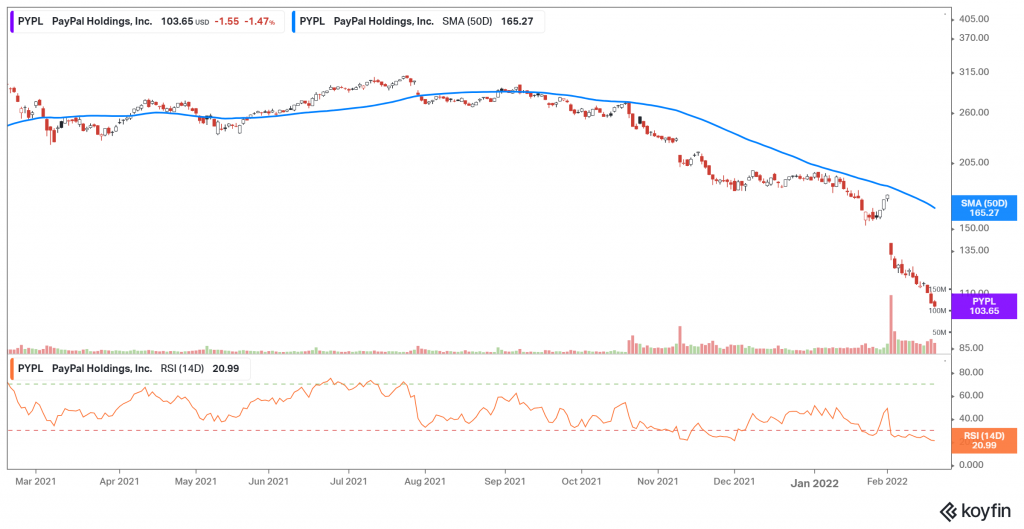 Click to EnlargeSource: Koyfin
There's support in the $80s, so if PYPL stock actually gets down that far, it will be even an even more compelling bargain.
Plenty of Cash
Given the drastic decline of the PayPal share price, you might be led to assume that the company is falling apart at the seams.
The data suggests that this actually isn't true at all, though. If anything, PayPal is a thriving company that's in a strong capital position.
Consider the balance sheet and liquidity at the end of 2021. The company had approximately $9 billion of debt, but also cash, cash equivalents and investments totaling $16.3 billion.
Furthermore, PayPal ended the year on a positive note as the company generated cash flow from operations of $1.8 billion in 2021's fourth quarter. That figure represents a 31% year-on-year increase.
Plus, PayPal reported free cash flow of $1.6 billion in Q4 2021, up 38% year-over-year. Clearly, this company is well-capitalized.
On top of all that, PayPal reminded Wall Street that it's a revenue-generating powerhouse. In Q4 2021, the company $6.9 billion in net revenue, up 13% year-over-year. For the full fiscal year of 2021, PayPal's $25.4 in revenue represented a 17% year-over-year improvement.
An Ongoing Commitment
PayPal's leadership role as a processor of payments, trades and transactions depends on the company's willingness to adapt to consumer preferences.
Among those preferences is the customers' demand for cryptocurrency-friendly payment solutions. To this end, PayPal and subsidiary Venmo are rolling out an easy-to-understand calculus for cryptocurrency trades.
Starting on March 21, PayPal and Venmo will charge a flat fee for cryptocurrency transactions of $200 or less. That fee will range from 49 cents to $2.49.
Cryptocurrency trades of more than $200 will incur a 1.8% fee for anything under $1,000, and a 1.5% fee for anything above $1,000.
"This change is part of our ongoing commitment to provide transparency, ease of understanding and clarity to our customers," a PayPal spokesperson stated.
Hopefully, other crypto trading platforms will follow suit and simplify their fee schedules like PayPal/Venmo is doing.
The Bottom Line
It's normal and healthy for high-flying stocks to pull back somewhat. Yet, the drawdown in PYPL stock appears to be excessive.
PayPal is doing well on the financial front, and continues to be a leader among cryptocurrency trading platforms.
Soon, investors should stop dumping their PayPal shares and start buying again. Until that happens, there's a window of opportunity for risk-tolerant contrarians.
On the date of publication, David Moadel did not have (either directly or indirectly) any positions in the securities mentioned in this article. The opinions expressed in this article are those of the writer, subject to the InvestorPlace.com Publishing Guidelines.
David Moadel has provided compelling content – and crossed the occasional line – on behalf of Crush the Street, Market Realist, TalkMarkets, Finom Group, Benzinga, and (of course) InvestorPlace.com. He also serves as the chief analyst and market researcher for Portfolio Wealth Global and hosts the popular financial YouTube channel Looking at the Markets.
More From InvestorPlace
Stock Prodigy Who Found NIO at $2… Says Buy THIS Now
Man Who Called Black Monday: "Prepare Now."
Get in Now on Tiny $3 'Forever Battery' Stock
The post Strong Balance Sheet Makes PayPal Stock a Hard-to-Resist Holding appeared first on InvestorPlace.
InvestorPlace | Stock Market News, Stock Advice & Trading Tips