Tesla Stock Is Worth Buying
Tesla's (TSLA) Shanghai Gigafactory is back to pre-lockdown production.
TSLA stock appears to be a compelling value, but a drop to $350-$500 is possible.
Put Tesla shares on the radar for one or two smart nearby buying opportunities.
…
Tesla's (TSLA) Shanghai Gigafactory is back to pre-lockdown production.
TSLA stock appears to be a compelling value, but a drop to $350-$500 is possible.
Put Tesla shares on the radar for one or two smart nearby buying opportunities.
Source: Hadrian / Shutterstock.com
Upbeat news and bargain-hunting on Wall Street hasn't been enough to turn the larger tide green in Tuesday's session. And Tesla (NASDAQ:TSLA) sank with the best of them, with TSLA stock off almost 7% on the day.
But while TSLA stock is skidding lower and has proven to be a challenging investment in 2022, conditions are also looking up for Tesla shareholders. Today let's look at some of the electric vehicle giant's pros and cons and how buying Tesla stock makes for a more strategic long-term investment. For once in a long while, a bearish spotlight isn't on Tesla or its CEO Elon Musk. But that doesn't mean there isn't potentially unfinished bearish business to navigate.
TSLA
Tesla
$628.16
Bears In The Driver's Seat in TSLA stock
Covid-19's impact has hit Tesla harder than most. The EV's Shanghai Gigafactory temporary closed in April, and Tesla's ongoing challenges with obtaining critical nickel or simply ever-costlier materials like lithium have resulted in rising production costs and the risk of not meeting vehicle forecasts.
The 7 Highest-Yielding Dividend Stocks to Buy Now for Income
Then there's TSLA stock's tabloid-style, but obviously impactful headaches brought on by or pointed directly at Musk.
Elon's bid for his favored platform Twitter (NYSE:TWTR) in early April has weighed on TSLA stock. The billionaire has already sold roughly $8.5 billion of his TSLA stake in preparation for the deal. But a successful bid could prove more onerous, with the takeover collateralized by Elon's TSLA stock holdings.
Tesla investors are also questioning the acquisition, as some worry it could take Musk's focus off of the EV market's crown jewel. And potentially, that could prove costly for TSLA stock.
Lastly, there are allegations of a $250,000 payment tied to accusations of sexual misconduct with an attendant aboard a SpaceX corporate jet in 2016. The Tesla CEO is calling the claim "utterly untrue."
Why Bulls Should Park Money in TSLA Stock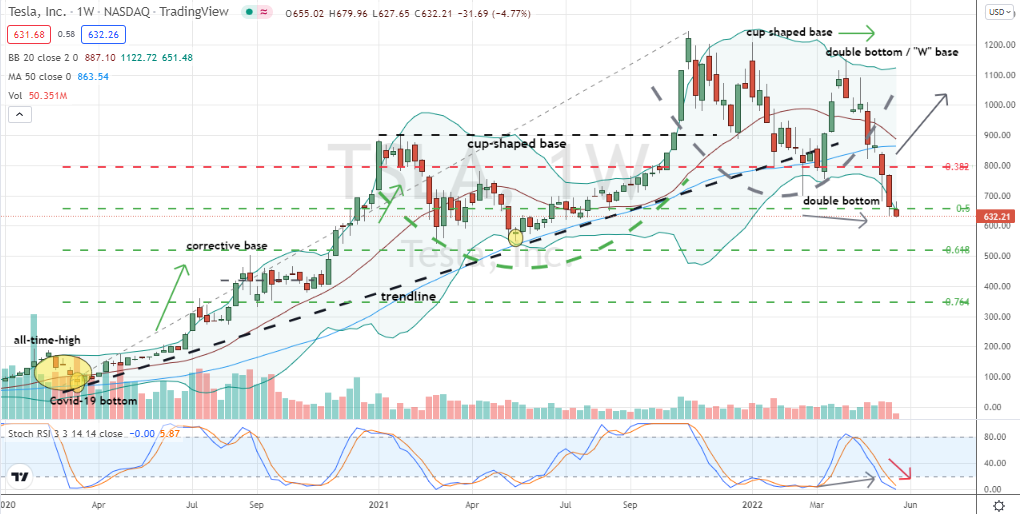 Source: Charts by TradingView
Uncertainties obviously abound in Tesla these days. But a lot of the worrying around TSLA stock is hearsay until proven differently.
Today and despite headline-worthy innuendos, Tesla's Shanghai Gigafactory is back at production levels of 1,000 EVs last seen prior to April's shut down. Moreover, executives believe building 2,600 vehicles a day is achievable, which sets Tesla up to produce its targeted 1.5 million EVs.
As The Motley Fool explains, with Tesla's forecasted vehicle deliveries growth of 50%, along with huge profit margins, shares trade for less than 50 times this year's earnings. And that makes TSLA stock a solid choice for investors to buy growth at a compelling valuation.
Right now investors also won't get an argument from an under-loved Tesla price chart that looks like it's on sale.
With shares failing from their Covid-based uptrend in February, a cup-shaped base and most recently a double-bottom pattern and 50% retracement level, an oversold TSLA stock has a great deal working in its favor as a contrarian, value-driven purchase.
How to Buy TSLA Stock Smartly
To be fair and with the broader market continuing its risk-averse behavior, buying TSLA stock today could look wildly premature in the blink of an eye. In fact, back-up-the-truck conditions for buyers from roughly $350 to $500 a share could come into play as we head into those notorious dog days of summer.
That being said, I'd wait for one of two things to happen first before buying Tesla.
First and fingers crossed, Wall Street gets rattled enough as to offer a delivery of TSLA stock nearer to $500. Investors could then make a first purchase and be less rigorous with pinpointing a bottom.
Alternatively, if sentiment improves sooner rather than later, a weekly bottoming candlestick that's backed by an improving stochastics indicator would be a more precise approach to buying Tesla which makes sense at this juncture.
Either way and if you do take ownership of Tesla, park some options around the stock position as a fully-hedged collar. Smartly, investors can then ride future bullish trends while vastly reducing exposure to always possible and larger bear markets.
On the date of publication, Chris Tyler did not have (either directly or indirectly) any positions in the securities mentioned in this article. The opinions expressed in this article are those of the writer, subject to the InvestorPlace.com Publishing Guidelines.
More From InvestorPlace
Stock Prodigy Who Found NIO at $2… Says Buy THIS
It doesn't matter if you have $500 in savings or $5 million. Do this now.
Get in Now on Tiny $3 'Forever Battery' Stock
The post Tesla Stock Is Worth Buying appeared first on InvestorPlace.
InvestorPlace| InvestorPlace