The 3 Best Cryptos Trading at a Massive Discount Right Now
Nowadays, stories about cryptocurrency are playing out all over the financial media. It's hard to turn on the TV or scroll through Twitter without reading about the latest crypto news. This mainstream adoption has been both a catalyst an…
Nowadays, stories about cryptocurrency are playing out all over the financial media. It's hard to turn on the TV or scroll through Twitter without reading about the latest crypto news. This mainstream adoption has been both a catalyst and a headwind, depending on the sentiment of the market at a given point in time. For even the best cryptos, this has been a tough market.
With investors broadly de-risking their portfolios of late, cryptocurrencies are among the assets investors are selling heavily. Now is apparently not the time to be taking on excess risk. For even the best tokens, this indiscriminate selling may be providing a buying opportunity.
I'm not going to suggest the pain is over. Far from it. This market could continue downward for some time until favorable monetary and fiscal policies resume.
7 Beaten-Down Growth Stocks That Look Like Big Bargains Right Now
However, for those looking to average into a few top-notch crypto positions, here are three tokens I think are worthy of consideration right now:
Ticker
Company
Price
AVAX-USD
Avalanche USD
$26.89
XRP-USD
Ripple
$0.42
ADA-USD
Cardano USD
$0.63
Best Cryptos to Buy: Avalanche (AVAX-USD)
Source: FellowNeko / Shutterstock
Avalanche (AVAX-USD) is among the fastest smart contract blockchains in the crypto world. This network's speed and efficiency has allowed Avalanche to snag to the top-14 spot by market capitalization. Currently, this project carries a valuation of nearly $7 billion.
Avalanche has achieved this speed and scalability using a unique subnet, or subnetwork, model. The network's native AVAX tokens are used to stake the network's mainnet. However, individual projects can have their own dedicated subnetwork, mint their own tokens, and operate essentially independently from the other networks. All while taking advantage of Avalanche's security and staking.
Avalanche has recently been listed on Coinbase (NASDAQ:COIN), and thus has received significant investor attention as of late. Over the long-term, I think this is a project with upside. That said, in this environment, few tokens are up. Investors may want to invest in something like Avalanche when thinking about building a long-term portfolio right now.
XRP (XRP-USD)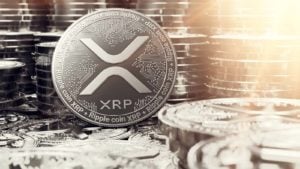 Source: Shutterstock
XRP (XRP-USD) is an intriguing crypto project for investors looking for real-world utility in the crypto space. That's because XRP has been built for business, aimed at the large-scale international cross-border money transfer market.
The XRP token, built by the Ripple team, supports RippleNet — the network facilitating these transactions. However, it's the technology underpinning the XRP protocol I find interesting. This network's consensus allows for fast verification of transactions. In fact, XRP has shown the ability to process transactions in seconds at a very low cost to end users and has been able to grow its market share in this massive market.
Another key factor is XRP ties to the more "traditional" banking rails provided by the existing financial services industry. XRP has banking connections with more than 200 financial institutions. That's impressive. And for those bullish on the future of crypto as an integrated piece of our daily lives, this is an important factor to consider.
7 Retirement Stocks to Buy to Turbocharge Your Savings
There are some issues with XRP, particularly around an ongoing lawsuit with the U.S. Securities and Exchange Commission. However, assuming that issue gets worked out soon, this is a token that has some speculative upside.
Best Cryptos to Buy: Cardano (ADA-USD)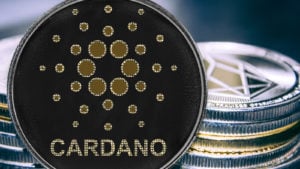 Source: Shutterstock
Last, but certainly not least, we have Cardano (ADA-USD). This proof-of-stake blockchain is one of the first — and largest — to hold this title. For eco-friendly investors, Cardano has remained a top pick due to the very low energy costs this network requires. Additionally, the Cardano Forest project, which involved the planting of more than 1 million trees, has resulted in a carbon-neutral blockchain. That's good for investors and the environment.
Now trading at $0.63 per token, Cardano has certainly been beaten up in this market. This valuation is also a long way away from the token's previous high of $3.10 per token seen last year.
That said, I think there is upside with this token, evidenced by the various projects being built on top of Cardano. Notably, ADACash, a rewards token launched on this network, has attracted more than 10,000 users in less than a month. Other projects in the decentralized finance and non-fungible token (NFT) space are popping up all the time, suggesting that Cardano is a blockchain of choice for developers.
Those bullish on the growth we're likely to see in the decentralized finance and NFT space may want to consider Cardano now. There's risk with any of these tokens. However, these are among the best cryptos I think have a shot at winning long-term.
On the date of publication, Chris MacDonald did not have (either directly or indirectly) any positions in the securities mentioned in this article. The opinions expressed in this article are those of the writer, subject to the InvestorPlace.com Publishing Guidelines.
More From InvestorPlace
Stock Prodigy Who Found NIO at $2… Says Buy THIS
It doesn't matter if you have $500 in savings or $5 million. Do this now.
Get in Now on Tiny $3 'Forever Battery' Stock
The post The 3 Best Cryptos Trading at a Massive Discount Right Now appeared first on InvestorPlace.
InvestorPlace| InvestorPlace