The 3 Best Long-Term Stocks Every 40-Year-Old Should Buy and Hold
Today I'm looking for the best long-term stocks every 40-year-old should buy and hold based primarily on one idea. Investing in companies that enjoy dominance in their sectors is a recipe for success.
Buying stocks for the long term has …
Today I'm looking for the best long-term stocks every 40-year-old should buy and hold based primarily on one idea. Investing in companies that enjoy dominance in their sectors is a recipe for success.
Buying stocks for the long term has many benefits. You do not have the daily stress of monitoring stock market ups and downs, and can weather the theoretical losses when your list of stocks has been subject to a broader sell-off, like in 2022.
Stock investing is not about guarantees — there are none. But finding a few top companies to buy and hold once you're in your 40's should be an easy task. You are familiar with technology, likely have a career already and can easily check stock quotes. You'll want to invest in companies that you know and trust, companies that are leaders in their sector and industry. Being a dominant company translates into having a powerful business plan, an established customer base and the power to shape the future of business and of our lives.
7 Undervalued Large-Cap Stocks to Buy for June
These three stocks are suitable for long-term investing for any age, although I think they're particularly good for investors in their 40's because they are established and trustworthy, but still have some growth in the tank.
AAPL
Apple
$145.76
GOOG, GOOGL
Alphabet
$2,290.53
FB
Meta Platforms
$191.93
Apple (APPL)
Source: View Apart / Shutterstock.com
Apple (NASDAQ:AAPL) has been among the best long-term stocks to buy for many years. It has shaped the past, present and future of smartphones ever since the first iPhone debuted back in 2007. The legendary Steve Jobs presented a device "as a combination of the iPod, a revolutionary mobile phone and a breakthrough Internet communicator."
This iPhone changed everything about smartphones — the abilities, the design, the freedom that came with having a portable computer in our pockets. In the coming years, Apple may also launch its first electric car. We must expect tons of interesting things to come from this tech giant.
One of the best arguments in favor of AAPL stock is that Apple has a remarkable loyal audience that defies the very price tag and chooses its products over cheaper competitive items.
Have a look at the historical AAPL stock price.  Also, look at the past 10-year performance. They are excellent.
The average annual return for the past 10 years is 23.46%. The expected three-to-five-year EPS growth of 12.5% and the median target of $190 are very bullish.
Alphabet (GOOG, GOOGL)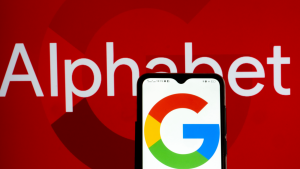 Source: IgorGolovniov / Shutterstock.com
Alphabet (NASDAQ: GOOG, NASDAQ:GOOGL) has two of the world's most powerful brands in its portfolio — the Google search engine and video streaming site YouTube. Google is the number one search engine globally, and chances are it will remain such. YouTube is the number one source for videos, music, movies and entertainment in general.
There is a saying in digital marketing: If you are not on Google search results, you do not exist.
Google Services, Google Cloud and Gmail are expected to continue to bring tons of revenue and growth for Alphabet. The company has also launched its own lines of smartphones and laptops.
Need growth from a company to set it and forget it? Check the GOOG stock price history. Then look at the 10-year average growth for key metrics like revenue, operating income, net income, and EPS. For GOOG stock the 10-year average growth for revenue is 18.3% and the 10-year average growth for EPS is 21.2%.
7 Stocks to Buy and Hold Forever in This Bear Market
GOOG stock has an expected three-to-five-year EPS growth of 19%, and a median target of $3,200.
Meta Platforms (FB)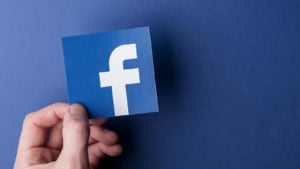 Source: Ink Drop / Shutterstock.com
Meta Platforms (NASDAQ:FB) has a powerful portfolio of apps, including Facebook, Messenger and WhatsApp, and is the dominant social media today.
I was a bit skeptical about FB stock being on this list of long-term stocks that every 40-year-old should buy and hold because of the Cambridge Analytical scandal, and the whistleblower Frances Haugen's reports and statements. Nevertheless, the business of Meta Platforms is solid, and the financials are the best proof of it.
The sales growth over the past four consecutive years is very strong, and net income has followed the strong sales growth.
I do not know whether the metaverse will be the future of social media. I am not a big fan of it. But the future seems bright for FB stock, with a median target of $287.50 and an expected three-to-five-year EPS growth of 13.6%.
On the date of publication, Stavros Georgiadis, CFA  did not have (either directly or indirectly) any positions in the securities mentioned in this article. The opinions expressed in this article are those of the writer, subject to the InvestorPlace.com Publishing Guidelines.
More From InvestorPlace
Stock Prodigy Who Found NIO at $2… Says Buy THIS
It doesn't matter if you have $500 in savings or $5 million. Do this now.
Get in Now on Tiny $3 'Forever Battery' Stock
The post The 3 Best Long-Term Stocks Every 40-Year-Old Should Buy and Hold appeared first on InvestorPlace.
InvestorPlace| InvestorPlace