The 3 Best Long-Term Stocks to Add to Your Q2 Buy List
We went looking for the best long-term investment stocks as our topic for today. So far, 2022 has shown us that even some of the most robust shares can be vulnerable to volatility on Wall Street.
The market continues to suffer the effects of h…
We went looking for the best long-term investment stocks as our topic for today. So far, 2022 has shown us that even some of the most robust shares can be vulnerable to volatility on Wall Street.
The market continues to suffer the effects of high inflation, tightening monetary policy, and fears of a looming economic downturn. As a result, the NASDAQ 100 index has fallen 22.3% for the year to date (YTD), while the S&P 500 index has dropped 12.8%.
Yet, the recent slowdown also provides an excellent opportunity to pick such great stocks up while they're on sale. For instance, according to Capital Group, "The S&P 500 Index has typically dipped at least 10% about once a year, and 20% or more about every six years, according to data from 1950 to 2019… The average return in the first year after each of these declines was 54%."
7 Overlooked Value Stocks to Buy Before Wall Street Catches On
In other words, large companies generally have a well-established history of rebounding quickly. As the positive moves last week have shown, a similar recovery could be here soon.
With that information, here's a closer look at our three long-term stocks to buy in June:
Ticker
Company
Current Price
GM
General Motors Company
$38.87
INTC
Intel Corporation
$44.84
MRK
Merck & Co., Inc.
$90.00
General Motors (GM)
52-week range: $34.31 – $67.21
Source: Joseph Sohm / Shutterstock.com
Car giant General Motors (NYSE:GM) is well-known for its four major brands: Buick, Cadillac, Chevrolet and GMC. With over 4,000 GM dealers across the U.S., the auto manufacturer leads the market.
In late April, General Motors reported first-quarter earnings. Revenue totaled almost $36.0 billion, up from $32.5 billion the year before. Adjusted earnings per share (EPS) was $2.09, compared to $2.25 the previous year.
Recently, GM provided details on Cadillac's first full electric vehicle, the LYRIQ, a mid-size SUV. Pre-orders for the 2023 model sold out in under four hours, which retails for $62,990.
Purchasing the vehicle also entitles customers to a special charging program, providing either a credit for home installation of a charger or unlimited charging at public stations for two years. Wall Street will be paying close attention to how EV sales may contribute to the top line in the coming months.
So far in the year, GM stock has lost a third of its value. Shares are trading at 5.04 times forward earnings and 0.40 times trailing sales. The 12-month median forecast stands at $58.50.
Intel (INTC)
52-week range: $40.31 – $58.41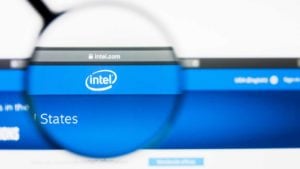 Source: Pavel Kapysh / Shutterstock.com
Chip behemoth Intel Corporation (NASDAQ:INTC) retains the largest market share of central processing units (CPUs) for desktops and laptops. Its operations are spread among six sectors: cloud computing, artificial intelligence (AI), networks, accelerated computing and graphics, manufacturing, and autonomous vehicles.
In late April, Intel released Q1 financials. Revenue was $18.4 billion, down 1% year over year (YOY). Adjusted EPS was 87 cents, down 35% from a year ago. Cash and equivalents totaled $6.2 billion.
Recently, the company introduced Project Amber, a security service for cloud computing. It should provide organizations with remote verification of the trustworthiness of cloud-based environments. Investors would like to see Intel capitalize on the growing shift toward the cloud.
7 Undervalued Large-Cap Stocks to Buy for June
INTC stock is down 20% YTD. The current price supports a dividend yield of 3.54%.
Forward P/E and P/S multiples are 11.7x and 2.2x, respectively. Meanwhile, the 12-month median forecast stands at $50 a share.
Merck (MRK)
52-week range: $70.89 – $94.92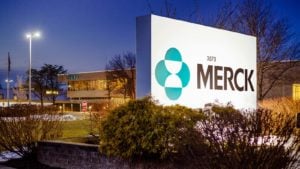 Source: Atmosphere1 / Shutterstock.com
Global pharma heavyweight Merck (NYSE:MRK) currently develops over 50 different medications and vaccines. It also maintains a robust research and development program.
Recent metrics suggest: "The U.S. dominates the global pharmaceutical markets, accounting for almost half of pharmaceutical sales globally in 2021… Immunology, oncology and neurology are the fastest-growing therapy areas and are expected to be the main sources of growth through 2026." Investors expect Merck to continue to be a leading name in this growth.
In late April, Merck reported Q1 financial results. Sales totaled $15.9 billion, representing a 50% increase YOY. Diluted EPS was $2.14, increasing from $1.16 the previous year.
Recently, Merck presented details about the progress of several cancer drugs currently in its R&D pipeline. Management highlighted substantial progress in 6 different treatments for over 25 different types of cancer.
MRK stock is up 21.5% YTD and up 28.6% over the past year. Meanwhile, the dividend yield sits at 2.97%.
Forward P/E and P/S numbers are 12.58 and 4.33, respectively. Lastly, the 12-month median forecast stands at $96.50.
On the date of publication, Tezcan Gecgil did not have (either directly or indirectly) any positions in the securities mentioned in this article. The opinions expressed in this article are those of the writer, subject to the InvestorPlace.com Publishing Guidelines.
More From InvestorPlace
Stock Prodigy Who Found NIO at $2… Says Buy THIS
It doesn't matter if you have $500 in savings or $5 million. Do this now.
Get in Now on Tiny $3 'Forever Battery' Stock
The post The 3 Best Long-Term Stocks to Add to Your Q2 Buy List appeared first on InvestorPlace.
InvestorPlace| InvestorPlace