The 3 Best Meme Stocks That May Be Worth a Speculative Buy
These three meme stocks are companies with more than just cult followings.
AMC Entertainment (AMC): One of the world's largest movie theater chains, AMC is aiming to maximize gains for shareholders through business expansion.
Tesla (TSLA…
These three meme stocks are companies with more than just cult followings.
AMC Entertainment (AMC): One of the world's largest movie theater chains, AMC is aiming to maximize gains for shareholders through business expansion.
Tesla (TSLA): Tesla is the "original" meme stock and is a company with solid goals set for the future.
GameStop (GME): The world's largest video game retailer is looking forward to expanding its non-fungible token strategy.
Source: Michael Vi / Shutterstock.com
The phrase "meme stocks" didn't exist several years ago. It originated on Reddit, where the subreddit WallStreetBets gained impressive popularity among day traders and speculators.
Last year, the world saw this group of meme stocks take the world by storm. Indeed, the power of the retail investor was learned by capital markets. A few key meme stocks investors may have watched explode were GameStop (NYSE:GME) and AMC Entertainment (NYSE:AMC). Others also surged, with the "original" meme stock Tesla (NASDAQ:TSLA) also seeing explosive growth.
A surge in capital-seeking growth at any cost is likely the culprit behind these moves. Sure, there were some fundamental drivers investors liked. However, the outsized surge in these otherwise difficult-to-value businesses caught the market by surprise.
This year has been a different story, with each of these meme stocks selling off impressively from their peaks. That said, there may still be a fundamental case for investors to consider these meme stocks.
Let's dive into the bull case on why these stocks may not be finished quite yet. Full disclosure: I'm not bullish on these names, but am taking a look at what could drive these stocks higher in the intermediate-term.
The 7 Highest-Yielding Dividend Stocks to Buy Now for Income
Here are my top three meme stocks that may be worth a speculative buy:
Ticker
Company
Price
AMC
AMC Entertainment Holdings, Inc.
$10.77
TSLA
Tesla, Inc.
$651.60
GME
GameStop Corp.
$100.25
Meme Stocks to Buy: AMC Entertainment (AMC)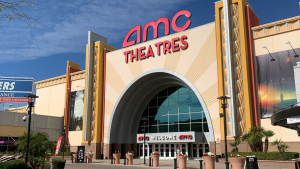 Source: JJava Designs / Shutterstock
AMC Entertainment features among the world's largest movie theater chains with more than 10,000 screens and 950 theaters across the globe. Recently, this company declared it had its third highest-attendance weekend since summer 2020 when movie theaters reopened. Global ticket sales of 4 million suggests that patrons are coming back to theaters en masse this summer.
Accordingly, the company posted its best quarter in the past two years. These strong results were accompanied by an announcement that AMC would buy 22% of Hycroft Mining (NASDAQ:HYMC) in a surprise deal. With inflation surging, this deal for the gold and silver miner could turn out to be a sweet one. That is, given the distressed nature of this deal and AMC's ability to raise capital in the equity markets.
For now, AMC's fundamentals still need some work. The company is under pressure from macro factors, namely inflation, though it's clear that the consumer is strong, at least for now. Those expecting a continued surge in theater interest do have their catalysts to jump on with AMC stock right now.
Tesla (TSLA)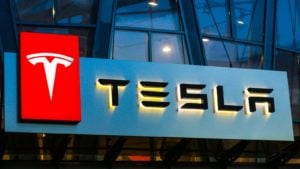 Source: Vitaliy Karimov / Shutterstock.com
Tesla is often regarded as the "original" meme stock. A company built to further the future of electrification, Tesla has been an incredible investment for long-term growth types over the past decade.
That said, like many high-growth stocks, TSLA stock has stumbled of late. The same macro forces that have brought down growth and risk equities are at play with this meme stock. Additionally, Chief Executive Officer Elon Musk has begun to alienate much of his investor base with an increasingly politicized view.
That being said, Tesla is the first auto maker to hit a valuation of $1 trillion. Well off from its peak, down approximately $500 billion from its high, TSLA stock may look attractive to growth bulls who were buying at higher levels.
7 Large-Cap Stocks to Buy Right Now
Options activity has driven TSLA stock much higher over the past two years. Should this activity pick up again, there is hope for Tesla bulls in the intermediate term.
Meme Stocks to Buy: GameStop (GME)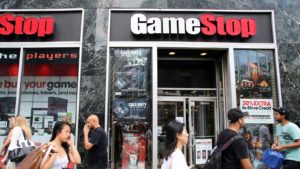 Source: Northfoto / Shutterstock.com
GameStop is perhaps the primary meme stock from last year's impressive short squeeze rally in January. GameStop surged from around $4 per share in mid-2020 to nearly $350 per share on Jan. 27, 2021. That's perhaps some of the most incredible near-term appreciation in a company that we've ever seen.
What makes this rapid increase even more incredible is GameStop's status as a failing video game retailer. Thought to be on the brink of bankruptcy just before its rapid rise, GameStop has brought on fresh minds to rethink the company's business model. Alongside Ryan Cohen and others, bulls certainly have a number of growth theses to jump on.
One of the key theses investors have pointed to lately is the company's newfound non-fungible token (NFT) strategy. A Wall Street Journal report states that GameStop is introducing a division to create a marketplace for NFTs and establish crypto partnerships. Given the corresponding surge in crypto we've seen of late, it's clear who GameStop's target market is for investors.
Can these stocks all soar from here? It's possible. They have in the past. Right now, I think these are stocks investors will want to watch.
On the date of publication, Chris MacDonald did not have (either directly or indirectly) any positions in the securities mentioned in this article. The opinions expressed in this article are those of the writer, subject to the InvestorPlace.com Publishing Guidelines.
More From InvestorPlace
Stock Prodigy Who Found NIO at $2… Says Buy THIS
It doesn't matter if you have $500 in savings or $5 million. Do this now.
Get in Now on Tiny $3 'Forever Battery' Stock
The post The 3 Best Meme Stocks That May Be Worth a Speculative Buy appeared first on InvestorPlace.
InvestorPlace| InvestorPlace