The Oil Trade Keeps Cruising
The road to a $10-per-barrel oil price might pass through $150, or even $200, on the way.
That comes from our macro expert, Eric Fry. In last Thursday's issue of Smart Money, Eric explained why the oil trade is still compelling.
Ye…
The road to a $10-per-barrel oil price might pass through $150, or even $200, on the way.
That comes from our macro expert, Eric Fry. In last Thursday's issue of Smart Money, Eric explained why the oil trade is still compelling.
Yes, all eyes are on the Russia/Ukraine conflict and how that might impact oil. But even if cooler heads prevail, global demand for oil is still surging and supply is having a hard time keeping up.
Translation, the oil trade is still on.
Today, we turn it over to Eric for more details on the opportunity. I'll let him take it from here.
Have a good weekend,
Jeff Remsburg
Smart Money: Crude Oil… That's Hot!
By Eric Fry
For most folks, oil stocks belong in the company of iconic American memorabilia like Hula Hoops, drive-in movie theatres, and TV commercials about the cigarette brands doctors prefer most.
They each enjoyed their moments in the sun, but those days have long since passed.
Oil stocks, like Hula Hoops, still exist of course, but neither one enjoys the widespread popularity of bygone eras.
Everywhere you look, the world is turning away from fossil fuels and turning toward renewable energy technologies. Because of this powerful megatrend, many folks assume oil stocks (and the returns they can deliver) are a thing of the past.
But oil stocks may not be as passé as most folks assume. Like the Rolling Stones, they probably have a few solid performances left in them.
To put it simply, the road to a $10-per-barrel oil price might pass through $150, or even $200, on the way. Because this sort of scenario could unfold over the next year or two, one of my Power Trends for 2022 is Energy's Swan Song.
Here's a snippet of what I mentioned in January…
No matter how "doomed" crude oil may be over the long term, it could deliver some spectacular short-term gains.
In the here and now, demand for oil during the last several months has been rebounding sharply. As it continues to rebound, it could reach about 104 million barrels per day (MBPD), which would be about two MBPD higher than the world's oil producers have ever supplied to the market…
I understand that many investors may have little interest in energy stocks. I get it; I don't have much interest in recommending energy stocks.
But the near-term bullish backdrop has become too compelling to ignore.
Oil Is Still Kicking
According to Rystad Energy, global investments in oil and gas E&P have plummeted by about 65% since the 2014 peak.
This non-spending creates two bullish tailwinds for oil company stocks:
It will reduce future crude production, which could lead to soaring oil prices.
It will convert the oil sector into a sort of publicly-traded garage sale – an industry that simply sells off what it already owns.
You see, as oil companies slash their spending on exploration and development, their free cash flow will surge. Instead of continuously plowing that cash into future projects, oil companies can drop most of it onto their balance sheets like dollar bills into a shoebox at a garage sale.
Returning to the Rystad Energy data, the world's oil companies are spending half a trillion dollars fewer per year on E&P than they were in 2014. That's a big chunk of change, and as this cash piles up, reported earnings will surge – as will the capacity to "return capital" to shareholders.
These cash-positive trends are already underway. Because crude demand has been outpacing supply for the last 15 months, oil prices have soared. This supply imbalance still persists, despite OPEC's gradual production increases and its promises to continue boosting output.
The chart below provides one insight into the current supply imbalance. It shows the level of U.S. crude oil inventories, expressed as days-worth of U.S. consumption. During the depths of the pandemic, this reading topped 33 days of consumption – the highest reading of the last three decades.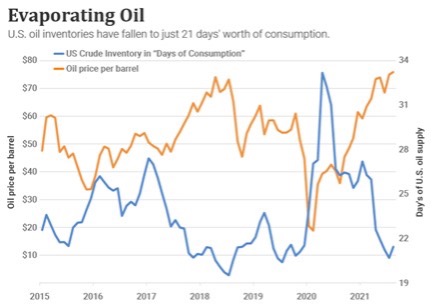 But recently, that reading dropped below 21 days, which is close to the lowest inventory levels of the last six years. This low reading doesn't mean the U.S. is running out of oil, but it does mean that demand growth is outpacing supply growth, which is why the oil price had been moving higher until the Omicron variant knocked the knees out from under it.
The futures markets for crude oil are also indicating that demand is robust. The pricing structure of crude futures is in what traders call "backwardation."
The typical pricing in crude futures is called "contango." That's when the closest-dated futures contract is cheaper than the contracts that are farther out in time. But when contango pricing flip-flops, or goes backward, the market is in backwardation.
This relatively rare phenomenon is a sign that buyers want their oil right now – not six or nine months from now. Not surprisingly, therefore, periods of backwardation tend to coincide with periods of rising crude prices. And that exact situation is unfolding at this moment.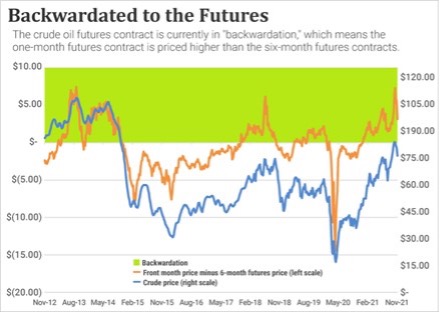 Admittedly, none of the current supply-demand statistics prove that the oil price must move higher; they simply highlight that potential. Neat and tidy projections from current supply-demand trends sometimes become very messy and different in the real world.
However, just like I discussed in January's Power Trend issue of Smart Money…
Most folks assume that OPEC and others could easily ramp production to satisfy any significant surge in demand. But that assumption rests on a frail statistical foundation.
The U.S. has supplied almost all of the world's crude production growth during the last decade, not OPEC. Pulling that rabbit out of the hat a second time will not be easy, as U.S. shale production topped out two years ago.
Furthermore, oil and gas companies have been slashing the exploration budgets for many years… Global investments in oil and gas exploration and production have plummeted by about 65% since 2014.
Net-net: Bountiful new supplies of crude oil seem highly unlikely.
A tightening oil market, coupled with a rising inflationary trend, provides ample reason to expect oil stocks to deliver market-beating results in 2022.
Eric Fry
The post The Oil Trade Keeps Cruising appeared first on InvestorPlace.
InvestorPlace | Stock Market News, Stock Advice & Trading Tips