The Value of Living Longer
There are few things more annoying than someone telling you, "I told you so!"
Source: Shutterstock
This is especially true in the world of investing.
Even so, this is one of those times I am going to tell you "I told you …
There are few things more annoying than someone telling you, "I told you so!"
Source: Shutterstock
This is especially true in the world of investing.
Even so, this is one of those times I am going to tell you "I told you so…"
But save the remorse — you still have plenty of time to get involved in this investment opportunity…
This Biotech Trend Is Going to Be Huge
I've said it before, and I'm going to say it again:
"Investing in longevity is going to be one of the biggest investment trends we've ever seen."
And right now we're at a very important inflection point in this biotech trend. Here's why…
Most investors don't even know what is happening in the world of longevity.  Many are unfamiliar with the science being developed to make living longer — much longer — possible.
We can use this lack of awareness to our advantage.
Similar to being an early adopter of the internet or cryptocurrencies, being aware and informed about the longevity biotech trend will enable us to make early investments that could turn out to be massive winners.
Additionally, because we are at the early stages of the longevity investing trend, it's highly likely that several existing private companies will grow into multi-billion-dollar behemoths within the next decade.
The opportunity to invest in the next "Apple of Longevity" is likely right in front of us (and it's what I'm currently hunting for).
The second factor that's helped the longevity sector reach an inflection point is funding. A massive amount of money has already flowed into private companies researching life-extending technologies… and there is about to be much, much more.
Where the Billionaires Put Their Money
In 2022, there has only been one disclosed deal in the world of longevity startups…
This singular deal is over 10x larger than the total of all last year's 37 announced funding rounds across the entire industry.
In 2021, it was announced that billionaires Jeff Bezos and Yuri Milner had funded a longevity startup called "Altos Labs." At the time, not much was known about the company. Its website wasn't even active.
Now Altos Labs has come out of obscurity, revealing a stacked team of big industry names and a massive funding round of $3 billion (that's the funding of the company, NOT the valuation, which wasn't announced).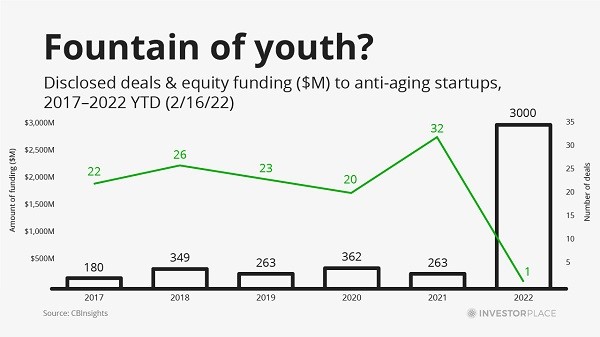 It's difficult to explain the importance of this news. Altos Labs and its backers have essentially sidestepped all traditional venture capital funding trends.
Instead, the company has simply filled its coffers with an enormous amount of money and hired some of the most qualified people in the world to fight humanity's biggest problem: growing older.
While Altos Labs' burn rate (the amount of money they use every month) has not been disclosed, it's likely that $3 billion will last them several years. This will enable the company to do heads-down work, without the concern of constantly raising new funding rounds (which is often a huge distraction for entrepreneurs).
Although Altos Labs may be the best-funded longevity startup, that doesn't mean that there isn't competition…
AI Opens the Door to New Opportunities
Insilico Medicine, an "artificial intelligence-driven pharma-technology company", showed significant progress in 2021. The company's AI-powered drug discovery platform was able to identify a molecule (named "ISM001-055") that fights idiopathic pulmonary fibrosis (IPF), which causes irreversible decline in lung function.
While this specific discovery may sound obscure, it's important to note that this entire process was completed in 18 months on a budget of $2.6 million. That's a fraction of the cost and timeframe that it normally takes to discover new drugs.
Even more impressive is that ISM001-055 is now in human trials. That means that Insilico has not only identified a new molecule, but is also actually testing it in humans.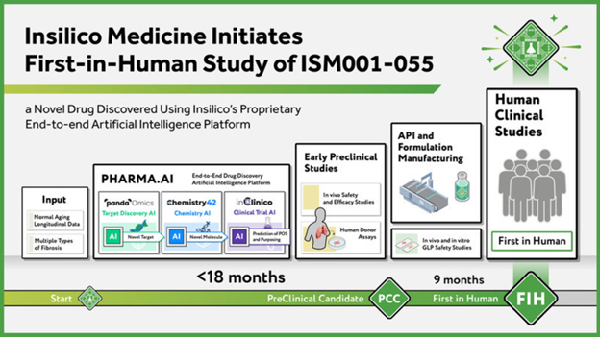 Source: insilico.com/blog/fih
Historically, it takes over 10 years and $2.6 billion to develop one new drug and bring it to market.
With the use of AI to discover and develop new drugs, the timeline (and budget) for eventual human use can be dramatically reduced.
And that spells massive opportunity for investors who grab a share of the longevity sector now.
More companies are being founded with large investments like Bezos', and the actual cost and timeline of developing drugs is declining.
This is a perfect setup for startups to blossom into enormously valuable companies.
I hope I don't look back and say "I told you so…"
On the date of publication, Cody Shirk did not have (either directly or indirectly) any positions in the securities mentioned in this article. The opinions expressed in this article are those of the writer, subject to the InvestorPlace.com Publishing Guidelines.
By focusing on megatrends that will shape the future, Cody Shirk uncovers generational wealth in the private investing space. To make sure you never miss Venture Capital Digest, click here to subscribe.
More From InvestorPlace
Stock Prodigy Who Found NIO at $2… Says Buy THIS Now
Man Who Called Black Monday: "Prepare Now."
Get in Now on Tiny $3 'Forever Battery' Stock
The post The Value of Living Longer appeared first on InvestorPlace.
InvestorPlace | Stock Market News, Stock Advice & Trading Tips