The White House Just Kickstarted a 'Gold Rush' for Solar Stocks
Looking for the best stocks to weather the current bear market — those set to grow despite choppy macroeconomic conditions? Well, I have two words for you: solar stocks.
After the White House injected tons of political firepower into the…
Looking for the best stocks to weather the current bear market — those set to grow despite choppy macroeconomic conditions? Well, I have two words for you: solar stocks.
After the White House injected tons of political firepower into the U.S. solar industry, those stocks popped big yesterday.
But this isn't just a one-day phenomenon. Rather, thanks to President Biden's decision, the stage is set for the solar industry's best two years in history.
Against that backdrop, solar stocks will soar — regardless of where the rest of the market trends.
That's why we're loading up on solar stocks at the moment. And if you want to beat this bear market and make a lot of money amid the volatility, you should be, too.
The Solar Industry Was Facing a Big Crisis in 2022
Before yesterday, things were not looking good for the solar industry in 2022.
Last month, the International Energy Agency said that new U.S. solar development were on pace to drop 7% this year. That would mark the industry's first drop of the century. The culprit? Geopolitics.
In short, the industry figured out long ago that it was much cheaper to make solar panels in China than in the U.S. So, when the solar industry really kicked into "growth mode," U.S. project developers were sourcing all their panels from China.
U.S. solar panel makers complained. The U.S. government looked into it. By 2012, the Obama administration called the sourcing of solar panels from China a "dumping." And the government slapped big tariffs on Chinese solar panels.
But, instead of turning to U.S. solar panels, project developers turned to southeast Asian solar panels. That's because, unsurprisingly, it's also cheaper to make solar panels in southeast Asia than it is to make them in the U.S.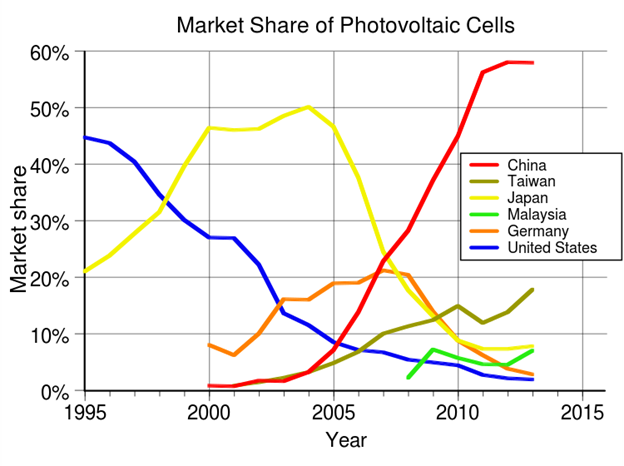 Over the past decade, this has been the standard. U.S. solar project developers have sourced the bulk of their panels from southeast Asia.
And U.S. solar panel makers have started to complain again. For the most part, their complaints have fallen on deaf ears.
But in early 2022, one California-based solar panel manufacturer convinced the U.S. Department of Commerce to investigate potential "tariff circumvention." It's thought that Chinese solar panel makers are simply diverting their supply to southeast Asia. From there, it gets shipped to the U.S., creating a classic circumvention of U.S. tariffs.
That investigation is ongoing. And quite frankly, it's been killing the solar industry in the U.S.
If the Department of Commerce finds sufficient evidence of circumvention, it could issue bigger tariffs on southeast Asian solar panels. And it could retroactively apply those tariffs to southeast Asian solar panels imported over the past few years. The fear of these significantly higher costs attached to U.S. solar project development has stymied industry growth in 2022.
But the White House just rescued the solar industry. And now it looks like solar stocks are about to enter the best two-year period of their lives.  
The White House Just Ignited a Solar Gold Rush
We've been bullish on solar stocks ever since they dropped big on fears related to the Commerce Department's tariff investigation.
We knew U.S. President Joe Biden wouldn't let the government hurt the solar industry.
And we were right.
Over the weekend, the White House said that Commerce's investigation will proceed. But it's guaranteeing that regardless of the outcome, there will be no new tariffs on southeast Asian solar panels for at least the next 24 months.
That's a huge win for solar stocks. Specifically, there are two big positive implications here.
All those solar projects that were on the sidelines due to fear of higher tariffs will now move into development.
Since the White House is guaranteeing that anything built over the next 24 months will not have additional duties, anyone who was thinking about developing a solar project in the U.S. will now rush to do so in 2022-23.
The result? We expect the solar industry to accelerate like never before in 2022-23, growing at breakneck speeds to record volumes. And since most solar projects have attached energy storage systems (ESS), we expect that industry to see exponential growth, too.
We've positioned our portfolios aggressively to take advantage of this "gold rush" by buying energy storage and solar stocks.
The Final Word on Solar Stocks
Yesterday, the solar industry underwent one of its biggest shifts in history. In fact, it may be the largest it has ever experienced.
Within a few hours, the industry went from struggling for growth to prepared for its biggest expansion ever in 2022-23.
Most investors completely missed this critical shift. We didn't.
We own four energy storage and solar stocks in our flagship Innovation Investor model portfolio. And over the past month, we're up nearly 60% on those stocks!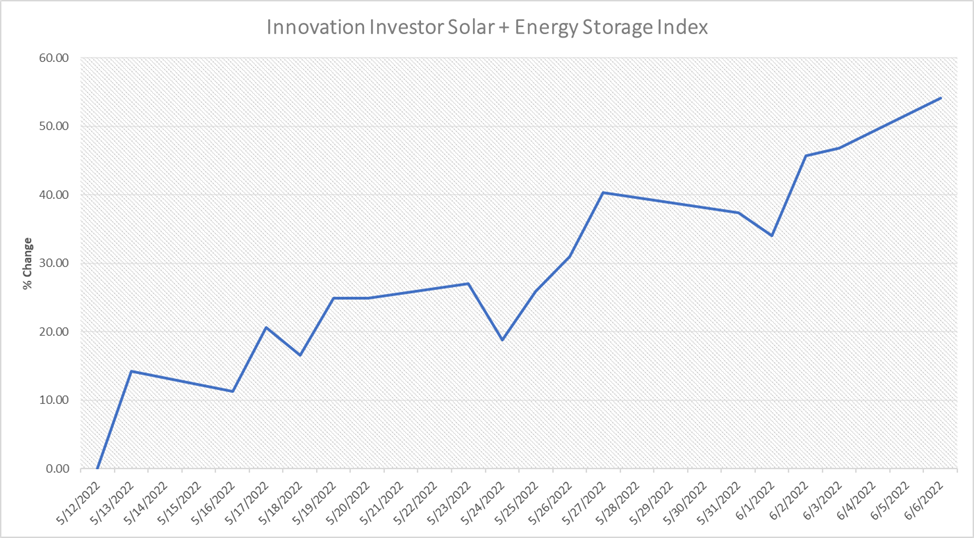 That's the good news. But it gets even better. We think the rally in those four is just getting started, especially in the energy storage stocks!
In other words, we're in the first inning of a massive, two-year rally in ESS and solar stocks.
And it's a rally that's not too late to plug into.
On the date of publication, Luke Lango did not have (either directly or indirectly) any positions in the securities mentioned in this article.
The post The White House Just Kickstarted a 'Gold Rush' for Solar Stocks appeared first on InvestorPlace.
InvestorPlace| InvestorPlace