3 Hidden-Gem Micro-Cap Stocks That Could Double
These three micro-cap stocks could double as they have great stories behind them and strong fundamentals.
Citi Trends (CTRN): In early 2022 it was trading near $90, a contrarian play with consistent positive free cash flow.
USA Truck (USAK): A…
These three micro-cap stocks could double as they have great stories behind them and strong fundamentals.
Citi Trends (CTRN): In early 2022 it was trading near $90, a contrarian play with consistent positive free cash flow.
USA Truck (USAK): A truckload carrier with very high net income growth over the past two consecutive years.
CURO Group Holdings (CURO): A forward dividend yield of more than 5% and a consistent positive free cash flow trend are very bullish.
Source: iQoncept / Shutterstock.com
Micro-cap stocks tend to be neglected by investors as they are considered too risky to invest in these small companies with a market capitalization of less than $300 million. There is not any reason not to be able to find high-quality micro-cap stocks that can potentially have a staggering return, like doubling their price.
The tick or difficulty for finding micro-cap stocks considered real gems is that you must invest time in a screener and narrow your universe of selections. The following three micro-cap stocks have a mix of great stories that build a bullish scenario, the one of potentially doubling their stock prices. They have attractive valuations, high earnings-per-share (EPS) growth, and are profitable. Stock investing can be made simple if you know what you are looking for, and not just invest based on luck or emotions.
The 7 Best Stocks to Buy for June 2022
There are no guarantees that these stocks can double, but the emphasis is that they could. From a fundamental perspective, a factor like soaring sales growth combined with consistent profitability could be enough to fuel a rally in these micro-cap stocks.
CTRN
Citi Trends
$29.56
USAK
USA Truck
$16.13
CURO
CURO Group Holdings
$8.30
Citi Trends (CTRN)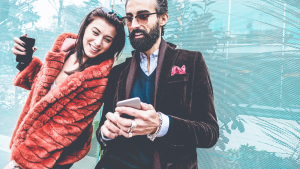 Source: DisobeyArt / Shutterstock.com
Citi Trends (NASDAQ:CTRN) is a value retailer of fashion apparel, accessories, and home goods. The company sells fashion sportswear and footwear for men and women, as well as apparel for kids, lifestyle products, accessories, and other beauty products and was founded in 1946 with its headquarters in Georgia.
Shares of Citi Trends have losses of nearly 67% year-to-date as in the early January they were trading at $90 and now at $31. This is not just a contrarian play though. First quarter 2022 results showed a beat on both EPS and on revenue.
The company's EPS in generally accepted accounting principles (GAAP) was $3.59. This was a beat by $3.34 and a revenue of $208.22 million was a beat by $4.51 million. Total sales decreased 27% compared to Q1 2021 but CTRN's diluted earnings per share of $3.59, increased compared to $3.23 in Q1 2021. It is also notable that one of the highlights for the first quarter of 2022 was that the company had no debt.
The company is profitable and generates consistent positive earnings before interest, taxes, depreciation, and amortization (EBITDA) and free cash flow (FCF) and in the first quarter of 2022, Citi Trends repurchased approximately 170,000 shares of its common stock.
The current price-to-sales (TTM) ratio of 0.27 makes the stock cheap. The consensus analyst target is $63.33.
USA Truck (USAK)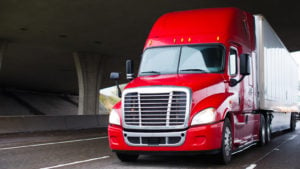 Source: Vitpho/Shutterstock.com
USA Truck (NASDAQ:USAK) is a truckload carrier in the United States, Mexico, and Canada, and operates in two segments: Trucking, and USAT Logistics. The company was founded in 1983 and is headquartered in Arkansas.
Shares of USA Truck have losses of approximately 20% in 2022. The financial results for the first quarter of 2022 were strong, a catalyst for supporting a stock price moving higher.
Among the top highlights were that EPS (diluted) increased 262.5% to $1.45 for Q1 2022, and consolidated operating revenue increased 26.8% to $201.1 million for Q1 2022.
President and CEO James Reed commented:
This quarter USA Truck produced the best first- quarter earnings per share in the Company's history and the seventh consecutive quarter of record earnings. The Company also delivered its highest first quarter total revenue and adjusted earnings per share in its history.
The company has reported a very high net income growth in the past two consecutive years. In 2020 net income growth was 201.02% and in 2021 it was 421.87%.
7 Beaten-Down Growth Stocks That Look Like Big Bargains Right Now
USA Truck's 1-year price target is $30.
CURO Group Holdings (CURO)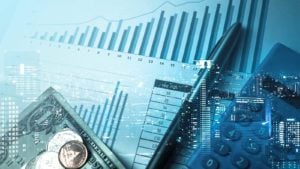 Source: Shutterstock
CURO Group Holdings (NYSE:CURO) is a provider of consumer finance products in the United States and Canada. Some of the products include unsecured installment loans, open-end loans, check cashing, reloadable prepaid debit cards, and demand deposit accounts.
CURO stock trades at a price-to-earnings (PR) ratio (TTM) of 9.93 and has a forward dividend yield of 5.43%.
It is also a company like the other two in this list of micro-cap stocks with strong first quarter 2022 financial results. For the three months ended March 31, revenue increased to $93.6 million, or 47.6% year-over-year, and the company reported year-over-year growth in company-owned gross loans receivable and combined gross loans receivable of $897.6 million, or 122.8%, and $909.5 million, or 119.1%, respectively.
CURO Group Holdings generates positive free cash flow that is consistent and volatile and the stock trades at a current price-to-sales (TTM) of 0.44.
Revenue growth for 2022 is expected to grow 70.94%, and then 17.85% in 2023 and 13.52% in 2024. The EPS in the fiscal year 2023 and 2024 are expected to increase to $1.95 and $4.97 respectively compared to $0.5 for the fiscal year 2022. The 1-year target estimate is $18.50.
On the date of publication, Stavros Georgiadis, CFA  did not have (either directly or indirectly) any positions in the securities mentioned in this article. The opinions expressed in this article are those of the writer, subject to the InvestorPlace.com Publishing Guidelines.
More From InvestorPlace
Stock Prodigy Who Found NIO at $2… Says Buy THIS
It doesn't matter if you have $500 in savings or $5 million. Do this now.
Get in Now on Tiny $3 'Forever Battery' Stock
The post 3 Hidden-Gem Micro-Cap Stocks That Could Double appeared first on InvestorPlace.
InvestorPlace| InvestorPlace